Co-op student advances SDG training
Human and Social Development, Co-op
- Katy DeCoste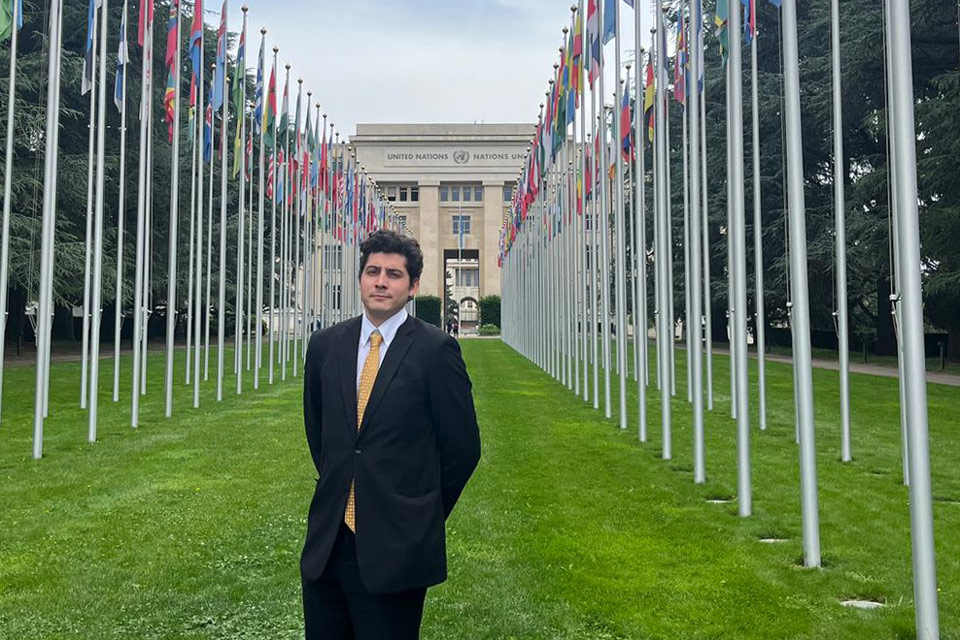 UVic MPA student Stephen Joyce is spending a co-op work term in Geneva, Switzerland at UNITAR, where his work promotes UN Sustainable Development Goals.
Raised in Hamilton, Ontario, UVic master's in public administration student Stephen Joyce witnessed firsthand the ecological impacts of the region's steel industry, which taught him from a young age to "leave your backyard better than you found it." After completing a BA in philosophy and human rights at Concordia University, he weighed his choices for a master's in public administration. With his passion for sustainability and lifelong education, Joyce knew that UVic was a community he wanted to connect with.
"It's a hub of environmental protection and is trailblazing the way in advancing protections for Indigenous rights in response to the implementation of the United Nations Declaration on the Rights of Indigenous Peoples, with having hosted minds like Indigenous legal scholar Dr. John Borrows, co-chair of UNESCO Dr. Budd Hall, CIFAL Victoria Director Crystal Tremblay and public administration professor and co-founder of Salish Sea Training Hub, Walter Lepore." Joyce says.
Another draw to UVic's MPA program? The inclusion of three co-op work terms in the curriculum. After completing co-op work terms provincially at BC Ombudsperson and federally at Canadian Heritage, Joyce traveled to Geneva, Switzerland for an international work term at the United Nations Institute for Training and Research (UNITAR), where his work promotes UN Sustainable Development Goals (SDGs).
"The project I was most excited to be a part of is our CIFAL Global Network, which UVic is a member of," Stephen says. The CIFAL (International Training Centre for Authorities and Leaders, known by its French acronym) Global Network is an international hub of 31 centers, coordinated by UNITAR's Social Development Programme, that promote sustainable development through capacity-building, knowledge-sharing and network-building initiatives. "Each of these CIFAL centers brings rich and unique ideas to promote the SDGs and address some of the world's leading challenges."

"We are thrilled to support our students—as future leaders—to have meaningful experiential learning oportunities with the CIFAL Global Network, who bring their passion, dedication and creativity to this work.  It's been wonderful to hear from Stephen how impactful this experience has been, and we are proud of the work he is doing to contribute to these global sustainability efforts"

—CIFAL Victoria Director Crystal Tremblay

CIFAL Victoria, for example, is focused on oceans, climate and sustainability; innovation and entrepreneurship; decolonization and Indigenous knowledge; and global health and well-being through courses, events, and local and global partnerships.
"Education is integral to the work we do here at UNITAR," says Joyce, "and I'm proud to be part of a team that helps train the minds of tomorrow." Having the opportunity to learn from a diverse community of colleagues has been an invaluable experience. "I can't acknowledge enough how brilliant everyone is that I work with—I'm always amazed by the things I learn from them."
Joyce's work with UNITAR—which establishes workshops, e-learning courses, graduate diplomas and master's programs—has reinforced his belief in continuous learning. Day-to-day, he supported the development of these programs and conducted research to evaluate them.

On his off days, Joyce has "been quite fond of the fondue and other Swiss staples like chocolate and hiking in the surrounding Alps". He also frequents Bain des Paquis for a swim, and says, "any days a good day for a dip".
"Stephen's contribution has been a remarkable addition to the team in offering efficient and committed support to our activities. His professional capacity is a good testimony to the academic excellence of the University of Victoria, And most importantly, a pathway for a successful career. This is why we have decided to offer Stephen a job at the United Nations in Geneva starting in September. We look forward to his continued support."

—Alex Mejia, Director of People and Social Inclusion, UNITAR
Photos
In this story
Keywords: co-op, international, SDGs, partnerships, education, public administration, student, student life, climate action, community, training
People: Stephen Joyce, Crystal Tremblay, Budd Hall, Walter Lepore
Publication: The Ring