New student housing building opens for fall term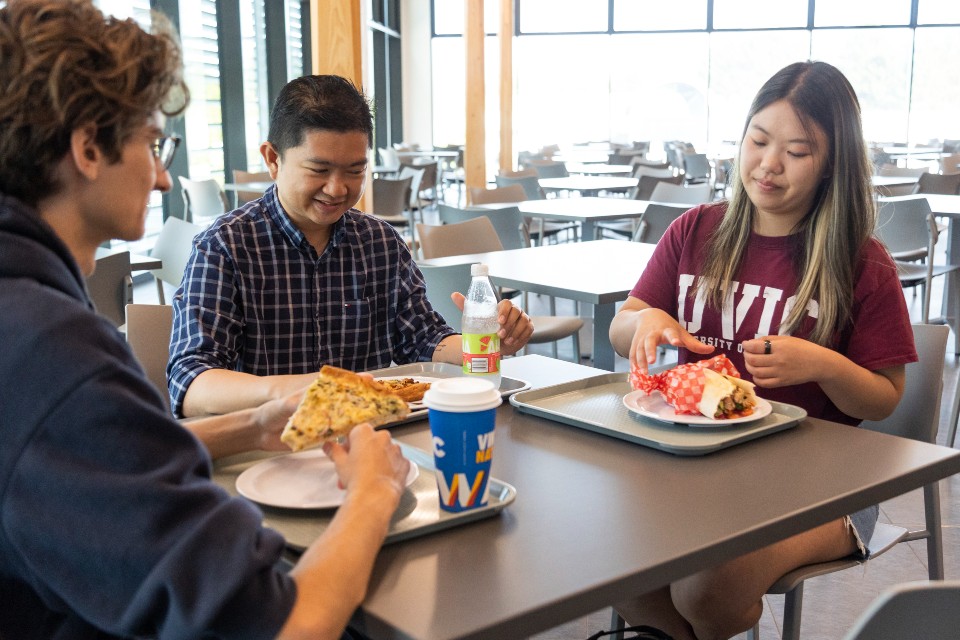 The newest and largest student housing and dining project on the UVic campus is opening to its first influx of residents just before the start of fall classes. 
Nearly 400 students arrive on campus on Sept. 4 to make the residence their new home, fill the halls with activity and build a community of friends. 
The project's two buildings provide 783 total student spaces, with 398 beds opening for students in Building 1 this month. The eight-storey Building 1 and 11-storey Building 2 are located on Ring Road south of the Student Union Building, with ocean views to the east and mountain views in all directions. Building 2 is set to open in June 2023. 
The new buildings are the largest capital project in UVic's history, and the first since the Campus Plan was renewed in 2016. In addition to student housing, Building 1 features the Cove dining hall that is open to the entire campus community, and Building 2 will include two 225-seat classrooms, an Indigenous student lounge and meeting rooms. 
"Each year, UVic receives a high demand for on-campus housing.We're thrilled to be opening these new buildings with modern amenities and student supports that form an incredibly important part of the university experience." 

—Joel Lynn, executive director of Student Services.
"Through the extensive consultation that we did for this project, we heard that housing was a number one priority for students," says Mike Wilson, director of Campus Planning and Sustainability. "We are really proud of the green building technology and leading-edge sustainability features used in Building 1, which means it will be UVic's first Passive House-certified building with enhanced energy efficiency as well as comfort for occupants." 
When the project is complete in 2023, a new plaza between the buildings—connected to the Campus Greenway—will include a water fountain, Indigenous plantings and seating areas. The area will also function as a stormwater detention facility with a capacity of 180,000 litres of water. The outdoor patio area between Felicita's pub and Building 1, which will open later in September, has also been revitalized. 
In August, 240 people were working to complete the finishing touches on the building for student move-in. Up to 350 people were employed on site during the construction phase of the project. 
From the ground up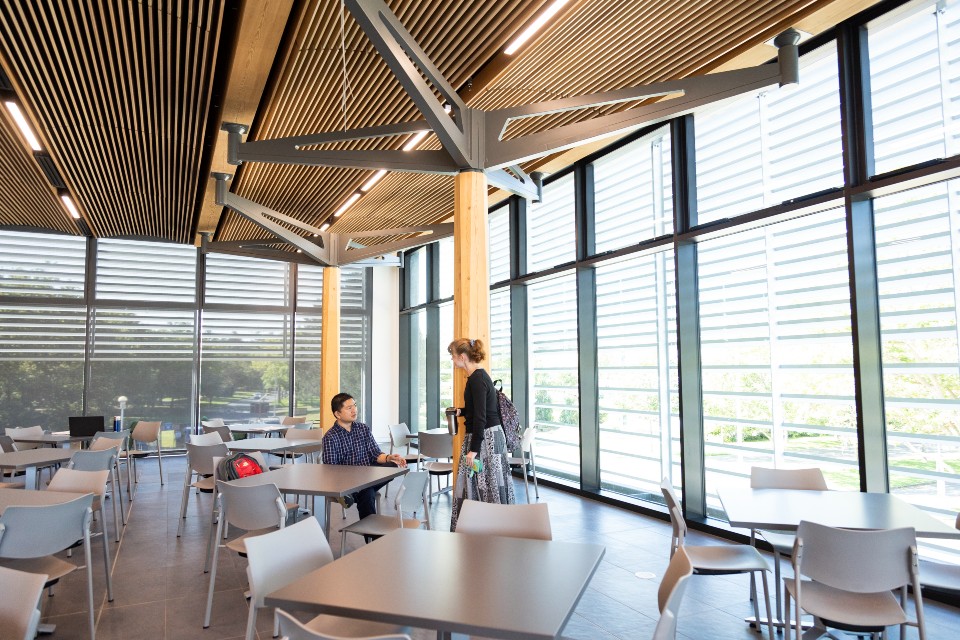 Work on the site of the Student Housing and Dining project began in summer 2019, with an Indigenous land blessing ceremony—the first in the university's history—taking place in January 2020. Deconstruction of the Cadboro Commons and two older residence buildings (Emily Carr and Margaret Newton) took place in summer 2020. Civil work began on site in winter 2020, with building construction getting underway in spring 2020. The installation of the Modular Dining Facility (MOD) allowed the construction schedule to be expedited so that work progressed on both buildings simultaneously, saving 18 months on the original construction schedule. 
An official ceremony and celebration will be held later this fall. 
The $229.2 million project is supported by funding from UVic, the Government of BC ($127.9 million) and the University of Victoria foundation as an investment in sustainability. 
Facts and figures
Building 1 total square metres: 16,589
Building 2 total square metres: 15,899
Total number of beds for both buildings: 783 (621 net new beds on campus)
Total number of student beds in Building 1: 398
Total number of student beds in Building 2: 385
Total number of accessible rooms: nine (five rooms plus four apartments with kitchenettes and lift systems)
Number of public gender-neutral bathrooms: 22 per building
Number of public gendered (M,F) bathrooms: 12 per building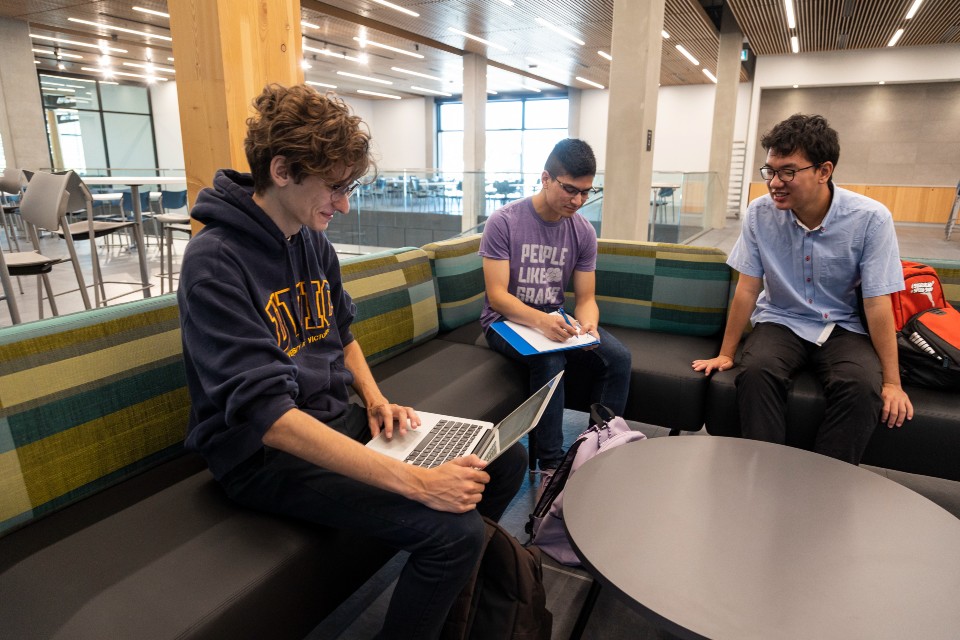 On-campus housing creates community
Levels 3 to 6 have two wings; levels 7 and 8 have a single wing.
Each wing features around 40 student single rooms, and a lounge with seating, a TV and microwave.
Laundry facilities are provided on the second floor, along with a building lounge and a full kitchen that will be used for cooking classes.
Each wing features two study lounges with seating, tables and whiteboards. 
Passive House design
The buildings are designed and constructed to Passive House and LEED Gold standards. Passive House design principles aim to reduce energy consumption, green house gas (GHG) emissions, maintenance and replacement costs by investing in a higher-performing building envelope.   
Mass timber is a key component of the building construction and reduces the buildings' carbon footprints.
The electrified kitchen in Building 1 reduces overall GHG emissions by 83% compared to natural gas.
Windows are triple glazed with strategic solar shading, and automatically open to keep the inside temperature comfortable.
Heat recovery ventilation reduces the need for space heating.
Electric air source heat pumps and other measures reduce GHGs for hot water heating by 88%.
The dining hall staff will sort, compost and recycle all waste, without a garbage can in view.
A new Campus Greenway is being extended between the two new buildings and as far as Parking Lot 5. 
New focal point for campus dining
The new Cove dining hall seats 600+ inside (30% of the seating downstairs and 70% upstairs) and another 100 outdoors, with stunning views provided by floor-to-ceiling windows.
Food kiosks will offer plant-based options, soups, salads, stir-fry, sushi and a convenience store.
The upstairs multipurpose room can be locked off for use for special events and can be rented by community members.
The state-of-the-art servery is built to serve 10,000 meals a day, with approximately 50 staff. Lockers, showers and storage is provided for staff. 
Spirit of place
Elders from the Songhees and Esquimalt Nations have guided the project team in incorporating Indigenous design elements and teachings.
An Indigenous student lounge will be available in Building 2 when it opens.
Indigenous artwork will be featured in both buildings.
Paving on the campus greenway to the south of Building 1 features a weaving pattern, and lights along the greenway will also project a Coast Salish design. 
Additional information:
Architect: Perkins&Will
Construction manager: EllisDon Kinetic 
Visit the project website for details and updates:
https://www.uvic.ca/campusplanning/current-projects/new-student-housing/
Photos
In this story