Vikes women's field hockey and women's rowing crowned national champions
- Kelley O'Grady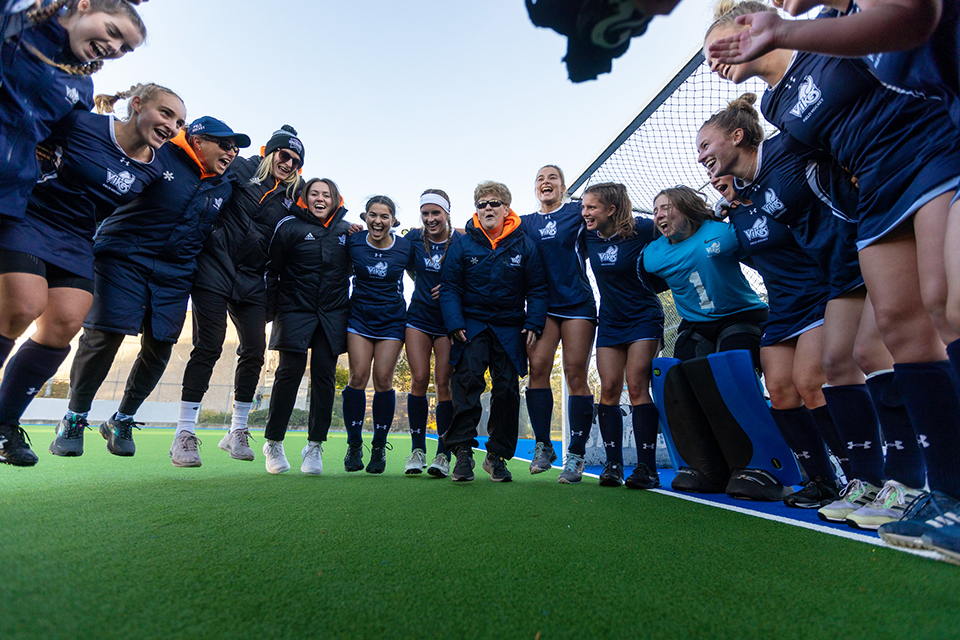 Congratulations to the University of Victoria women's field hockey and women's rowing teams on outstanding showings over the weekend bringing home two national championship banners
Claiming the program's fourth-straight national title, the University of Victoria women's field hockey team swept York University 2-0 in a best-of-three series Nov. 5 at the U SPORTS Field Hockey Championships on the UVic Field Hockey Turf.
Winning the championship on home turf marked the final one for head coach Lynne Beecroft at the helm of the Vikes field hockey program. Completing her 39th season with an unbeaten 9-0-1 record, Beacroft has led the Vikes to all of the program's 15 national titles, culminating with the four-peat to send her into retirement on the highest note.
Named tournament MVP, fifth-year student-athlete Anna Mollenhauer received U SPORTS Player of the Year honours, making her the first ever three-time winner. Mollenhauer ends her Vikes career as a four-time McCrae Cup champion.
"Honestly, it's kind of surreal. It's hard to put into words the emotions I'm feeling right now—I don't think that it's really hit me yet. It feels amazing to be able to help Buzz finish her career by winning a championship at home. This is such a great team and group of girls who are all like sisters to me; it's special," said Mollenhauer.
Women's rowing wins first banner in 10 years
The University of Victoria women's rowing team won the national championship title for the first time since 2012 at the Canadian University Rowing Championships (CURCs) on Nov. 6, on the Royal Henley Rowing Course.
In her second season as the program's head coach, Jane Gumley received Coach of the Year honours. Winning the CURCs marks the first time in history a female coach has won the national banner.
"I'm really excited and honoured to be the first female coach to win a banner. This year there were more female coaches than ever before, which was great to see. My winning shows that more women are getting into coaching and making an impact in the sport," said Gumley.
Winning the women's 8+ race, the boat of Danae McCulloch, Maggie Hemphill, Abby Speirs, Nicole Cusack, Mikaela Holthuis, Danica Ariano, Kaliya Javra, Noa Hardcastle, and Sofie Hof clocked in at 6:12.270 winning the event by four seconds and setting a new course record.
Celebrating the program's 50th anniversary makes the banner season even more impactful and does not go unrecognized by the Vikes athletes, whose theme for the season is 50 years strong.
"When we found out we won the banner, we were ecstatic, but the first thing the team acknowledged was the 50 years that built up to this point and all of the amazing female athletes that paved the way and came before," said Gumley.
The win marks the Vikes' twelfth Canadian University Rowing Championship title in program history.
Photos
In this story
Keywords: community, administrative, student life
People: Lynne Beecroft, Anna Mollenhauer, Jane Gumley