Gardens and Garry Oaks: a coastal field school on Tl'ches
- Anne MacLaurin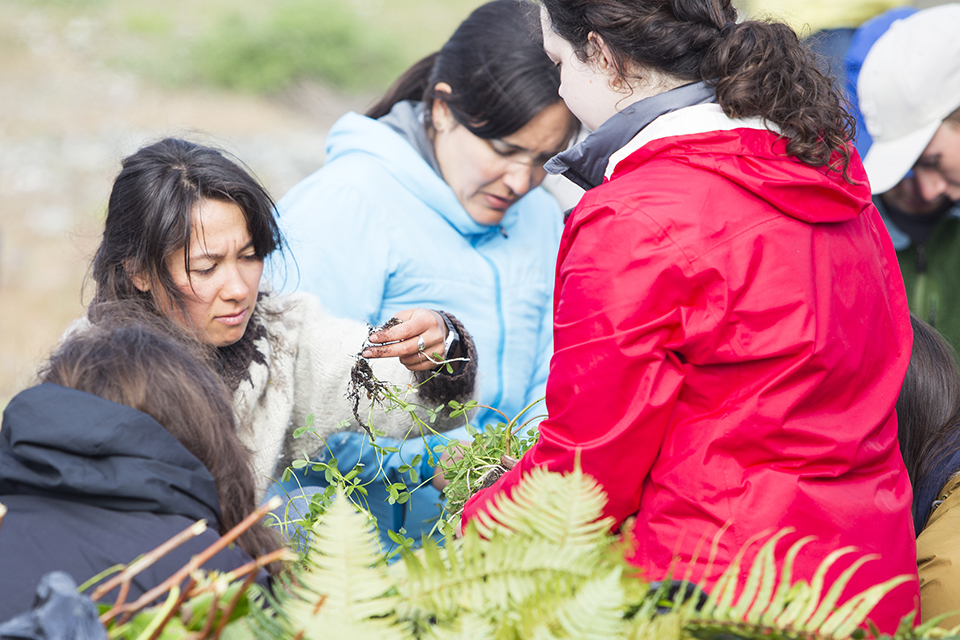 Students explore ecological past with Lekwungen Coast Salish elders
More than 60 years ago, the last Coast Salish residents of Tl'ches—the Chatham and Discovery islands off the eastern coast of Oak Bay—left to live on the Songhees Reserve in Esquimalt. But this summer, Lekwungen Coast Salish Elder Sellemah/Joan Morris, who grew up on Tl'ches, helped UVic and Songhees students in a UVic field school see the islands through her eyes—superimposing past and present.
Today, Tl'ches shows off grasses, beaches, shell middens and, if you're lucky enough to see him, one lone wolf. But through Sellemah, and the guidance of other members of the Songhees community, students learned about the wider diversity that once flourished among the Garry Oaks, including the traditional gardens and orchards that have rapidly disappeared in the intervening decades.
The field school in ethnoecology, led by UVic ethnoecologist Dr. Darcy Mathews, is a partnership with the Songhees Nation, and offers a rare opportunity to learn about the cultural and ecological past of Tl'ches from Lekwungen Coast Salish elders and community members.
Mathews and his 18 students learned about the land and ocean—and its history—in new ways. Student research projects recorded heritage sites, invasive species, erosion and plant species in an effort to better understand the interconnected cultural and ecological past of Tl'ches.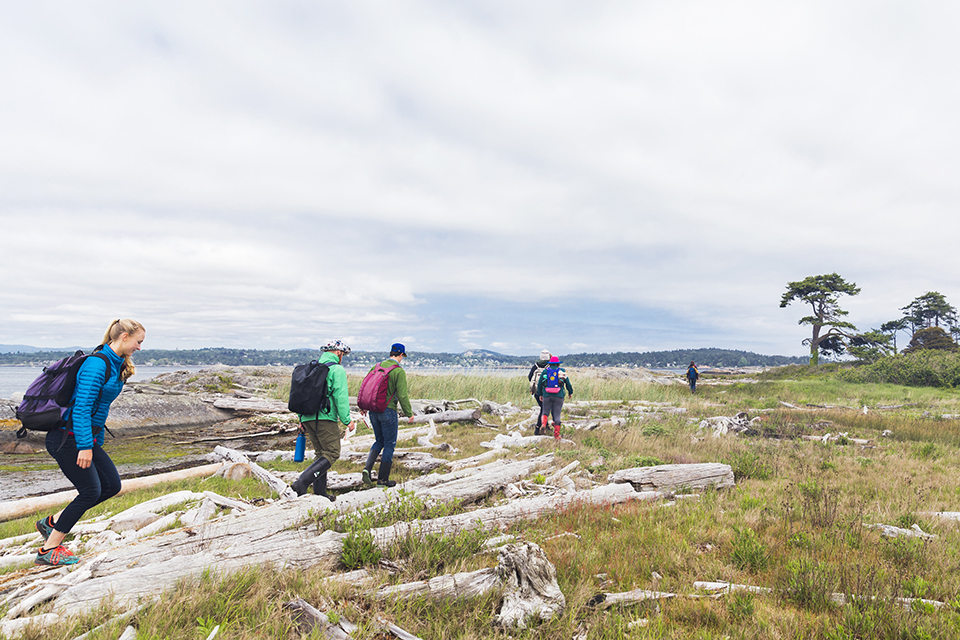 The field course was entirely hands-on, with training in wilderness navigation and travel, surface survey, ethnobotany and plant identification, tree increment boring, field mapping, soil testing and advanced technologies, such as drone mapping and high-precision GPS mapping.
Their field reports will contribute to the Songhees Nation's future of land and resource management on their traditional territories. And alongside these techniques, the sense of a relationship between people, history and ecology grew.
The spirit of the course is rooted on the land. The students' field work actively contributes to a collaborative research project with the Songhees Nation.

—UVic ethnoecologist Darcy Mathews
While Sellemah led the students through her memories of growing up on the islands, UVic student Ty Styner reflected on how the course helped students foster living relationships with Songhees community members.
"Through her words and presence Joan reminded us that Tl'ches, her home, was worth more than we could ever quantify in a site survey—and because of that I came away from this field school having not only learned how to study the island's environment but having developed a relationship with it as well," says Styner.
Mathews agrees: "It is an honour and privilege to learn and teach with Sellemah, who grew up on this island, our Songhees and UVic students, and the Lekwungen people. These islands have been carefully and expertly managed for millennia to sustainably produce food, medicine, and materials that reliably provided for a large number of people. There are many lessons here, both ancient and for the future."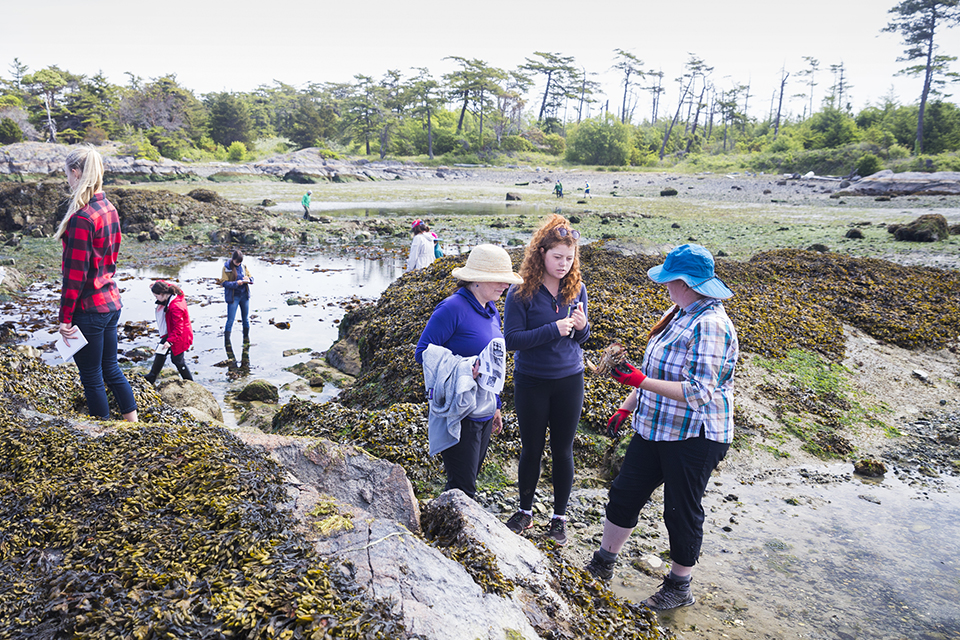 For doctoral student Leigh Joseph, the course was an opportunity to take on an independent project using community-based research that would contribute to the Songhees Nation in a meaningful way.
"By putting the people and community first, my research addressed an interest that was important to the Songhees. I conducted a preliminary ethnobotanical survey of a culturally important meadow on Tl'ches where Indigenous plant foods are growing," says Joseph.
Joseph is hopeful that her project data will be used by the Songhees Nation and future UVic field schools to inform eco-cultural restoration efforts to an Indigenous food meadow.
As a student and Lekwungen person, Kathy Bryce took the field course to help her as a marine use planner with the Songhees Nation and as a way to learn about her ancestors.
"This research matters to me on so many levels," says Bryce. "I want to apply what I learned to my current project with marine use planning and use these tools to explore our reserve lands and traditional territory."
Photos
In this story
Keywords: Indigenous, student life, field schools, community, ecology, environmental studies
People: Darcy Mathews
Publication: The Ring