Guide to Indigenous languages in Canada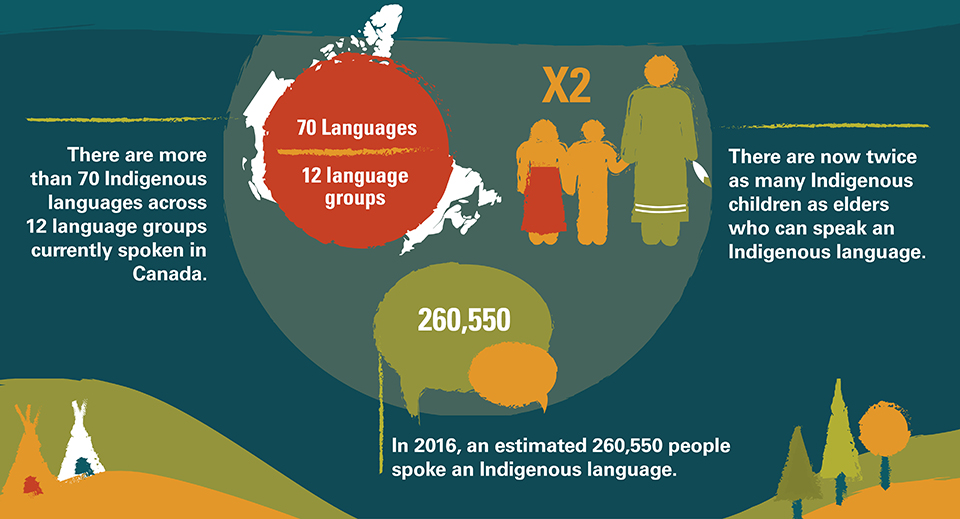 Want to do more to support the revival of Indigenous languages and don't know how? Read on!
On the 11th anniversary of the signing of the United Nations Declaration on the Rights of Indigenous Peoples (Sept. 13, 2007), the Canadian Commission on UNESCO published a three-page quick-facts and tips guide to Indigenous languages in Canada (PDF 7MB). The guide is compiled by Onowa McIvor (Indigenous Education) and it provides current information about Indigenous languages in Canada and a list of ways you can help support them.
Here are just a few:
Learn the name of your town or city in the Indigenous languages of your region
Learn a greeting and a response in the Indigenous language of your region
Introduce local Indigenous languages to your family and in your workplace using resources like First Voices, or smartphone language apps, etc.
So, go ahead, DÁ,ET SW̱ EN SṮI,Ḵ ("Try it, you will probably like it!")
The guide is based on research by McIvor as part of the national language revitalization project called NEȾOLṈEW̱, translated as "one mind, one people" or "doing things as one" in the SENĆOŦEN language. NEȾOLṈEW̱ is a collaborative research partnership comprised of nine Indigenous-led communities and organizations and the department of Indigenous Education at UVic. Funded by SSHRC, its goal is to understand and enhance Indigenous adults' contributions to reviving Indigenous languages in Canada.
Photos
In this story
Keywords: Indigenous, administrative, languages and linguistics
People: Onowa McIvor