Anthony H. Birch, scholar of British and comparative politics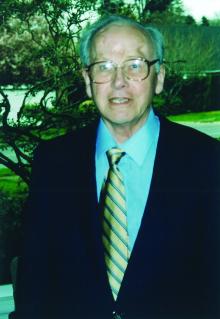 Anthony H. Birch, who was Professor in UVic's political science department from 1977 until 1989, and Chair from 1981 to 1986, passed away on Dec. 13, 2014 at the age of 90.   
Over the course of a long and distinguished career, he published numerous articles and 8 books—all single authored.  His Representative and Responsible Government (1964) and later British System of Government (published in ten editions) remain central texts on UK politics and represent a particular tradition of British political studies, rooted in history and in the main canons of traditional political theory. He was also a student of comparative federalism, nationalism and regional integration.  His books and articles on these subjects have been very relevant to contemporary debates in Britain about Scottish and Welsh devolution. His last book, The Concepts and Theories of Modern Democracy, was published in a revised third edition in 2007, when Tony was well into his 80s. 
Tony Birch was a central figure in the new discipline of political studies in Britain that emerged in the 1960s in contrast to the "scientific" and behavioral approaches then fashionable in the United States. He was a leading figure in the Political Studies Association and in the International Political Studies Association.  In 2002, he was awarded the prestigious Sir Isaiah Berlin prize from the Political Studies Association. He was also elected a fellow of the Royal Society of Canada.   
Birch was born in 1924 and brought up in North London. After a brief career in the civil service after the war, he went to the London School of Economics and received his PhD in 1950. In 1951, he won a Commonwealth Fund Scholarship to the United States, where he studied at Harvard and Chicago, and where he also met his wife Dorothy who assisted him in his work throughout his career until her death in 2010. 
His first academic position was at the University of Manchester, where he worked closely with Professor W.J.M. Mackenzie.  He moved to Hull in 1961, where he built the new Politics Department from scratch.  In 1970, he was appointed Head of the Department of Politics at Exeter. He moved to UVic in 1977, and taught a variety of courses in the BA and MA programs on British and Comparative Politics before his retirement in 1989. His course on political concepts was for many years required for both honours and graduate students.   
Birch's retirement was spent in Victoria—sailing, taking road-trips with Dorothy in their camper van, and playing bridge. He is survived by his daughter, Tanya, two grandsons and two great grandchildren.      
Submitted by Colin Bennett
Photos
In this story
Keywords: in memoriam, obituary
People: Anthony Birch