Support for new discoveries in UVic health research
Education, Science, Engineering, Human and Social Development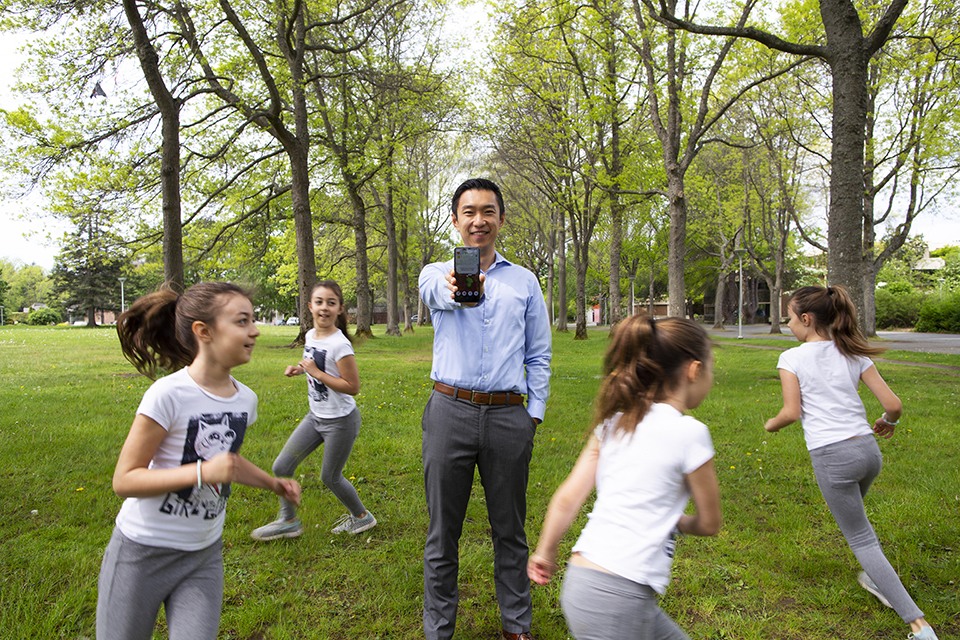 Researchers investigating childhood obesity, food security and nutrition in Inuit communities, and the role of intestinal microbes in humans' immune systems are among the University of Victoria recipients of nearly $2 million from the Michael Smith Foundation for Health Research (MSFHR).
MSFHR's Scholar Program supports early-career health researchers who are building leading-edge health research programs and training the next generation of scientists. The Research Trainee Program supports health researchers in the training phase of their career to enrich BC's health research talent.
"Support for these early-career researchers exemplifies their leadership, creativity and impact," says Nathan Lachowsky, special adviser, health, within UVic's Office of the Vice-President Research and Innovation. "These achievements advance our UVic Health Initiative and demonstrate how our scholars are at the leading edge of health research."
MSFHR is providing funding for 86 MSFHR scholar and recipients at research institutions across BC, following a year that has shown "the critical nature of investing in health research and the talented people who improve our health system and help create healthier lives through discovery," says MSFHR President and Chief Executive Officer Bev Holmes.
The five UVic scholar recipients are:
Josh Giles, mechanical engineering
As many joint replacement patients still aren't able to perform daily tasks, Josh Giles' research targets the development of technologies that assist surgeons in pre-operative plans. Using computer-based biomechanical research, machine-learning and novel sensor development, Giles' research will improve our understanding of personalized joint replacement, yield new clinical technologies and enable surgeons to more effectively personalize surgery to each patient, resulting in improved patient function and a more efficient health system.
Mathew Little, School of Health and Public Policy
Epidemiologist and assistant professor Matthew Little will work with Inuit communities in Nunavik to assess food security, dietary patterns and nutritional health. Malnutrition is a serious concern in Inuit and northern regions of Canada, driven by poverty, food insecurity and climate change, says Little, who will share findings with decision-makers responsible for sustainable and healthy food systems across this region.
Sam Liu, exercise science, physical and health education
Childhood obesity is a major public health challenge in Canada and its rate of increase has been rising steadily for decades. This is especially so in more marginalized families and communities, creating an inequitable risk for chronic disease in adulthood. Sam Liu is leading a research program exploring ways for families to leverage digital technologies to help manage childhood obesity using personalized games and apps.
Lisa Reynolds, biochemistry and microbiology
The presence of particular microbes or macrobes within humans' intestinal tracts can drastically alter the development and functioning of our immune system, which in turn can influence our susceptibility to infectious, inflammatory and allergic diseases. Lisa Reynolds' lab aims to dissect the pathways of intercommunication between the microbiota and the immune system, with the goal of identifying molecules and mechanisms that can influence immune system functioning, which can then be targeted therapeutically to treat or prevent allergic, inflammatory and infectious diseases.
Nicole Templeman, biology
Nicole Templeman, Canada Research Chair in Cell Biology, is examining the link between insulin and egg cell quality to understand age-related reproductive decline. Signaling pathways that detect nutrients seem to play crucial roles in coordinating metabolism, reproduction and lifespan. Templeman's team will use a mouse model of genetically reduced insulin to determine how lowering insulin affects oocyte quality and reproductive success during aging. Her team will also study how insulin levels determine features of polycystic ovary syndrome, a common hormonal disorder, and evaluate long-term consequences of temporary nutrient excess or depletion.
-- 30 --
Photos
In this story
Keywords: research, health, funding, government
People: Josh Giles, Mathew Little, Sam Liu, Lisa Reynolds, Nicole Templeman