UVic grad leads user-friendly no-waste store
- University of Victoria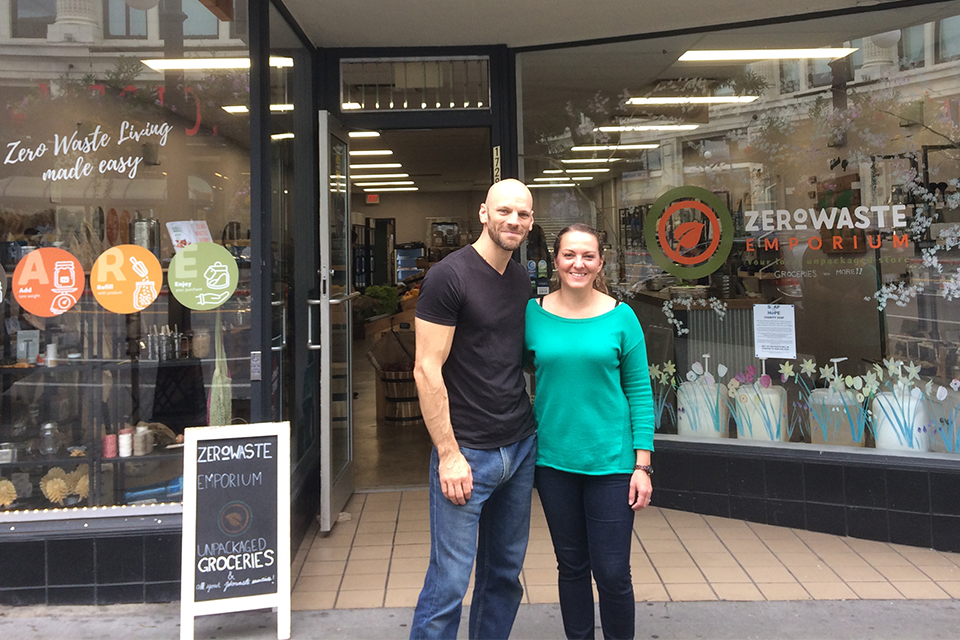 Alumni Q&A: Paula McPhee 
UVic alumna Paula McPhee (nee Romagosa, BSc '04 ) and her husband, Nairn, are co-owners of Zero Waste Emporium in downtown Victoria. The couple has received considerable recognition for their green enterprise, including Ecostar and Surfrider Foundation awards.
We asked Paula for some tips on making 2021 a green new year.
Q: What do I need to know before visiting a no-waste store or ordering online? How does it work?
A: We designed the store to be as user friendly as possible. We encourage people to bring in their own clear and dry containers from home to fill up in our store, but we also have everything you need to shop successfully if you just walk in through our doors. We have brown paper bags available for the dry bulk items and a "take a jar, leave a jar" system in place for customers to take advantage of free clean and sterile jars to fill with all the wet bulk items, like oils, vinegars and syrups. For online orders, your food is expertly packed by our staff in compostable packaging and clear mason jars that come with a $1 fully refundable deposit upon return. 
Q: What are three things I can do right away to reduce my household waste?
A: Start with the simple things that don't necessarily change your daily habits. Change out your plastic toothbrush for a bamboo toothbrush, replace your plastic dish sponge with one made from coconut and switch to a locally made natural deodorant on a recycled paper tube.
Q: What are some of the most popular items to purchase in a no-waste shop?          
A: Customers love our natural locally made soaps.  Everything from laundry soap to dish soap, shower gels and shampoos. We are also the only spot in Victoria that you can get unpackaged tofu and local Island grass-fed milk on tap!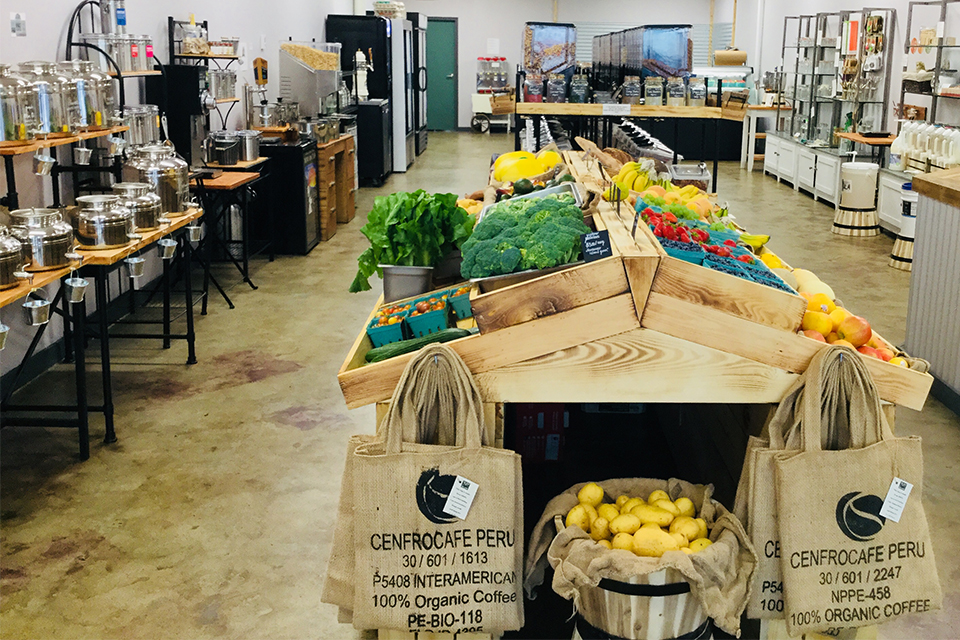 Q: You estimate that you have saved the environment 60,000 containers already. What is your goal for the business?
A: Our goal is to be an inclusive store for all those who want to help reduce their carbon footprint in this world. We want to make zero-waste shopping the norm and make it easy for people to switch their habits. Our mission is to show Vancouver Islanders that reducing your waste and shopping local does not have to come with high prices and wasteful single-use packaging. 
Q: How did your education and experiences at UVic inform the development of your business?
A: Growing up in South America meant I had little exposure to recycling and being more conscious of the consequences of my purchasing habits. However, being at UVic showed me how easily a community can embrace being more environmentally conscious and helped me become aware of how easily I could change my daily habits to minimize my impact. Pursuing a Biology degree and doing field courses gave me a stronger connection to the local wildlife and showed me how our actions have immediate implications on our local waters and animals.
Photos
In this story
Keywords: alumni, community, biology, student life
People: Paula McPhee, Nairn McPhee
Publication: The Torch