A deeper understanding of the universe
- Erin King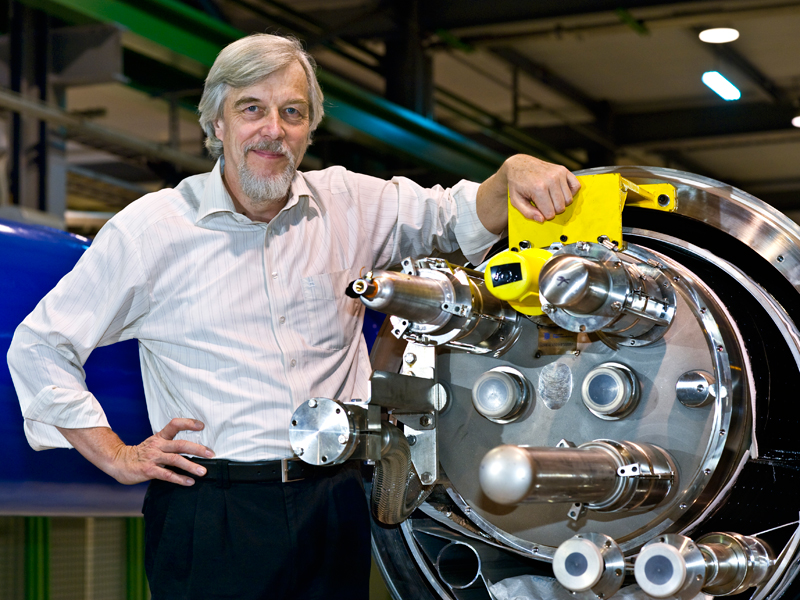 CERN Director General Dr. Rolf Heuer to give inaugural Alan Astbury Public Lecture on April 27.
The world's most powerful particle accelerator came back online this month after a two-year hiatus. Already credited with the discovery of the Higgs boson (or "God particle"), the Large Hadron Collider (LHC) in the CERN facility at Geneva, Switzerland, holds the key to discovering the origin of mass, the nature of dark matter, and much more.
As excitement is re-ignited about the LHC, UVic welcomes Dr. Rolf Heuer, Director General of CERN, to the campus for a public talk on the collider's potential.
In the LHC, a 27-kilometre tunnel underneath the border between Switzerland and France, protons or lead ions collide at energies approaching the speed of light, effectively recreating the start of the Universe. As the energy dissipates, scientists study the results of these collisions hoping to observe the spontaneous creation of undiscovered particles.
In what is arguably the most significant position in high-energy particle physics, Dr. Heuer leads CERN, the international research collaboration and facility that hosts the LHC.
"Dr. Heuer will explain some of the excitement around the LHC," says UVic physicist Richard Keeler. "His talk will explore the significance of the Higgs boson discovery and the potential for even more discoveries as the LHC comes back online."
Dr. Heuer is no stranger to Victoria. He holds an honorary degree from UVic and has retained ties to the university throughout his career. He returns in April as part of the two-day Alan Astbury Memorial Symposium.
"Alan Astbury was a leading international figure in particle physics," says Keeler. "Dr. Heuer did not hesitate when we asked him to participate in an event honouring Alan's memory."
Directly connected to not one, but two Nobel prizes, Alan Astbury was an influential figure. His work contributed directly to the discoveries of the W and Z bosons in 1983 and later the 2013 Higgs boson discovery, both of which were recognized with Nobel prizes. As Director of TRIUMF 1994–2001, Astbury increased Canada's influence in international physics research and put the University of Victoria on the map for physicists everywhere.
"The Department of Physics and Astronomy would not be where we are today were it not for Alan Astbury," explains Keeler. "When he joined UVic in 1983, we were an extremely small particle physics group. I think he saw an opportunity here—a more-or-less clean slate on which he built a legacy of world-class physics research."
Dr. Rolf Heuer's talk, "Breaking the wall of the hidden universe—what the discovery of the Higgs boson tells us about Physics, Mankind and the Universe," takes place in B150, Bob Wright Centre on Monday, April 27 at 7:30 p.m. This event is free and open to all, but space is limited. Please arrive early to secure your seat. The talk will also be webcast live at uvic.ca/astbury.
Photos
In this story
People: Richard Keeler