Grad's climate change research helps communities
- Anne MacLaurin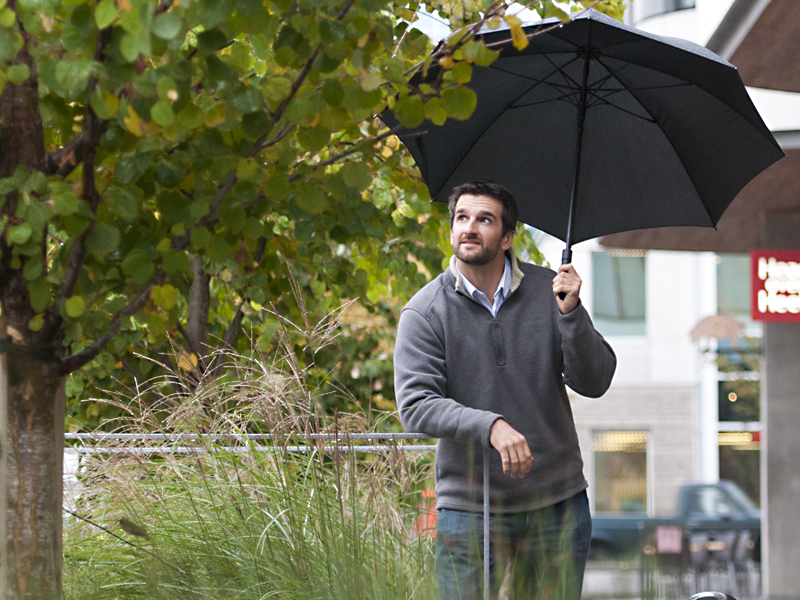 After years studying rain gardens, green roofs and climate change, Chris Jensen will graduate this month with an MSc degree in geography. As a master's student, Jensen began a project on how to manage rainwater where it falls, rather than directing it into storm water systems buried under city streets. Green roofs, rain gardens and permeable paving materials are some of the strategies that were evaluated to determine how they could mitigate the impacts of more extreme rainfall brought on by climate change. 
"If rainwater is absorbed where it falls, there'll be less risk of overloading our storm water systems and less flood damage to homes, businesses and sensitive aquatic habitats," he says. "It's a gentler, more natural way of managing rainfall."
Jensen conducted his research study in the heavily urbanized Bowker Creek watershed, within the municipal borders of Victoria, Oak Bay and Saanich.
"Bowker Creek is an ideal case study," he says. "About 50 per cent of its surface is impermeable due to roads, buildings and pavement, and a study led by the Capital Regional District predicts that there will be increased flooding there in the future."
Low-impact development strategies include permeable paving materials, green roofs and rain gardens. "The idea is that if we can use some combination of these," says Jensen, "we can reduce flooding without expensive upgrades to the existing drainage infrastructure."
Jensen has been involved with the Friends of Bowker Creek Society since 2001.Throughout his master's degree he worked with municipal officials, engineering consultants, the Pacific Climate Impacts Consortium and provincial staff to overcome the regulatory, policy and technical challenges of low-impact development.
Jensen was born and raised in Victoria and had the rare experience of growing up on a large rural property with forests, streams and wildlife.
"My interest in water resource management grew out of my childhood experiences," says Jensen. "As a child I watched my favourite forests and streams turned into housing and development and I noticed the impact on watershed health. I thought there must be a better way of doing things."
When he is not studying the impact of extreme rainfall Jensen can be found in the alpine regions, rock climbing, skiing and mountaineering. He is also a busy parent to a young daughter.
"I had many challenges when I began my master's degree," says Jensen. "I am grateful for my family and my partner and their support during my studies."
He also acknowledges the many scholarships and fellowships that helped him throughout his degree: the Alex Graham Bell Scholarship, PICS Fellowship, and UVic President's Research Scholarship to name a few.
"UVic is a great leader in climate change adaptation," says Jensen. "The university is 'walking the talk' when it comes to buildings with green roofs, rain gardens and other low-impact strategies."
Jensen is currently working for the BC Ministry of Community, Sport and Cultural Development. He works with local governments on addressing climate change in their development strategies. He also helps communities prepare for climate change by reducing vulnerabilities to crisis events such as flooding.
Photos
In this story
Keywords: climate change, water, geography
People: Chris Jensen