A passion for justice
- Jody Paterson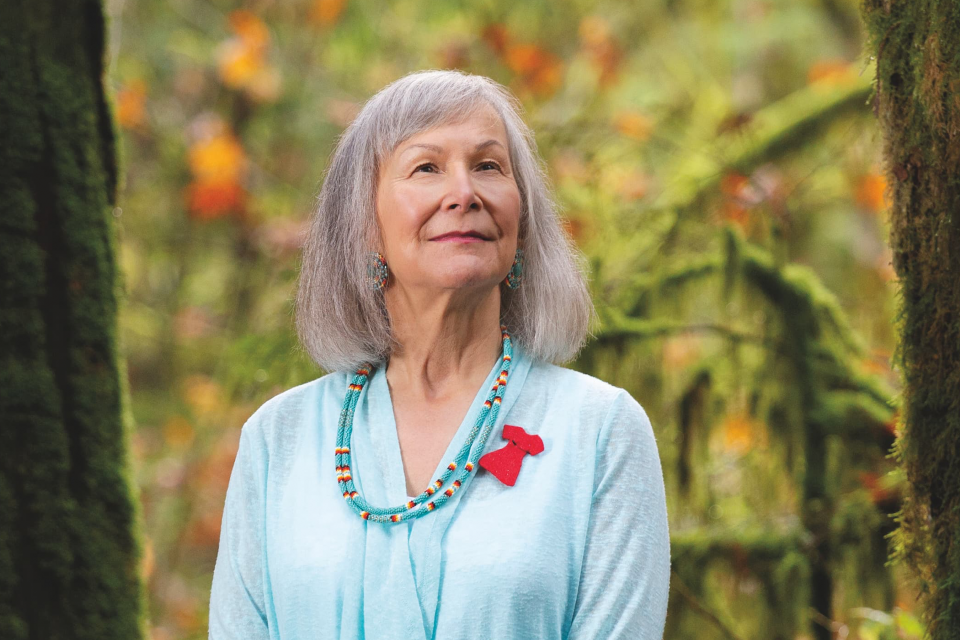 If it hadn't been for a timely visit to Vancouver Island, University of Victoria Chancellor Marion Buller just might have ended up a Carleton University graduate.
But it was love at first sight when Buller travelled from Ottawa to Victoria for that fateful vacation in May of 1973. She was so taken with the natural environment that she quickly set to work transferring from Carleton and enrolled in third-year anthropology at UVic, where she was one of only a handful of Indigenous students attending the university.
"UVic has done some amazing work on reconciliation and beyond since then," says Buller, who was installed as the university's 12th chancellor in April.
In the 1970s, I would go to the room where the Native Student Association had an office and there would be nobody there. Now, there are many Indigenous students, courses, spaces and an Indigenous strategy. None of that planning and structure was in place back then."

—UVic Chancellor Marion Buller
Some things never change
The campus had few buildings in those years, recalls Buller, and a registration process for students that centred on everyone lining up outside the McKinnon Gym with their punch cards in hand to register for classes.
But you did get to speak directly to your professors because of that. And to me, UVic has never lost that openness. There has always been an emphasis on teaching, and a definition of success as being part of a caring community. The faculty really takes pride in being good teachers."

—UVic Chancellor Marion Buller
Buller spent a decade in the workforce after graduating from UVic in 1975 with her anthropology degree, then returned for her law degree. She was drawn by UVic's "small school" approach, which at the time was distinctively different than law schools elsewhere in Canada that generally had very large first-year classes.
All first-year UVic law students were required to take criminal law at that time. One of Buller's professors that year was Keith Jobson. She credits him with "lighting a fire in me" that led her into criminal law and ignited a passion for social-justice work.
"I just knew I had to be in criminal courts. Professor Jobson was engaging, really inspiring. I was lucky to have several professors in UVic law of the same mind."
Buller is Cree and a member of the Mistawasis First Nation in Saskatchewan. In 1994—just seven years after she graduated from law school—she was appointed BC's first female First Nations Provincial Court judge.
A most distinguished career
During her legal career, Buller has been president and director of Canada's Indigenous Bar Association; an active member of the BC Police Commission, the Law Foundation of BC and the Law Courts Education Society; and developed the foundation for the Aboriginal Family Healing Court, which works to return Indigenous children to their birth families.
The many papers and articles she's written over the years highlight the inconsistencies within the justice system in terms of ensuring the rights of Indigenous people and women, and the need to incorporate the principles of Indigenous laws in the system.
Awards flooded in as the years passed: a UVic Distinguished Alumni Award in 2012; a Diamond Jubilee medal; the Rosemary Brown Award for a BC woman whose efforts uphold the values and ideals of the late Brown, a politician known for her tireless advocacy for women and minorities.
But two appointments stand out in Buller's mind as especially significant.
In 2006, she founded the First Nations Court of British Columbia (now known as Indigenous Court). The court uses the principles of restorative justice and traditional Indigenous ways in seeking sentences that balance rehabilitation, accountability and healing for Indigenous people.
Ten years later, Buller retired as a provincial-court judge and began some of the most challenging and high-profile work of her life when she was appointed Chief Commissioner of the National Inquiry into Missing and Murdered Indigenous Women and Girls (MMIWG). Buller feels "really proud" of the 2019 two-volume report that resulted, Reclaiming Power and Place.
I've had calls from all over the world about the work we did in the National Inquiry, from people and organizations wanting to know how we did it. I've talked to people from so many countries now that are having their own inquiries. I am so appreciative of the three wonderful commissioners and staff who worked with me—such a team!"

—UVic Chancellor Marion Buller
A time of reconciliation
UVic President Kevin Hall became the first university president in Canada last year to ask permission of local First Nations to work on the territory as part of his installation ceremony. Buller did the same for her installation in April.
So many issues for Indigenous people in Canada still need to be addressed, she notes. But she takes hope from the "groundswell" of non-Indigenous allies who are committed to helping advance reconciliation, and an emerging generation of creative and committed Indigenous leaders well-versed in working in both Indigenous and settler cultures.
"As a nation, we're having some pretty difficult conversations about reconciliation," says Buller. "Northern Canada worries me in particular, where we still have reserves with unsafe drinking water, substandard housing, kids having to leave home to go to high school, women having to leave their communities to give birth. There's still a lot of work to do, but also the energy and expertise to do it."
Buller's appointment comes at an ideal time for advancing UVic's own commitment to reconciliation, says President Hall.
I am excited to be working alongside Chancellor Buller to do the hard work challenging the historic and present-day systems that limit equitable access to our institution. Marion's appointment reflects UVic's unwavering commitment to listening, learning and being open to new ways of thinking and doing as we aspire to embed Indigenous principles and Indigenous-led scholarship into the fabric of UVic."

—UVic President Kevin Hall
Our newest chancellor
Buller was delighted ("Not quite speechless, but close," she jokes) when she first heard from UVic last year asking if she would consider being the next chancellor after Shelagh Rogers' term ended.
"I got an email asking my interest, and my response was one word: 'Yes!'" says Buller. "I thought it would be a wonderful opportunity to give back to UVic for the education I was so lucky to receive."
Buller anticipates that her diverse work experiences will be a great fit for her new role as UVic chancellor.
I have a lot of experience with problem-solving and making hard decisions. I have a different world view to share. I bring a lot of experience from my life, from meeting a lot of different Canadians and learning about a variety of cultural and social issues. For my own part, I expect to experience newness—to learn again, and from the best."

—UVic Chancellor Marion Buller
Buller's three-year term will involve plenty of travel from her home in the Lower Mainland to Victoria for meetings of UVic's board of governors, senate meetings and convocations. But Buller notes it's a short trip over to Vancouver Island compared to the vast distances she travelled into isolated communities during her time heading up the MMIWG inquiry.
She's excitedly anticipating her first convocation ceremony in June. "It's such an opportunity to celebrate hard work and a commitment to learning," she says. "It's a joyous occasion for everyone. I can't wait to experience this again, but now from the chancellor's chair."⁠ ⁠
Photos
In this story
Keywords: alumni, Indigenous, reconciliation, leadership, law
People: Marion Buller
Publication: The Torch