Education's role in Indigenous reconciliation
- Jody Paterson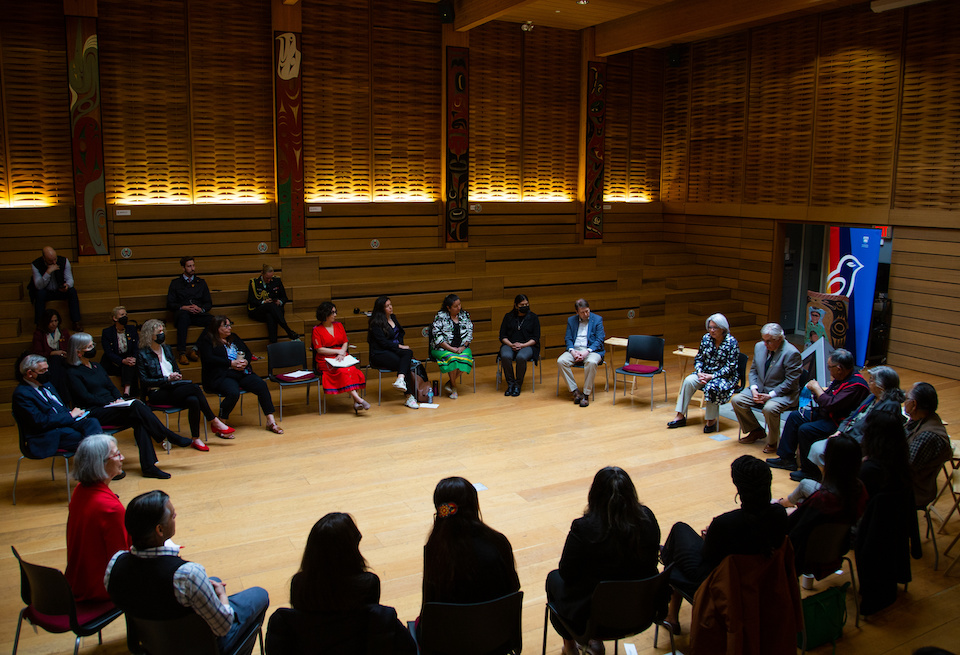 To see an education system that once destroyed Indigenous culture and identity in Canada being used as a vital tool in restoring both brings much hope for reconciliation, Governor General Mary Simon told Indigenous law and education students who shared their stories with her at First Peoples House at the University of Victoria.
Simon participated in a circle with UVic students, administrators and Indigenous scholars to learn more about the university's new doctoral program in language revitalization and its unique position as the only post-secondary in the world offering a joint degree in common law and Indigenous legal orders.
Six students at different stages of completion of the four-year law program spoke of their own paths that brought them to the program, and their pride in joining a new cohort of law graduates informed by Indigenous laws that existed long before the colonial legal system was established.
"My grandfather was impacted by residential school, and so did not pass on his culture or language," third-year student and Nisga'a Nation member Shayla Praud told Simon and Whit Fraser, Simon's spouse. "So I grew up without that, ashamed of my Indigeneity.
I wish I could talk to my teenage self now and say that the strength of your ancestors runs through your veins. We are rewriting the narrative, and there will be no room for shame, no lies for little girls feeling like they have to pretend they're not Indigenous."
—Shayla Praud, third-year UVic student and Nisga'a Nation member 
The students told of learning of the dual law program through various means: A life-changing talk at a college from John Borrows, UVic law professor and Canada Research Chair in Indigenous Law; a revelation in the context of gender-based violence of the need to reimagine the future and not just resolve the immediate crisis.
First-year student Ali Lafond said she's already putting her new legal education to work for her home nation, where she's working as a legal assistant in the area of child welfare and looking forward to a future career applying an Indigenous lens to entertainment and media law.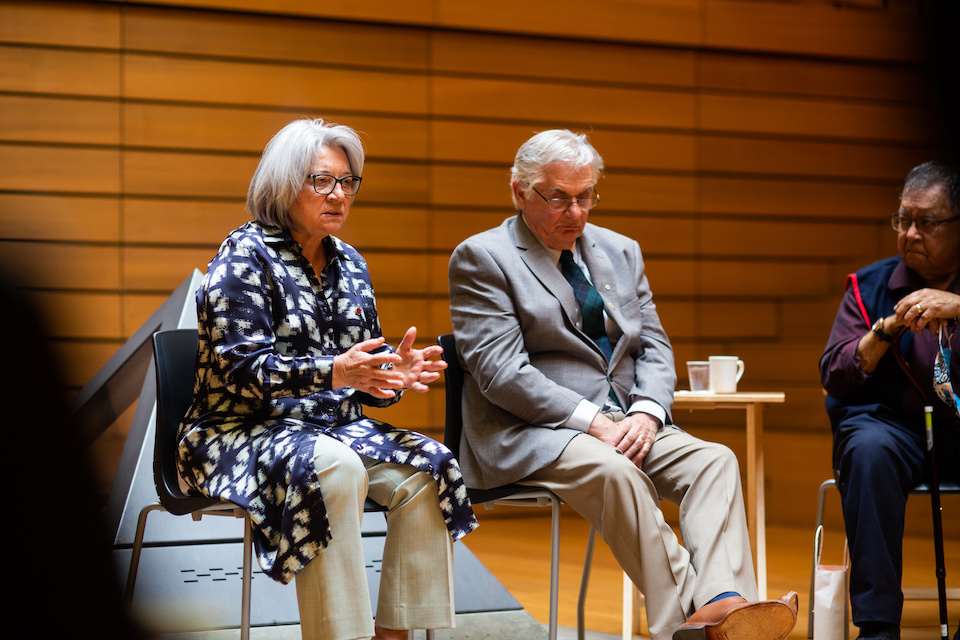 Home away from home
At the opening of the circle, Songhees Nation Elder Dr. Skip Dick spoke of UVic and the First Peoples House as a home away from home for Indigenous students—a gathering place where young people and Indigenous leaders could "talk directly to the powers that be" as equals for the first time in history.
That description of a home away from home resonated for Simon, who spoke of her own experiences of being home-schooled by her father and feeling initially envious of the children in her Nunavik community who were leaving for residential school.
I felt left out, but after the first year they went, I saw them change. The more they went, the more they changed."
—Governor General Mary Simon
Onowa McIvor of UVic's Department of Indigenous Education spoke of the tremendous growth in language revitalization over the past 15 years at the university. What began as an effort at the undergraduate level to preserve at-risk Indigenous languages has developed into masters and doctoral programs for students who are already proficient and now learning strategies for building language revitalization across all sectors in K-12 education to youth counselling.
Simon's dialogue at UVic was part of a BC visit that began on May 20 and included meetings with government and Indigenous leaders, a tour of an ocean science research institute and a visit to an elementary school. On Monday, Simon participated in a ceremony in Kamloops marking one year since the discovery of as many as 200 unmarked graves on the site of the former Kamloops Indian Residential School. Simon told the UVic circle that advancing reconciliation will be a primary goal in her term as Governor General.
-- 30 -- 
Photos
In this story
Keywords: arts, community, law, colonialism, reconciliation, education, languages and linguistics, Indigenous, administrative, student life
People: Val Napoloean, Onowa McIvor, Marion Buller