Val Napoleon wins 2021 Indspire Award for Law and Justice
- Julie Sloan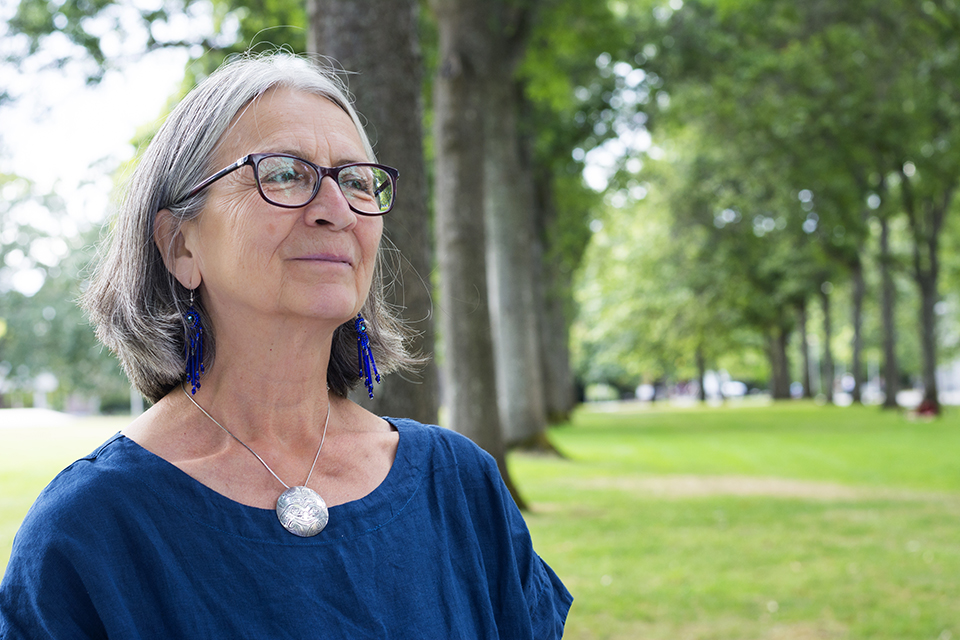 Val Napoleon is one of Canada's most influential Indigenous legal scholars. She's also an artist, disruptor, activist, a Cree woman from the Saulteau First Nation and an adopted member of the Gitanyow (Gitxsan) Nation. Today, Napoleon received the 2021 Indspire Award for Law and Justice. The Indspire awards represent the highest honour the Indigenous community bestows upon its own people. After 28 years, the Indspire awards have honoured 364 First Nations, Inuit and Métis individuals who demonstrate outstanding achievement.
An APTN/CBC special will air on June 22, highlighting the accomplishments of the 2021 Indspire award winners, including Napoleon.
It is a much-deserved award. As director of the world's first Indigenous law degree program, launched in 2018, and co-founder and director of the Indigenous Law Research Unit, Napoleon is truly changing the lives of Indigenous people across Canada and abroad with her tireless work helping First Nations communities articulate and formalize their traditional laws—and by training the next generation of lawyers to work with these laws alongside Canadian Common Law.
Val is changing the way we teach and practice law in Canada. Her leadership at the Indigenous Law Research Unit is key in responding to communities' invitations to help them revitalize their laws. Her work in the law school brings to light how we can better help communities accomplish their goals.

John Borrows, Canada Research Chair in Indigenous Law and UVic law professor
Disruptor-grandmother-educator
For all she has accomplished, it's hard to imagine that Napoleon didn't enter law school until she was a grandmother. In 2011, she was the first person to earn a PhD from UVic's Graduate Program in Law and Society and defended her dissertation in the Gitksan community, rather than in the halls of academe. She worked for many years as an educator, consultant and activist with First Nations communities, many of them in Northern BC, and was a researcher on a land rights case against the BC government known as Delgamuukw. That case resulted in a 1997 landmark ruling by the Supreme Court of Canada that Aboriginal people retained rights to their lands without a signed treaty—a precedent that set the stage for future land rights cases across Canada. It was during this time that Napoleon began working with Gitxsan leaders and peoples, and other leading jurists like Peter Grant, Stuart Rush, Louise Mandell, among others.
Founding of the Indigenous Law Research Unit
While working on the Delgamuukw case, Napoleon watched the Gitxsan people arguing their case on the basis of their own laws from oral histories, and saw that the Canadian legal system had no understanding of Gitxsan legal systems. This realization formed the basis of a new direction in her life, and the founding of the Indigenous Law Research Unit, which she co-founded in 2012 with Hadley Friedland.
Napoleon's passion, determination and hard work couldn't even be sidelined by a concussion several years ago. That was when she started painting, and her artwork spoke about her views on law, feminism and symbolism in a powerful new way. Her paintings center on Ravens—typically tricksters in Indigenous lore—but with a twist. Her ravens are grandmothers and disruptors: a motif that's easy to see as a representation of Napoleon herself.
Napoleon holds the Law Foundation Chair of Indigenous Justice and Governance, has been named a Canadian Indigenous Bar Association People's Counsel—a rare distinction awarded to a First Nations, Inuit, or Metis lawyer for "outstanding achievements in the practice of law—a L'expert Zenith Award, and was inducted into the Royal Society of Canada's College of New Scholars in 2017. She will receive an honorary Doctorate of Laws from UNBC in June 2021.
National Centre for Indigenous Laws
And Napoleon isn't taking a break any time soon. In September 2020, UVic announced funding for the establishment of the National Centre for Indigenous Laws— the culmination of years of work fulfilling Truth and Reconciliation Commission's call to action 50, to build Indigenous Law institutes. Already more than 10 years in the making, the National Centre for Indigenous Laws is getting closer to becoming a publicly accessible national and international virtual forum for dialogue, gathering, teaching and furthering the resurgence of Indigenous laws. Though its vision is broad in scope, the centre's physical home will be at UVic, in an addition to the Fraser law building set to complete construction in 2023. The building, funded by the BC and federal governments, the Law Foundation of BC and other supporters, will house the Indigenous Law Research Unit, the joint degree program in Canadian Common law and Indigenous legal orders (JD/JID), as well as ceremonial and community spaces.
This physical structure represents a sanctuary where our laws, which enable us to be peoples, will be safe, and where both Indigenous and non-Indigenous students will learn about those laws, creating the foundation to a multijuridical Canada.

Val Napoleon
How the centre will facilitate and build those conversations and connections has been the focus of an ongoing national outreach which continues to solicit feedback and ideas through its engagement hub.
Photos
In this story
Keywords: Indigenous, law, community, administrative
People: Val Napoleon
Publication: The Ring