Groundbreaking work on Indigenous law recognized with prestigious research chair
- Margaret Suderman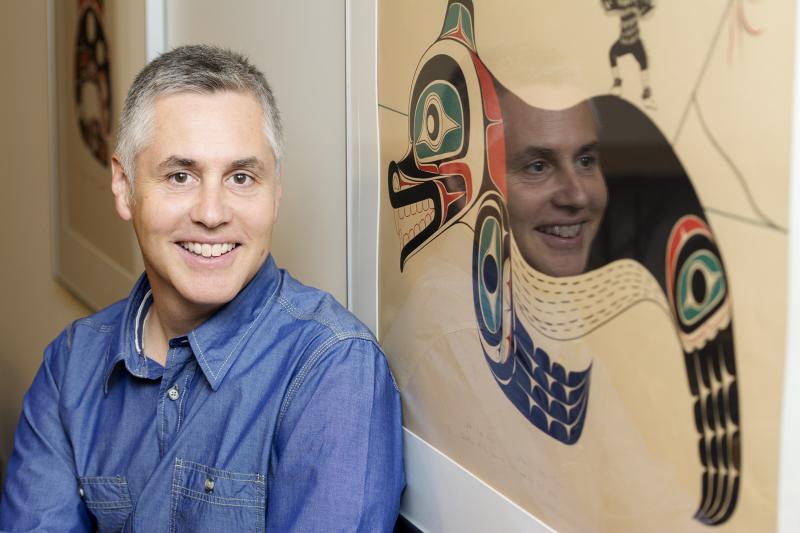 New CRC excited about combined degree program in Indigenous and Canadian law
UVic Law professor Dr. John Borrows secured one of the most prestigious research professorships in the country when he was officially named Canada Research Chair in Indigenous Law on Thursday, Oct. 16.
The Canada Research Chairs Program is a national strategy that seeks to attract world-class scholars of various disciplines to the Canadian university system. In 2000, the Government of Canada set out to establish 2000 research professorships across the country in an effort to strengthen Canada's competitiveness in research and development.
Approximately $265 million is invested per year to support all of the Canada Research Chair (CRC) positions across the country. Borrows received a Tier 1 Chair, which is tenable for seven years and renewable indefinitely.
"The Canada Research Chair will enable me to devote more resources and time to figuring out how Indigenous peoples' laws can be studied and applied in Canada," says Borrows. "With the profile and the resources that come with the Chair, I'll be able to involve more students and Indigenous communities in that work as well."
A homecoming for Borrows
Borrows arrived back at UVic Law in May 2014 following several years spent as Professor and Robina Chair in Law and Society at the University of Minnesota. His new position at UVic Law is in many ways a homecoming, since Borrows served as the Law Foundation Chair of Aboriginal Justice and Governance at the law school from 2001 to 2011.
One of Borrows' greatest hopes for his research chair is for it to help bring the proposed JID program—a four-year dual Indigenous law degree program where students will receive an Indigenous law degree and a Canadian law degree—to fruition.
"Faculty Council has approved, in principle, an Indigenous law degree and I am hoping that this research chair will be a catalyst to get the further support necessary to move that into approval in practice," says Borrows.
In addition to his research chair, Borrows says further work in the field and direct engagement with Indigenous communities is a priority for his future at UVic Law.
"The other plan is to go into communities, particularly Ojibway communities of which I am a part, to work with them in developing regulatory and dispute resolution systems that build upon their own legal orders," says Borrows. "I find they have already done the preliminary groundwork so my job is to help them reach the next level."
The announcement of his Canada Research Chair position is just the most recent accomplishment in Borrows' long and esteemed career. He has also taught at the University of Toronto, the University of British Columbia as the Director of the First Nations Law Program, and at Osgoode Hall Law School as the Director of the Intensive Program in Lands, Resources and First Nations Governments.
Although Thursday's announcement further solidified Borrows' position as one of Canada's leading scholars in Indigenous Law, his work extends beyond Canada's borders. Borrows served as visiting professor and Executive Director of the Indian Legal Program at Arizona State and L.G. Pathy Visiting Professor in Canadian Studies at Princeton University.
According to the Canada Research Chairs website, chairholders are meant to "improve our depth of knowledge and quality of life, strengthen Canada's international competitiveness, and help train the next generation of highly skilled people."
A quick glance at his resume or a few minutes spent sitting in on one of his thought-provoking classes is enough to convince almost anybody of Borrows' ability to fulfill such a heavy mandate. The next seven years are sure to bring stimulating fieldwork and engagement with communities, extend his groundbreaking research and bring new horizons of legal frameworks to the next generation of students.
Two other Canada Research Chairs at UVic were also renewed: Aaron Gulliver (Advanced Wireless Communications) and Clay Holroyd (Cognitive Neuroscience).
Photos
In this story
Keywords: Indigenous, law, research
People: John Borrows, Aaron Gulliver, Clay Holroyd