UVic art exhibitions to see this fall
In addition to scheduled exhibitions by UVic students, faculty and visiting artists in the visual arts program, the UVic Legacy Art Gallery Downtown operates as a lively and engaging centre for art that is easily accessible to the community and features rotating exhibitions. On campus, Legacy features over 2,000 works of art from the collection on public display and has two other exhibitions venues: the Legacy Maltwood, located in the lower level of the Mearns Centre–McPherson Library, and First Peoples House. All exhibits are free and open to the public.
Qw'an Qw'anakwal—To Come Together
Through December 23 at the Legacy Downtown, 630 Yates St.
This exhibition is a celebration of people. Qw'an Qw'anakwal celebrates Salish artists, their families, and collaborators who participated in the Visiting Artist Program through the UVic Department of Anthropology between 2011 and 2021. Over 10 years, the artists in this exhibition generously shared their art practice and knowledge with students through the anthropology of art course, which is open to students across the university campus.
The title Qw'an Qw'anakwal was chosen by Lekwungen artist Yuxwelupton, Bradley Dick (2021 visiting artist). The title represents the underlying intention of the Visiting Artist Program: to bring people together through the creation and appreciation of Salish art.
The Visiting Artist Program invites a new artist annually to teach and work with students on a theme of their choice, using media from their practice.  Over a 4–6-week long residency, students learn in a hands-on, experiential manner about the histories, methods, protocols, and production of contemporary Salish art. The engagement between artists and students positions the classroom as a space of social transformation through the sharing of art. Over the years students have explored a diverse range of topics through Salish art that include relationships with the land, treaties and governance, oral histories, language, residential schools, women and economics, and cultural innovation and creativity. Artists have engaged students in hands on projects that incorporated drawing, painting, knitting, weaving and beadwork. Through this engagement, students learned in a hands-on, experiential manner about the histories, methods, protocols and production of contemporary Salish art.
Each year the visiting artist receives a commission to create a work of art as a legacy of their residency. These legacy artworks are now on permanent public display in the Cornett Building on the university's campus.
The artists represented in the exhibition are:
Douglas LaFortune with his wife Kathy LaFortune
Temosen-THUT (Charles Elliott)
Maynard Johnny Jr.
Yuxwelupton Qw'al qalaxa (Bradley Dick)
lessLIE
Qwul'thilum (Dylan Thomas)
Chris Paul with his children Liam, Cosiniye, and Sage
Margaret August and Nicole Mandryk
May Sam
HÍELWET (Sheilia Austin)
Sulsa'meethl and Tousilum (Deb and Ron George)
Joni Olsen.
With the inspiration for this exhibition being the 10th anniversary of the Visiting Artist Program, artists created new works that reflect on a common theme of time. Their interpretation of this theme broadly includes: Salish design evolution; cultural heritage and knowledge transmission; the relationship of Salish peoples to the cedar tree and the precarious status of old growth forests; ceremony; child raising; land; gender and honouring two-spirit identity, the discovery of unmarked graves at the sites of former residential schools, and experiences of the COVID-19 pandemic.
The exhibition features large format photographic portraits of each of the artists. Amanda Laliberte (Métis, UVic BFA '09) was commissioned to create these images specifically for the Qw'an Qw'anakwal exhibition in 2020 and 2021. The exhibit is curated by Smyth Chair in Arts and Engagement Andrea Walsh, with assistance from Jennifer Robinson (anthropology).
Ungasittuq—Something that is Far Away
Through December 23 at the Legacy Downtown inner gallery
Ungasittuq is an exploration of distance, space, acceptance and pushing boundaries. This exhibition aims to build a foundation for contemporary urban Inuit art photography within the broader popular understanding of contemporary Inuit art. Recent photographs by Barry Pottle present a counterpoint and complement to sculpture, drawings and prints by Inuit artists to give a broader understanding of contemporary realities and experience.
The Way Between Things: The Art of Sandra Meigs
October 18–23 on campus in the Audain Gallery, Visual Arts bldg.
Celebrated visual arts emeritus professor Sandra Meigs returns to campus for the launch of her new career-retrospective book, The Way Between Things: The Art of Sandra Meigs (ECW Press). Meigs—winner of both the Governor General's Award in Visual and Media Arts and the prestigious Gershon-Iskowitz Prize—will offer both a book launch (7 p.m.) and artist's talk (7:30 p.m., also livestreamed) on Oct. 20 in the Visual Arts building, as well as an exhibit running October 18-23 in the Audain Gallery. The exhibit will also feature a new piece created in collaboration with music professor Christopher Butterfield.
Primarily a painter, Meigs derives the content of her work from her own personal experiences and develops these to create visual metaphors related to the psyche. Her work is dedicated to the possibilities of enchantment that painting presents both through colour and form.
Eric Metcalfe: Pop Anthropology
Oct. 23, 2021-March 27, 2022 on campus in the Legacy Maltwood Gallery, Mearns Centre–McPherson Library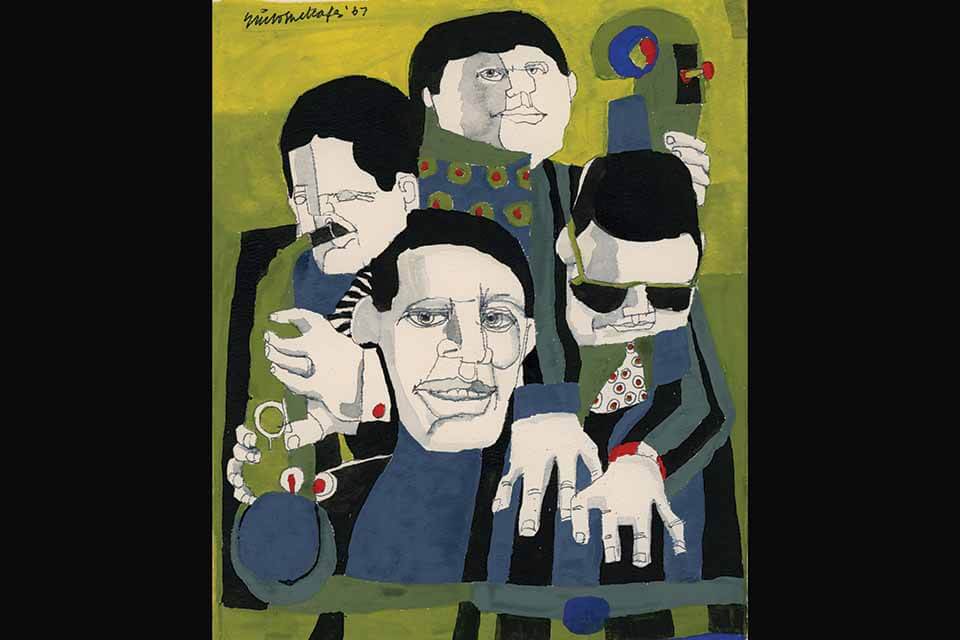 Pop Anthropology is an exhibition of multimedia artist Eric Metcalfe's oeuvre, spanning over 60 years in celebration of the artist's 2021 honorary doctorate from UVic. This exhibition continues the playful and charged work of Metcalfe's life: reimagining images, tropes and stereotypes as poignant and plentiful scraps from which to pull meaning. It honours his early development as a visual arts student at UVic in the early 1970s, as well as his lifetime achievements as a pioneer in performance art in western Canada and co-founder of the Western Front, one of Canada's leading and longest-running artist-run centres. Curated by Dorian Jesse Fraser.
In this story
Keywords: arts, indigenous, visual arts, anthropology, music, Legacy Art Gallery, administrative, student life
People: Douglas LaFortune, Kathy LaFortune, Temosen-THUT (Charles Elliott), Maynard Johnny Jr., Yuxwelupton Qw'al qalaxa (Bradley Dick), lessLIE, Qwul'thilum (Dylan Thomas), Chris Paul, Margaret August, Nicole Mandryk, May Sam, HÍELWET (Sheilia Austin), Sulsa'meethl and Tousilum (Deb and Ron George), Joni Olsen, Jennifer Robinson, Amanda Laliberte, Barry Pottle, Sandra Meigs, Christopher Butterfield, Eric Metcalfe, Dorian Jesse Fraser
Publication: The Ring