Visual arts award includes solo exhibition at Art Gallery of Ontario
- John Threlfall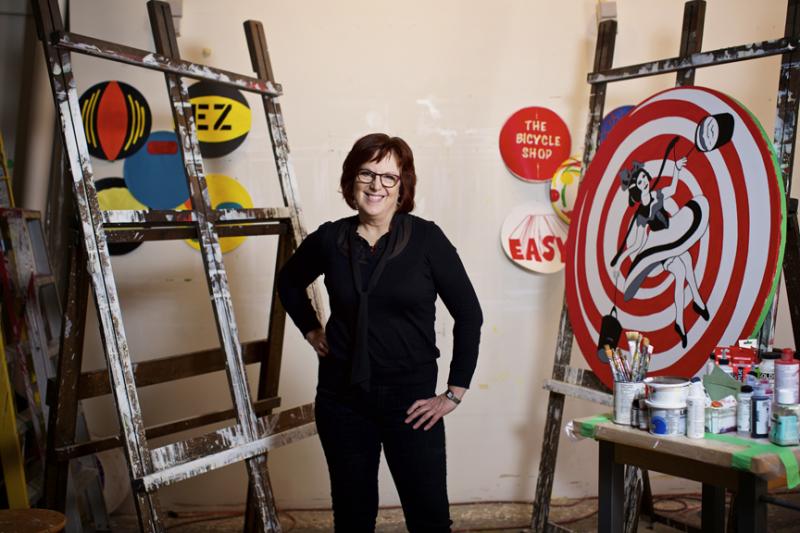 Seven months after being named one of eight recipients of the Governor General's Awards for Visual and Media Arts, Department of Visual Arts professor Sandra Meigs has been announced as the winner of the $50,000 Gershon Iskowitz Prize at the AGO for 2015. In addition to the cash award, the prize comes with a solo exhibit at the Art Gallery of Ontario and a further $10,000 towards a publication on Meigs' work.
"The Gershon Iskowitz Prize recognizes artists who have made a significant contribution to the field of visual arts in Canada," notes Dr. Susan Lewis, Acting Dean of Fine Arts. "The Faculty congratulates renowned painter Sandra Meigs on this latest career achievement. Her creative body of work has a tremendous impact and influence on the contemporary visual arts scene. Her art informs her teaching and mentorship of students in our Faculty. The Fine Arts student experience is distinguished by the expertise and commitment that she brings to fostering a dynamic learning environment here at UVic."
Describing winning the prize as "a career highlight," Meigs says the timing for it is ideal. "It couldn't come at a better time for me . . . I am now ready and fresh to start something anew."
Meigs—currently on a semester of study leave—joins the celebrated ranks of past Gershon Iskowitz Prize winners like Jack Shadbolt, Gathie Calk, Shary Boyle, Michael Snow and former Visual Arts student and fellow Governor General's Award winner Kim Adams.
Adding to the surprise of the announcement is the fact that artists do not apply for this prize. "I was blown away," she admits with a laugh. "There was no nomination process—the decision was made by a curator, two Iskowitz Foundation trustees, and an artist from the Canadian arts community who agreed unanimously on their choice. The prize is given in recognition of, but also to further, an artist's career—particularly an artist who is at a crucial turning point in advancing his or her work."
Meigs, whose latest solo exhibit, All to All, just closed at Toronto's Susan Hobbs Gallery, is excited about the opportunity of showing at the Art Gallery of Ontario.  "Having the AGO as a venue will also give the work a huge boost, not only because it will afford it a large space to show in—for which I have been yearning for some time—but also because my 'fan base' is in Toronto so I can not only show to them, but also reach out to a huge audience of AGO gallery viewers who might otherwise not get to know my work."
As for the prize money, Meigs says she'll use it to fund the pieces for the AGO exhibit. "New work always ends up costing a lot to produce, whether it's research travel, studio costs, production materials, or for services one needs at various stages of the production."
Photos
In this story
Keywords: funding, award, arts
People: Sandra Meigs