Ringers — June 2019
Fine Arts, Humanities, Engineering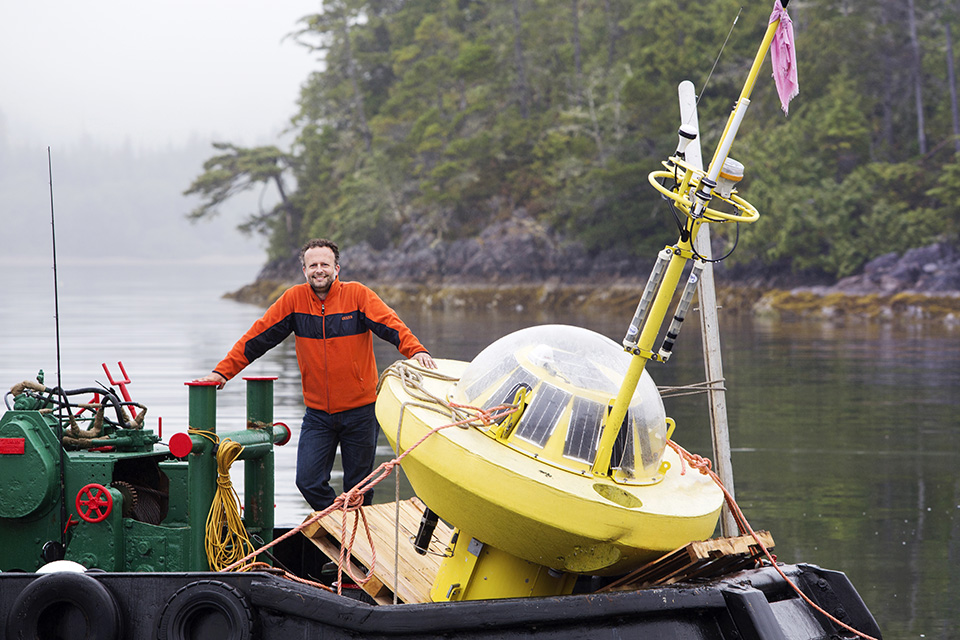 A UVic interdisciplinary field school on migration, xenophobia and Holocaust memorialization in Europe has won a national award for innovation. Charlotte Schallié (Germanic and Slavic studies) accepted the 2019 Innovate German Award on behalf of the UVic team, which included Helga Thorson (Germanic and Slavic studies), Dániel Péter Biró (music) and Helga Hallgrímsdóttir (public administration). Judges commended the field school for its exemplary approach to experiential learning. "It is an outstanding international and interdisciplinary course, with an amazing line-up of activities, site visits, and people involved in a variety of European countries and Canada."
UVic's Acting Registrar Wendy Taylor received a 2019 Inclusive Education Award for her contributions to inclusive education. As the UVic liaison for STEPS Forward, Taylor plays a key role in ensuring that students with developmental disabilities are able to continue their education after leaving high school. STEPS Forward students are supported to enroll at UVic to pursue studies and to engage in student life in the same classes and places as any other student. Program graduates are recognized with Certificates of Completion, awarded at Convocation alongside students earning degrees or diplomas in the same field of studies. "I feel like this award represents the great work of so many UVic team members who participate in ensuring the STEPS Forward students have an inclusive educational experience, and the opportunity to participate in both curricular and non-curricular activities," says Taylor.  "The work I do is one small part of a much larger team effort."
Brad Buckham (mechanical engineering) was awarded the Medal for Distinction in Engineering Education by Engineers Canada. The national association presents their awards annually in celebration of the contribution of outstanding engineers. Since Buckham joined the faculty in 2004, he has taught more than 3,300 first-year students and humbly says that he knows the collective accomplishments of his students are going to far outweigh his own research portfolio. This says a lot since Buckham heads the leading-edge marine renewable energy technology research at UVic's West Coast Wave Initiative, creating clean energy alternatives for diesel-reliant coastal communities.
Two UVic mechanical engineering students are winners of the Canadian Academy of Engineering (CAE) 2019 scholarships. Recommended for his teamwork and participation in a number of design projects including the Formula Hybrid team,Keegan Richter won the William G. Belfry SAE Award. Keagan Shedden, whose involvement in rocketry projects earned him a 10-month co-op placement with The Rocket Lab, a rocket company based in New Zealand, won the Bruce Aubin SAE Aerospace Design Award. The CAE undergraduate awards and scholarships are given annually to top engineering students from across Canada.
Nearly 300 people gathered in the David Lam Auditorium on April 20 to celebrate the memory of Dr. Patrick Lane and to witness the posthumous presentation of the George Woodcock Lifetime Achievement Award. While the award-winning poet, novelist and influential member of the Department of Writing passed away in March, he had already been announced as the recipient of this BC literary award, which was accepted by his wife, Professor Emeritus of Writing Lorna Crozier (herself the recipient of the 2018 Woodcock). Lane will be further honoured on June 7 as the recipient of the 2019 European Medal of Poetry and Art. He is only the second Canadian poet to receive the latter prize; the decision to present him with the 2019 award was also made prior to his passing.
UVic's Centre of Athletics, Recreation and Special Abilities (CARSA) facility has received the Rick Hansen Foundation's top accessibility rating for providing meaningful accessibility—far beyond mandated standards such as building codes. CARSA houses the university's varsity athletics program, community programs for youth across the region, and active living programs and classes for on and off-campus members—as well as being home to CanAssist, a UVic organization dedicated to helping people with disabilities improve their quality of life. The Hansen certification is based on the user experience of people with varying disabilities affecting mobility, vision and hearing—and reflects UVic's commitment from CARSA's inception that its new athletics facility would be open and accessible to all. 
The Office of Campus Planning and Sustainability received an Award of Merit in the New and Emerging Initiatives category from the Canadian Institute of Planners for the university's new Campus Cycling Plan. The plan focuses on increasing cyclist and pedestrian safety, and identifies short and long-term goals and the infrastructure needed to complete the entire campus cycling network.
Alumni gift helps student race team cross the finish line. The student-driven Formula Motorsport Team in engineering managed to finish ahead of the curve this May, finishing in 57th place out of 120 teams at the Michigan International Speedway. You may have already heard their story of adversity, as the team suffered from the theft of key pieces of equipment just a few weeks before the competition. The other part of the tale is about a gift from the UVic Alumni Association to get the team back on the road.
In a separate competition that pairs speed with fuel-efficiency, UVic's Formula Hybrid team—a student group that designs, builds and tests Formula Hybrid vehicles—placed first at this year's international SAE Formula Hybrid competition held in Loudon, New Hampshire. The competition is made up of 35 international student engineering teams competing in design, project management and race events including autocross, endurance and acceleration runs. The UVic team won first prize in the design category and got a special award for their innovative use of their pneumatic antiroll technology. This was the fifth time UVic has entered a team and the second time it has won. "This competition has really taught our team a lot about what industry employers are looking for and about engineering methodology in general," said Chad McColm, team lead. "We got an amazing chance to collaborate and network with other teams and employers and have made some great connections." From the competition grounds, McColm, a fourth-year mechanical engineering student, told the Times Colonist that the big advantage for UVic vehicle was the lighter weight of their capacitor-based system compared with lithium-ion batteries. "We didn't need to be as heavy to get as much power output," he said.
Photos
In this story
Keywords: awards, field schools, engineering
People: Brad Buckham, Charlotte Schallié, Helga Thorson, Dániel Péter Biró, Helga Hallgrímsdóttir, Wendy Taylor, Keegan Richter, Keagan Shedden, Patrick Lane, Lorna Crozier, Chad McColm
Publication: The Ring