A second Giller Prize for Esi Edugyan
- John Threlfall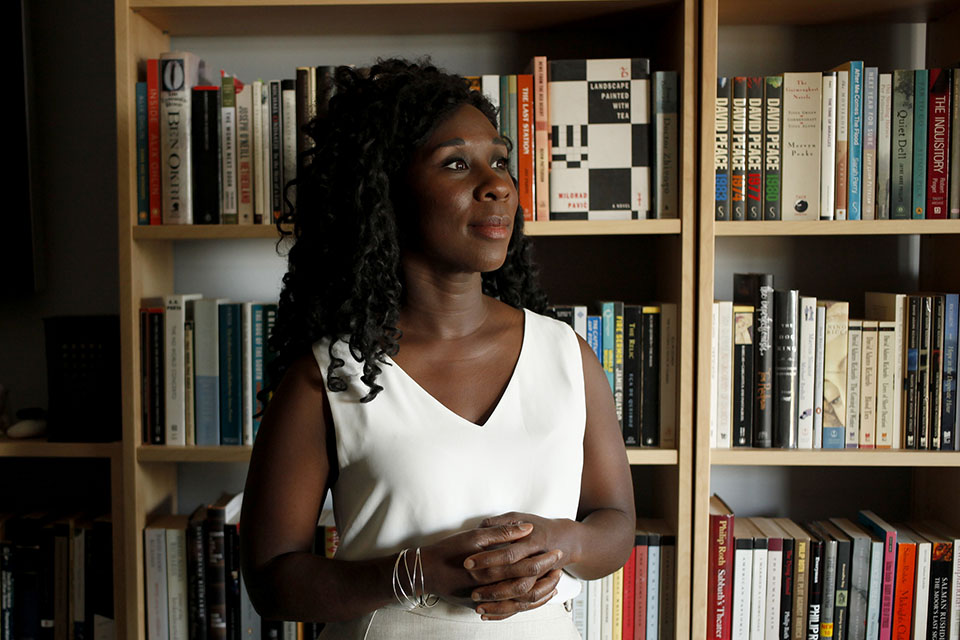 On November 19, internationally acclaimed UVic writing alumna Esi Edugyan won the 2018 Scotiabank Giller Prize for her latest novel, Washington Black. Edugyan wins $100,000 on this, the 25th anniversary of Canada's richest literary award—and also earns the distinction of being one of only three authors to twice win the Giller Prize, alongside M.G. Vassanji and Alice Munro.
"I wasn't expecting to win," Edugyan told the audience as she collected the award. "So I didn't prepare a speech." The former Department of Writing student did, however, go on to say that, "in a climate where so many forms of truth telling are under siege, this feels like a really wonderful and important celebration of words."
Edugyan previously won the Giller in 2011 for her sophomore novel, Half-Blood Blues. Having only published three novels (including her debut, The Second Life of Samuel Tyne), Edugyan's back-to-back wins for Washington Black and Half-Blood Blues are doubly remarkable, especially when you consider both novels were shortlisted for the trifecta of fiction awards—not only the Giller but also the Man Booker Prize and the Rogers Writers' Trust Fiction Prize.
This year's Giller announcement was made at a black-tie dinner and award ceremony hosted by television personality and author Rick Mercer, and attended by nearly 500 members of the publishing, media and arts communities. This year's longlist, shortlist, and winner were selected by the five-member jury of Canadian writers Kamal Al-Solaylee, Maxine Bailey and Heather O'Neill, along with American writer John Freeman and English novelist Philip Hensher.
Of Edugyan's winning novel, the jury wrote, "How often history asks us to underestimate those trapped there. This remarkable novel imagines what happens when a black man escapes history's inevitable clasp—in his case, in a hot air balloon no less. Washington Black, the hero of Esi Edugyan's novel, is born in the 1800s in Barbados with a quick mind, a curious eye and a yearning for adventure. In conjuring Black's vivid and complex world—as cruel empires begin to crumble and the frontiers of science open like astounding vistas—Edugyan has written a supremely engrossing novel about friendship and love and the way identity is sometimes a far more vital act of imagination than the age in which one lives."
Edugyan earned her BA in 1999, and later taught some courses for the UVic writing department as a sessional instructor. She is married to fellow writing alumnus Steven Price, who is also an acclaimed novelist and poet.
"I studied with so many great teachers at UVic," said Edugyan in this 2012 interview upon being named one of UVic's Distinguished Alumni. "The caliber of guidance was amazing. Patrick Lane was my first great teacher. I found myself following poetry because he was so inspiring. Jack Hodgins, Lorna Crozier, Bill Gaston . . . there was such a high level of instruction."
Award-winning author and writing professor Bill Gaston recalls that both Edugyan and Price were in the very first workshop he ran at UVic in 1998. "I'm sure never to say I 'taught' her, though," he says with a chuckle. "I tried to stay out of her way, and not ruin things."
The four other Giller finalists, who receive $10,000 each, include Patrick deWitt (who also lost to Edugyan in 2011) for French Exit, Thea Lim for An Ocean of Minutes, É​ric Dupont for Songs for the Cold of Heart, and Sheila Heti for Motherhood.
Media coverage of Edugyan's win was extensive, with notable pieces running in CBC News, The Globe and Mail, the Times Colonist and CBC Radio's All Points West.
The Globe and Mail also published a reflection on this year's prize, commenting on the award's impact for the Canadian publishing industry. "The greatest relief through the room was that the assembled publicists would not have to battle to sell a 600-page book in translation about a small Quebec town," wrote Russell Smith. "This one sells itself."
Photos
In this story
Keywords: writing, award, literature
People: Esi Edugyan, Steven Price, Bill Gaston
Publication: The Ring