New Audain professor examines art as act of reconciliation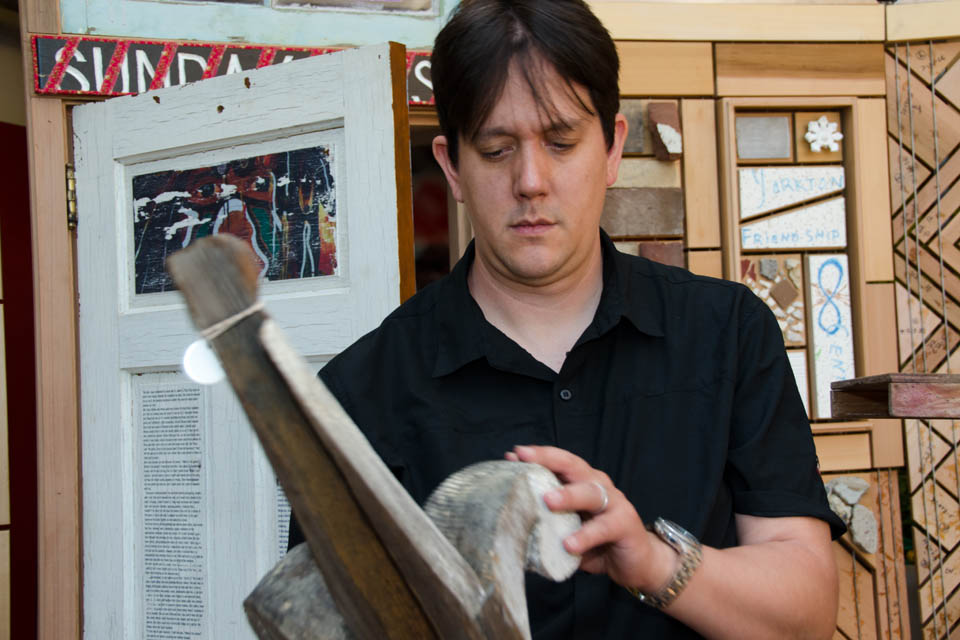 When Kwagiulth and Coast Salish artist Carey Newman's Witness Blanket was unveiled at the University of Victoria in 2014, it was clear the large-scale installation would quickly become a national monument and spark reflection and conversation about residential schools, settler-Indigenous relations and reconciliation. Now, Newman will continue the conversation as the sixth Audain Professor of Contemporary Art Practice of the Pacific Northwest with UVic's Department of Visual Arts.
"This is breaking new ground for me," says Newman. "I'm looking forward to having the opportunity to convert the experience of mentorship into a more formal educational setting."
UVic promotes teaching that reflects the aspirations and calls to action of the Truth and Reconciliation Commission, including addressing issues most relevant to Indigenous people and working with Indigenous communities and organizations to understand, preserve and celebrate traditions, knowledge and cultures.
A former UVic School of Music student, Newman will be the first Audain professor to hold a new three-year position with the department. He will also play a role in the award-winning ACE program with UVic's Gustavson School of Business, which supports the entrepreneurial practices of Indigenous artists.
As a master carver, Carey Newman has extensive knowledge of traditions and teachings, as well as a keen interest in contemporary design and digital processes. Not only is he an extremely well-established artist, but he has strong connections in different mediums and disciplines, both nationally and internationally. With him in the department, we know we would all learn a lot—faculty and students alike—and we look forward to how we can be enriched by that dialogue.
—UVic visual arts chair Paul Walde
The master carver for the Cowichan 2008 Spirit Pole, Newman had another piece, "Dancing Wind," featured at the 2010 Olympic Games. For over 20 years, he owned Sooke's recently closed Blue Raven Gallery. He is also an accomplished pianist and singer who has performed at the National Aboriginal Achievement Awards and with Pacific Opera Victoria, where he is currently a board member.
Best known for his 12-metre-long Witness Blanket—created and assembled from 600 objects and artifacts including pieces of residential schools, an old drum and a shoe—Newman spent four years travelling across Canada with the installation that evokes the atrocities of Indian residential schools and a national journey toward reconciliation. Newman is excited to bring ideas of reconciliation into his classes at UVic.
"I'm interested in looking at how artists can take on the issue of reconciliation through their own relationship with Canada," he says. "That way, it's not limiting it to Indigenous people but is encouraging anyone, even international students, to relate to it."
Established by a $2-million gift from philanthropist and UVic alumnus Michael Audain in 2010, the position has brought distinguished practicing artists Nicholas Galanin, Michael Nicol Yahgulanaas, Rande Cook, Jackson 2Bears and Governor General's Award-winner Rebecca Belmore to teach in the visual arts department.
A press kit containing high-resolution photos is available on Dropbox.
-- 30 --
Photos
Media contacts
Carey Newman at carey@witnessblanket.ca
Paul Walde (Dept. of Visual Arts) at 250-721-8011 or pwalde@uvic.ca
John Threlfall (Fine Arts Communications) at johnt@uvic.ca
Tara Sharpe (University Communications + Marketing) at tksharpe@uvic.ca
In this story
Keywords: Indigenous, art, reconciliation, teaching, philanthropy, witness blanket, visual arts, Audain
People: Carey Newman, Paul Walde