New field school a resonant experience
Human and Social Development, Social Sciences, Fine Arts, Humanities, Law
- Stephanie Harrington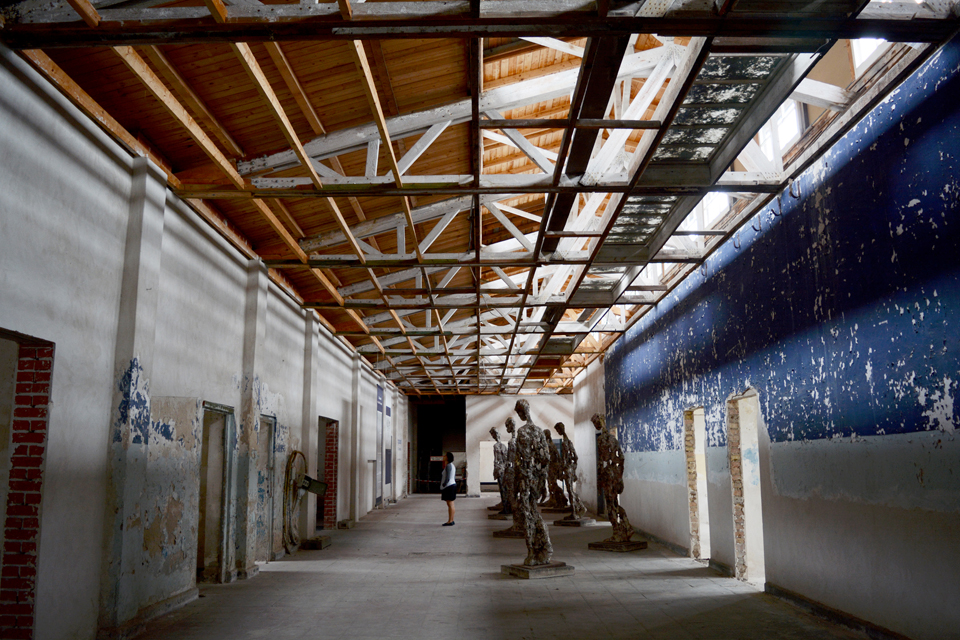 The moment of reclamation for Ethan Calof came at Ravensbrück Memorial Site near Berlin, Germany.
There, the graduate student in UVic's Department of Germanic and Slavic Studies stayed with other students participating in a new humanities summer field school. They were housed in the same place as the former concentration camp's guards 72 years earlier.
As the site of atrocities during the Second World War against groups including Jewish people, Jehovah's Witnesses, and the LGBT community, Ravensbrück was challenging for Calof. But he decided to reclaim the space.
In terms of my Jewish perspective on it, I found myself doing something I don't do. I'm non-religious, but I found myself praying. It felt right; it was a powerful place and it felt like I was paying my respects in the language of my people.
—Ethan Calof, MA student
International learning
Calof will speak about his experiences at the UVic conference Narratives of Memory, Migration, and Xenophobia: Intercultural Dialogues Aug. 24–25 in Victoria. The symposium is bringing together scholars, students and artists from Canada and Europe to examine issues including the recent resurgence of nationalist and xenophobic movements in North America and Europe.
The conference is the culmination of the new UVic field school, which started on July 17 for graduate students from the humanities, social sciences, fine arts and law. The large group—which also included four Hungarian students, one French student and one student from Toronto—travelled to Budapest, to the Ravensbrück Memorial Site north of Berlin, and to Camp des Milles Memorial Site near Aix, France, on the first leg of their journey.
The new field school initiative was co-led by Helga Thorson, chair of the Department of Germanic and Slavic Studies, and associate professor Charlotte Schallié—both of UVic's Faculty of Humanities; by sociologist and principal investigator Helga Halgrimsdottir of the School of Public Administration in UVic's Faculty of Human and Social Development, and by composer Dániel Péter Biró of the School of Music in UVic's Faculty of Fine Arts.
Along the way, students and scholars from Hungary, France and Germany joined them. They visited Holocaust memorial sites and learned about the migrant and refugee situation in Europe. Concerts were organized in each of three locations (see news backgrounder for highlights of the student experience).
The UVic conference will include two evening concerts at UVic's Phillip T. Young Recital Hall, which includes an Aug. 25 performance of the European compositions with the work of UVic music students who participated in the field school.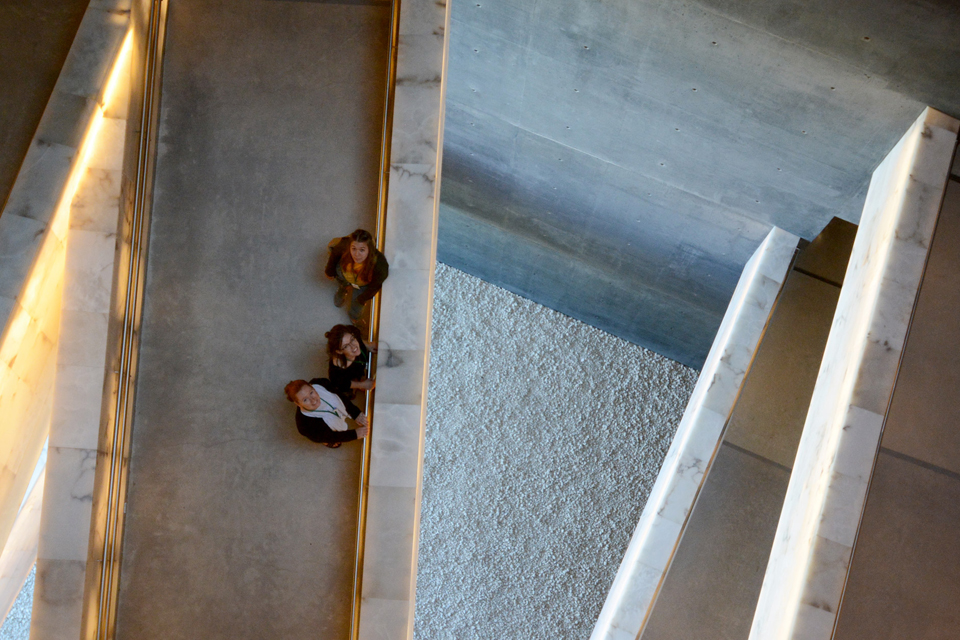 Canadian context
After returning to Canada, the field school stopped at the Canadian Museum for Human Rights in Winnipeg to explore issues with respect to Indigenous land rights, residential schools and reconciliation.
Filmmaker Chorong Kim, who made a documentary about the experience, says the museum visit connected what she learned in Europe with racial discrimination and injustices at home.
Kim, also a master's student in UVic's Department of Germanic and Slavic Studies, was born in Berlin and studies German language and literature.
"Coming back to Canada and looking at the history of Indigenous peoples added an extra layer to the discussions," she says. "The exhibitions in the museum gave me the opportunity to look through the lens of not only religious and political discrimination but race."
She says the field school has given her tools to interpret current events and to think about what her generation—"who's making history in real time"—can do.
For me, the answer is trying to go deeper than the superficial knowledge we have. Just understanding can help initiate a dialogue—it can grow into empathy.
—Chorong Kim, MA student
"They were deeply engaged . . . it was transformative"
Schallié, who is also director of UVic's European studies program, says the field school helped her realize the value of experiential learning.
She describes the group of students as "inspiring. They were challenging one another and they were deeply engaged with the subject matter. It was transformative."
Calof says his time at Ravensbrück Memorial Site served as an important reminder of his Jewish roots. And the field school has inspired him to take action on human rights issues.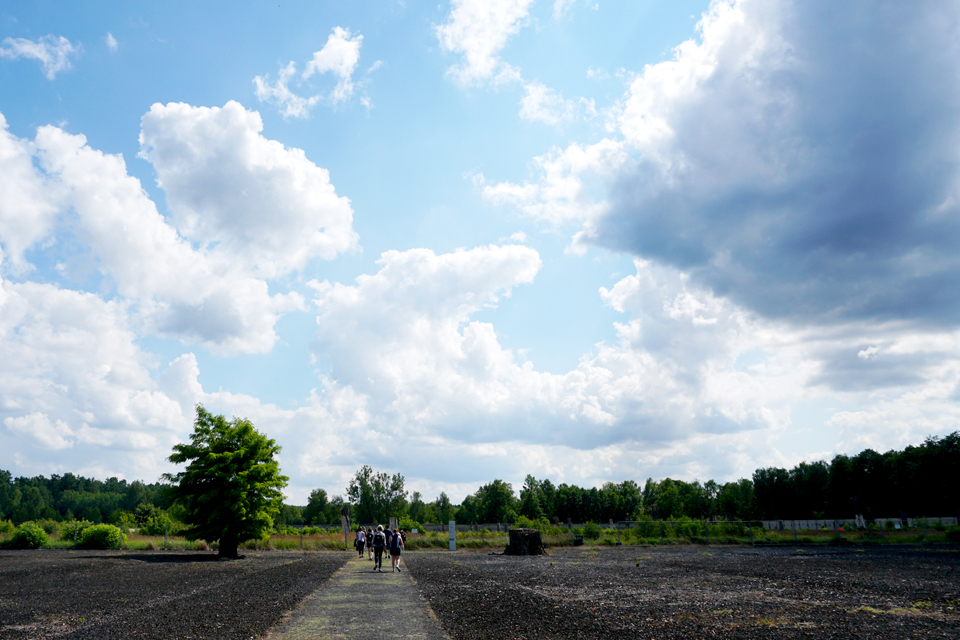 "Everyone had their own experience," he says. "It's about remembering the past and using it to shape actions in the future. We all need to work together."
Read more about Calof's experience on the MyUVic Life blog.
New MA stream in Holocaust studies begins this term
The university is launching the new two-year interdisciplinary master's stream in Holocaust Studies this September—an MA in Germanic and Slavic Studies. Students will benefit from seminar-sized classes, a newly-designed set of foundation courses, and a dual focus on academic and professionalization skills.
The new studies stream offers a thesis and a non-thesis option and includes a required practicum in Canada or in Europe, as well as exchange opportunities in Berlin and Budapest.
Leading the way
Also home to the I-witness Holocaust Field School, the first of its kind for undergraduate students at a Canadian university, and the UVic Holocaust Archive, the Faculty of Humanities at UVic continues to help lead the way in exploring issues of multi-cultural human rights education.
Find out more
Photos
In this story
Keywords: field schools, music, history, interdisciplinary, racism, religion, study abroad, war, world cultures, international, student life, research, community, Holocaust, Europe
People: Charlotte Schallie, Daniel Biro, Helga Hallgrimsdottir