UVic releases first campus-wide sustainability plan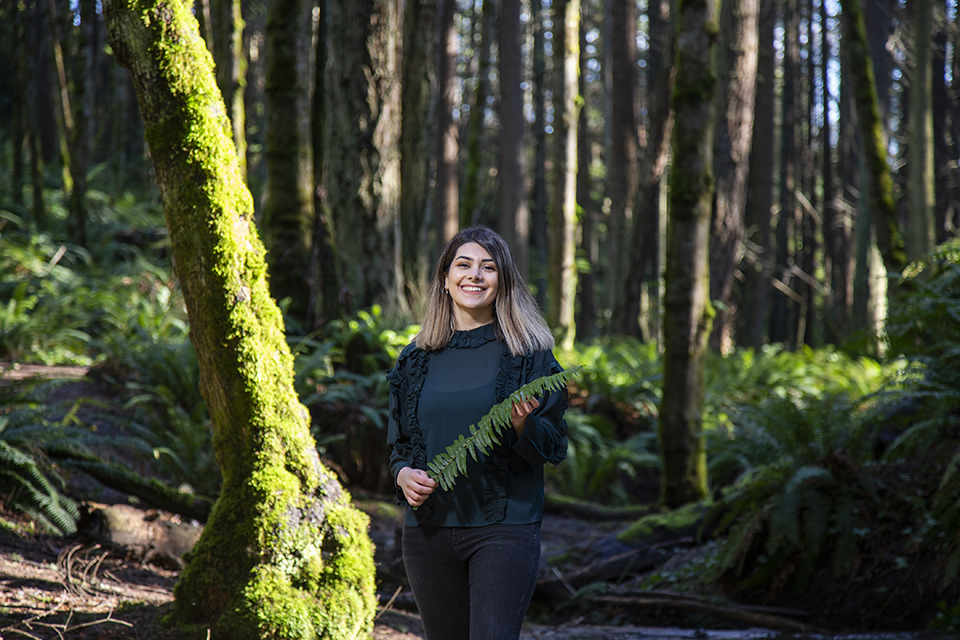 UVic's new Climate and Sustainability Action Plan 2030 (CSAP) is the first sustainability plan to reach every corner of campus. This is a plan that moves beyond established sustainability units and initiatives to involve students, staff and faculty across campus, including research, operations and the wider UVic and Vancouver Island communities.
The plan provides an integrated approach to respond to the challenges of climate change and embrace the many opportunities for positive action by guiding the university's approach to sustainability in every domain. CSAP has been informed by internal and external engagement—most notably engagement with Indigenous communities—to emphasize the importance of valuing Indigenous ways of knowing and being, particularly here on Vancouver Island.
As part of the larger university strategy, CSAP is comprised of an overall strategy and an associated action plan, which guide the university's contributions to sustainability and planetary health and encourage all community members to work together towards positive change.
"Universities have a critical role to play in encouraging governments, industry and communities to act in a concerted effort towards solutions, mitigation and adaptation; it is for our planetary wellbeing now and generations ahead," says Cynthia Milton, Associate Vice-President Research. "Given our place, values and strengths, UVic has the ability to take bold action at a large scale, incentivize change, as well as model and enable the microchanges that are needed."
Elements of the plan
CSAP outlines our commitments and our work by setting three key targets and three integrated initiatives, each supported by goals and specific actions:
Three integrated initiatives involving collaboration across campus and in the broader community:

The seedling project
Campus as a living lab
Climate & sustainability hub
Three targets supported by 11 goals:

TARGET 1: Reduce campus operations greenhouse gas emissions (GHGs) by 50% below our 2010 baseline by 2030 and Net Zero by 2040.
TARGET 2: Achieve Sustainability Tracking Assessment and Rating System (STARS) Platinum rating certification by 2026.
TARGET 3: Each year, advance our UN 2030 Sustainable Development Goals.
In addition, four themes to approach the work we are choosing to do, each with its own set of goals:

x̣ éʔx̣ ətə́ŋəxʷ ꟾ XAXE TEṈEW ꟾ Sacred Earth
When considering the scope of our future work together, we ask how our actions will benefit the lands, waters and communities of this area.
Innovator and partner
UVic supports diverse research as it relates to climate and sustainability. We have opportunities to build research and innovation capacity across campus, in every department, to ensure UVic is an incubator of solutions across all disciplines.
Educator and learner
Climate and sustainability are integrated into UVic's academic curriculum in nearly every major field. We are developing new academic programs and courses, including experiential learning, and focusing on educating and inspiring the next climate and sustainability leaders.
Climate solutions and sustainability leader
University operations support climate mitigation, adaptation and sustainability practices across campus operations and planning. We continue to prioritize sustainability and low-carbon resilience across campus.
CSAP 2030 is a living document that will be updated as goals are achieved and new priorities emerge. It will be reviewed annually and will undergo a more formal review process every three years.
CSAP open houses
Want to get hands on with the plan? UVic will hold three open houses to inform the campus community:
Nov. 1: McPherson Library foyer, 11:00 a.m. - 2:00 p.m.
Nov. 2: The Cove dining hall, 11:00 a.m. - 2:00 p.m.
Nov. 3: Student Union Building, 11:00 a.m. - 2:00 p.m.
Our climate leadership
UVic ranks in the top five in the world for three UN Sustainable Development Goal (SDG) areas, according to the 2022 Times Higher Education Impact Rankings.
#2 for climate action
#2 for life on land
#5 for life below water
Photos
In this story
Keywords: sustainable impact, climate action, sustainability, climate, environment
Publication: The Ring