From Nanjing to Port McNeil, co-ops create connection
Co-op, Engineering, Peter B. Gustavson School of Business
- Lauren Frost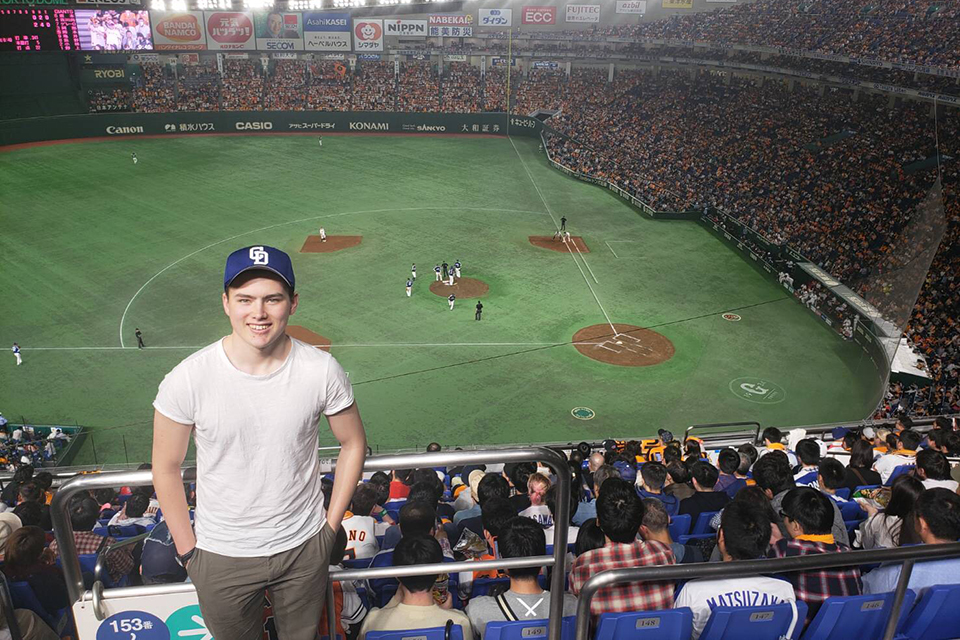 What do two small BC towns have in common with Nanjing and Tokyo? The answer lies in the transformative experiences of two UVic co-op students.
Computer science student Chao Jin and business student Liam Moore each accepted work placements in places that could not be more different from where they grew up. While the details of their experiences have little crossover, both students are living proof of the benefits of diving head-first out of your comfort zone—and into a job in a foreign country.
Finding focus in a booming metropolis
For his co-op term, Jin had to settle into a small-town lifestyle as the operations assistant for the Regional District of Mount Waddington on the northern tip of Vancouver Island. For Liam Moore, who grew up just down the coast from Port McNeill in Roberts Creek on the Sunshine Coast, his first challenge was adjusting to the hustle and bustle of one of the world's most populated cities.
In Tokyo, Japan, Moore worked as an executive search intern for Apex K.K., a company founded by a UVic alum. "As a small-town kid from BC, living in a metropolis with more people than all of Canada was definitely a shock at first," says Moore. "But Apex had another intern who was also from North America, so we were able to use each other as a resource." After adjusting to his new environment, Moore felt right at home with the Apex team. "Over just a few months, I really grew to care for a lot of people at the company and became invested in the success of both my fellow co-workers and the company as a whole," he says.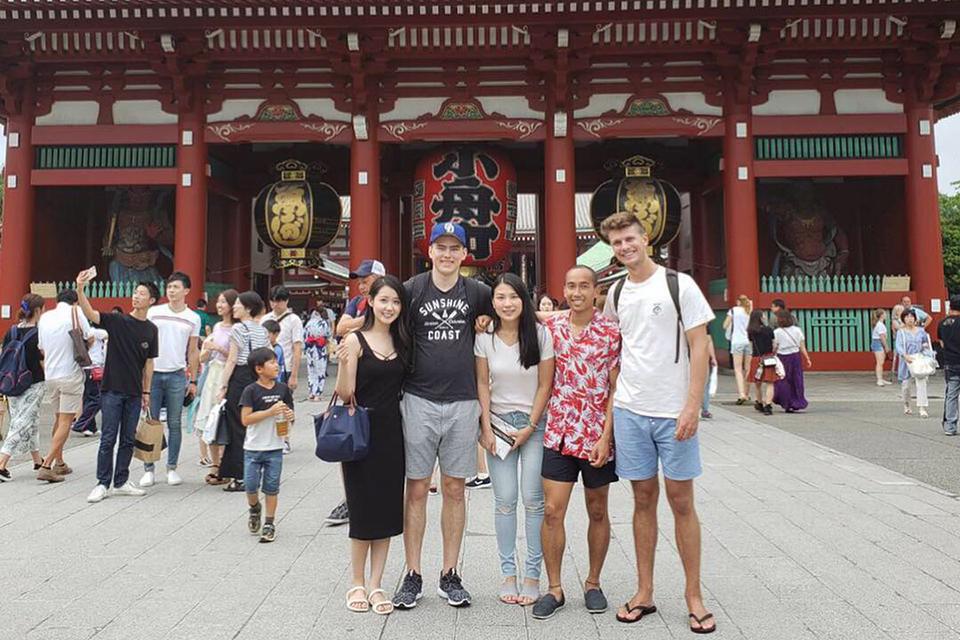 Both Jin and Moore had support in their co-op journeys across the world. The Gustavson School of Business offers a number of courses that focus on an international perspective, some of which Moore took before he travelled to Tokyo. 
Since one of Moore's core responsibilities was connecting Japanese legal professionals with potential employers, the intercultural competencies he built in these courses were integral to his work.
Working in a new country means that your growth and learning don't stop when you leave the office. An international co-op is much more than just a job – you're learning how to do the work but you're also learning how to live in a completely different place.

— Liam Moore, UVic business student
Embracing small town life on the coast
When Jin first came to UVic from Nanjing, China, he knew he would have to face many challenges associated with being an international student, including becoming independent from his family. "The reason I came to UVic was more about my parents' choice," he says. "They planned everything for me before I came here. But once I arrived at UVic, I started to make decisions by myself."
Working for the Regional District of Mount Waddington and living in Port McNeill, a coastal town home to around 2,000 people, was quite an adjustment for Jin, who was used to bustling cosmopolitan city life. But he was able to thrive during his work term with the help of his co-op coordinator, Susan Fiddler.
"Chao's resiliency is impressive, as is his courage in coming up to the north end of the Island—it's a world away from his home in Nanjing," says Fiddler. "We encourage our students to exit their comfort zones and use their work terms as opportunities for both personal and professional growth. Chao took on the challenge by working in an environment where he was immersed in his second language, and impressed us all."
Jin's responsibilities varied from drawing schematic diagrams to assisting with the physical setup of meters and sensors and, as a result, he got to see all the sights that the remote area has to offer. At the same time, he pushed himself to put his communication skills into practice by getting to know his colleagues.
I was always avoiding speaking English before my work term, but I had the opportunity to talk to other staff while I was working. My supervisor was actually interested in world history, so sometimes I told him some Chinese history at lunch. I became confident in my job and in myself.

— Chao Jin, UVic international student
The International Plan in action
Experiences like Jin and Moore's are examples of UVic's commitment to preparing globally competent students—a key facet of the university's International Plan. To support this commitment, Co-op and Career provides a pre-departure course to students preparing to work outside of Canada, and also supports international students as they work for Canadian employers. 
Find out more
Photos
In this story
Keywords: international, co-op, student life