Red Dress Day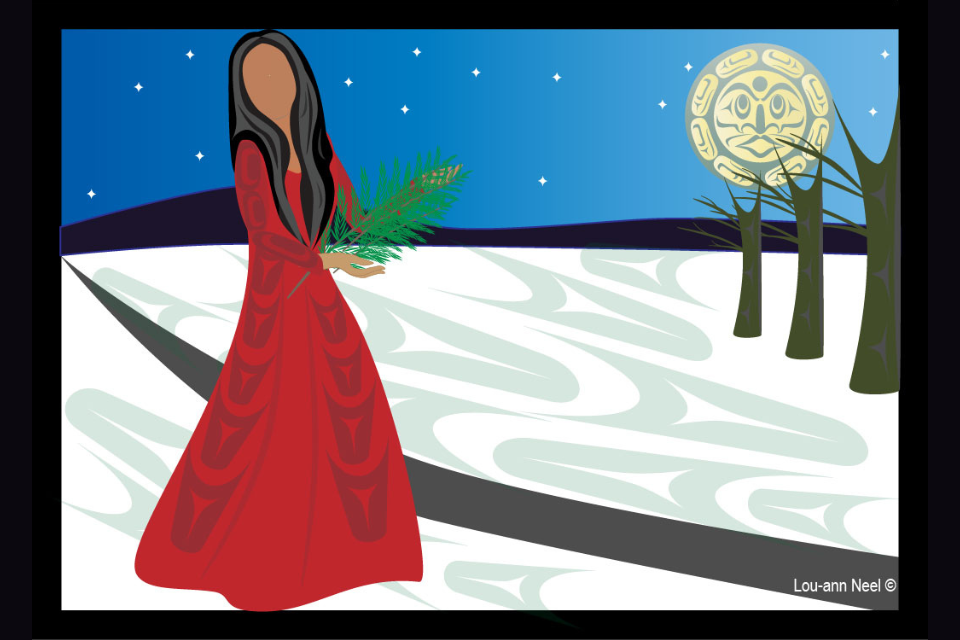 May 5 is Red Dress Day, the national day of awareness for Missing and Murdered Indigenous Women, Girls and Two-Spirit people. Each year on this day, we wear red to honour our mothers, daughters, sisters, cousins, aunts, siblings and diversely gendered relatives and acknowledge the families and communities that have been impacted by the crisis of MMIWG2S.
At UVic we work to create safe spaces through valuing Indigenous women and 2SQ people in everyday encounters, as well as supporting policies, Indigenous laws and the connection to language and culture. These actions demonstrate significant impacts in strengthening our communities to address disproportionate levels of violence faced by Indigenous women, girls and Two-Spirit people.
How to raise awareness on Red Dress Day
Attend
Read
Expand your Knowledge
Support
Indigenous artists who are helping to raise awareness:
Watch
Wear
Wear red or hang a red dress to show your support for the families and communities of MMIWG2S and Indigenous women, girls and Two-Spirit people
Donate
Donate to initiatives that support Indigenous women, girls and Two-Spirit people in our community:
Resources and supports
Indigenous resources
KUU-US Crisis Line Society
The KUU-US Crisis Line Society operates a 24-hour provincial Aboriginal crisis line for adults/Elders and youth.
Adults/Elders: 250-723-4050
Child/Youth: 250-723-2040
Toll Free Line: 1-800-588-8717
Indian Residential School Survivors Society Crisis Line
24-hour crisis line for survivors and family of survivors.
Toll-Free: 1-866-925-4419
First Nations Health Authority mental health benefits
FNHA partners with Indigenous Services Canada to offer a comprehensive mental health plan to First Nations in BC. The plan covers counselling services from a qualified mental health provider, including psychologists, clinical counsellors and social workers.
Native Women's Association of Canada
The Native Women's Association of Canada (NWAC) is founded on the collective goal to enhance, promote and foster the social, economic, cultural and political well-being of First Nations, Métis and Inuit women. 
UVic resources
SupportConnect
SupportConnect is a free, confidential mental health support service for UVic students. You can connect with qualified counsellors, consultants and life coaches by phone or online 24/7. Video or in-person options are available.
Toll-free (calls from North America): 1-844-773-1427
International collect calls: 1-250-999-7621
Counselling for Indigenous students
Indigenous counsellors provide individual and group counselling that treats the heart, body, mind and spirit for Indigenous students. Sessions are flexible in length, you are seen on the spot for emergency appointments and, in general, you are able to meet with the Indigenous Counsellor without having to wait too long.
UVic Counselling Services 
Located in the new Student Wellness Centre at 2300 McKenzie Avenue across the street from the CARSA gym. Counselling sessions for UVic students can be booked by calling 250-721-8563. Indigenous counsellors are available.
Here2Talk
Connects students with mental health support when they need it. Through this program, all students currently registered in a BC post-secondary institution have access to free, confidential counselling and community referral services, available 24/7 via app, phone and web.
Other resources
Vancouver Island Crisis Line
24-hour crisis line service to Vancouver Island, the islands of the Georgia Strait, and the mainland communities between Powell River and Rivers Inlet, as defined by Island Health. It operates 365 days a year. Crisis workers provide short-term non-judgemental emotional, support, crisis intervention, information and resources.
Call 1-888-494-3888.
Photos
In this story
Keywords: administrative, colonialism, history, indigenous, reconciliation