Restoring the natural flow of language transmission
- Sarah Tarnopolsky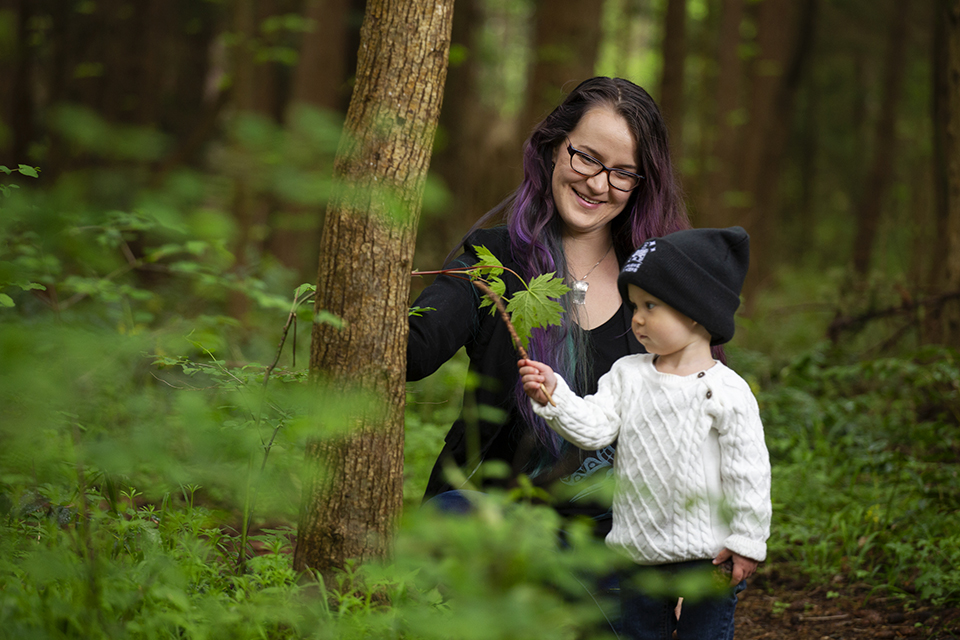 "Mit̕sa," says Keisha, and her one-year-old son Orion offers his cheek for a kiss. This Kwak̕̕wala word is one of the first he recognizes. As Orion's vocabulary expands, Keisha and her partner Cody will continue to incorporate Kwak̕̕wala into their everyday life at home.
Keisha Everson, whose traditional name is La̱lx̱sa̱n Dala'og̱wa, is of Kwakwa̱ka̱'wakw, K'omoks, Tlingit, Dutch and English ancestry and is a member of the K'omoks First Nation. Keisha's grandmother, U'magalis, is one of only 120 fluent Kwak̕̕wala speakers. When U'magalis lost her Indian Status through marriage, it disrupted the natural flow of language transmission from her to the younger generations in her family. That's why Keisha has made learning and teaching her grandmother's language a priority in her life.
If I don't learn Kwak̕̕wala, then that disruption continues. And I'm not ok with that. It's hard work, but it will only get harder for future generations. I'll do anything I can to make sure my son grows up hearing the language.

—Keisha Everson
Finding a mentor at UVic
After getting her Bachelor of Arts and post-graduate teaching degree from UVic, Keisha began simultaneously learning and teaching Kwak̕̕wala in several schools around Campbell River. In 2018, she entered the Master's in Indigenous Language Revitalization program at UVic, and was thrilled that her first professor was a fellow Kwak̕̕wala learner and scholar.
That professor was T'łat'laḵuł Trish Rosborough, a researcher and passionate advocate for community-based language learning. Keisha took two courses with Rosborough, which she remembers being rich in challenging and invigorating reading, collaboration and discussion. Topics ranged from the role of language in keeping culture thriving, to language teaching methods, community-based programs and introductory linguistics.
The T'łat'laḵuł Dr. Trish Rosborough Memorial Scholarship in Indigenous Language Revitalization
In the summer of 2019, Keisha was excited to learn that Trish would be supervising her final project. However, Trish passed away before they started working together. That fall, the T'łat'laḵuł Dr. Trish Rosborough Memorial Scholarship in Indigenous Language Revitalization was endowed through the support of the First Peoples' Cultural Council and First Peoples' Cultural Foundation, along with many of Trish's family members, friends and colleagues.
Upon hearing she was an inaugural recipient of the award, Keisha felt mixed emotions of grief and joy. "It was really validating of the work I am doing, have done and will continue to do," Keisha says.
Trish's influence is evident in Keisha's final master's project, which centred around song as a language learning tool. In one of the four songs Keisha composed for the project, she took inspiration from Rosborough's own doctoral thesis, built around the concept of creating a button blanket. Keisha's song "Na̱mak̓a̱s Dłuwa̱n's Ḵ̓wa̱lsḵ̓wa̱lyakw" or "The Same as Our Old People" is about making a button blanket and was inspired by and written for Trish.
Incorporating Trish's legacy as a language teacher
Keisha remembers Trish's lessons often when she's teaching language classes and etymology to adult learners at North Island College.
"Trish used a narrative approach to help students understand the rich meanings of words," says Keisha.
I'll never forget how she translated the word "ḵ̕wa̱la'yu", which is a term of endearment for children or grandchildren, as "reason for living." I didn't have the chance to tell her I was going to be a mother, but it's only since I became one that I understand the beauty and depth of that translation.

—Everson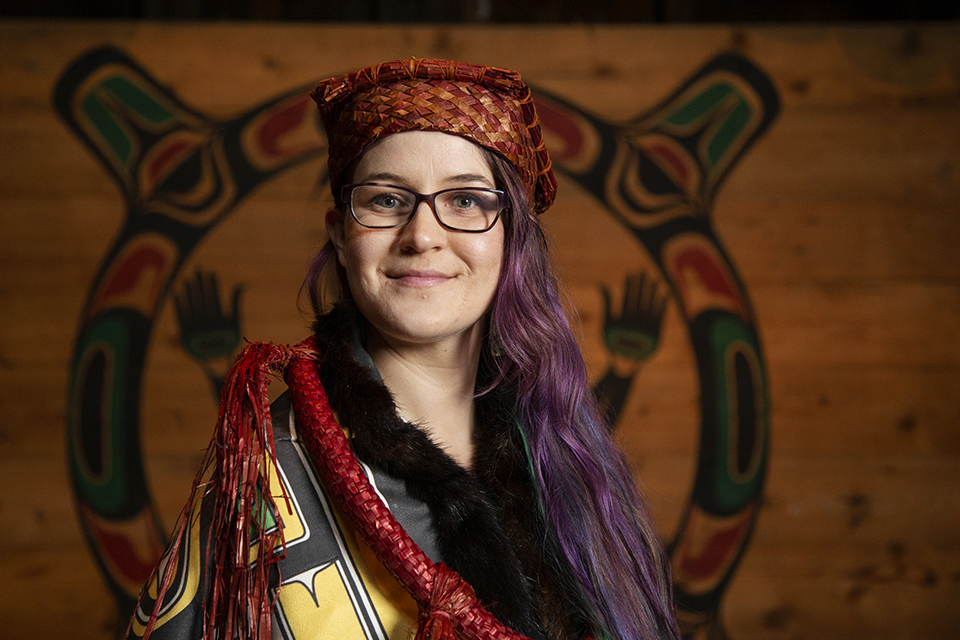 Support for UVic initiatives
Photos
In this story
Keywords: Indigenous, philanthropy, community, in memoriam, teaching, languages and linguistics, award, education, Indigenous Language revitalization, administrative, student life
People: Keisha Everson, Trish Rosborough