UVic leadership expert examines Canucks' ''culture of civility''
- Suzanne Ahearne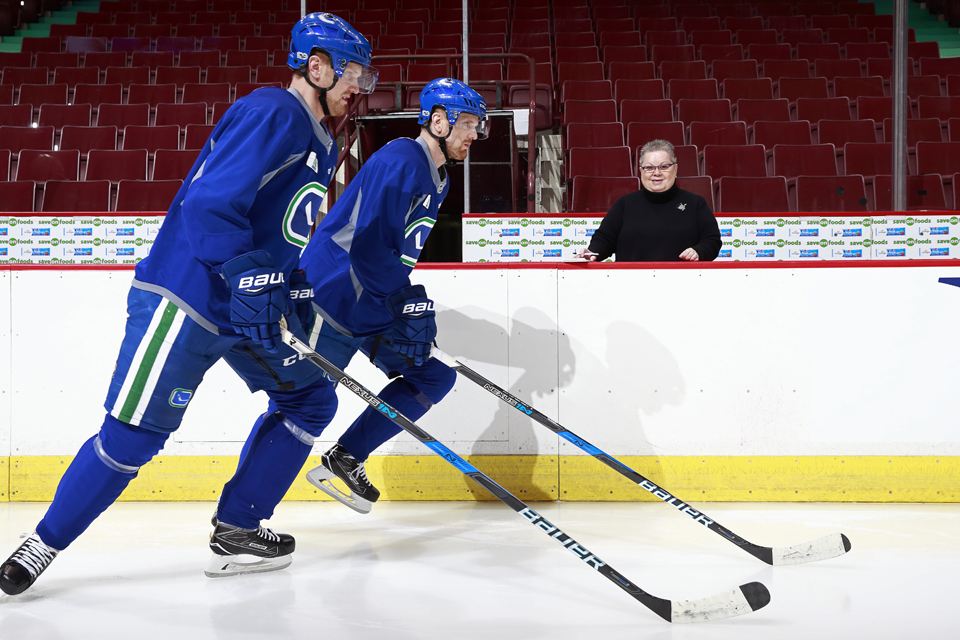 Hockey culture is adopting a leadership style that nurtures skilled communicators, system thinkers and compassionate collaborators who build teams and community.
At least that's the aspirational view University of Victoria leadership studies researcher Carolyn Crippen puts forward in her new study of servant-leader philosophy in the NHL, as exemplified by Henrik and Daniel Sedin and key members of the Canucks organization.
A Case Study of Servant Leadership in the NHL, published in Interchange, a Quarterly Review of Education, provides evidence of the influence of the Sedins, Trevor Linden, Pat Quinn and others on the changing culture of the Vancouver Canucks, and provides expert comment on how their example could influence the NHL, aspiring professional hockey players, and sport in general.
"This study is about a side of hockey that's often overlooked," Crippen says. "Today, especially with our knowledge of concussions, it's critical to change hockey's image."
Servant-leadership, a term coined by management researcher Robert Greenleaf in 1970, is described as a more humane, value-based and creative management style whereby the leader focuses on the needs of the followers first.
"There's this evolution in the structure of management worldwide," Crippen says. "There's more awareness of leadership being lateralized, being spread out. The top-down style is dying."
"Daniel and Henrik lead by example with strong values and an unparalleled work ethic," said Trevor Linden, Vancouver Canucks President of Hockey Operations. "They demonstrate the finest qualities of character both in the game and as community leaders to future generations of players and fans."
The leadership philosophy that Crippen studies mostly within corporate and organizational cultures, she hadn't expected to find in hockey, until the Sedins and their playing style caught her eye when she moved to BC from Manitoba in 2009. As she described in an earlier study in 2013, the Sedins stood out for their civil, respectful approach to their teammates, coaches, opponents and officials. She came to see them as the "culture carriers" of the team, a term used by Canucks GM Jim Benning in an interview with Vancouver sports writer Ed Willes.
A self-funded research project seven years in the making, Crippen's qualitative study includes: hundreds of hours of close observation and analysis of games broadcast between 2009 and 2016, as well as a number of live games and practice sessions; a lengthy interview conducted with the Sedin twins and, more recently, with Trevor Linden—Canucks President of Hockey Operations—and two Vancouver sports writers; archival news research; and data analysis.
Daniel and Henrik Sedin, she found, demonstrate accountability, responsibility, proficiency, diligence, empathy, civic values, inclusivity and continual growth of self and others. "All of these traits contribute to building better serving communities, both on and off the ice," she says.
The original beliefs, values and norms established by Pat Quinn and then disseminated by Trevor Linden during his time as a player, team leader and now as an executive, continue through the Sedins. Because of their lengthy and stable history (18 years) with the team, she asserts that they've disseminated and reinforced a culture of civility and skill-based play that's now embodied within young players.
"Youth, aspiring professional hockey players and those involved in hockey and sport in general, may be influenced by their willingness to serve the team and their community through relentless hard work, integrity and accountability, and caring for children, special needs, and outreach to the local and provincial community," Crippen says.
Photos
In this story
Keywords: education, leadership, research, sports, educational psychology and leadership studies, canucks, hockey
People: Carolyn Crippen, Daniel Sedin, Henrik Sedin