New life for McKinnon as hub of exercise science, physical & health education
- Suzanne Ahearne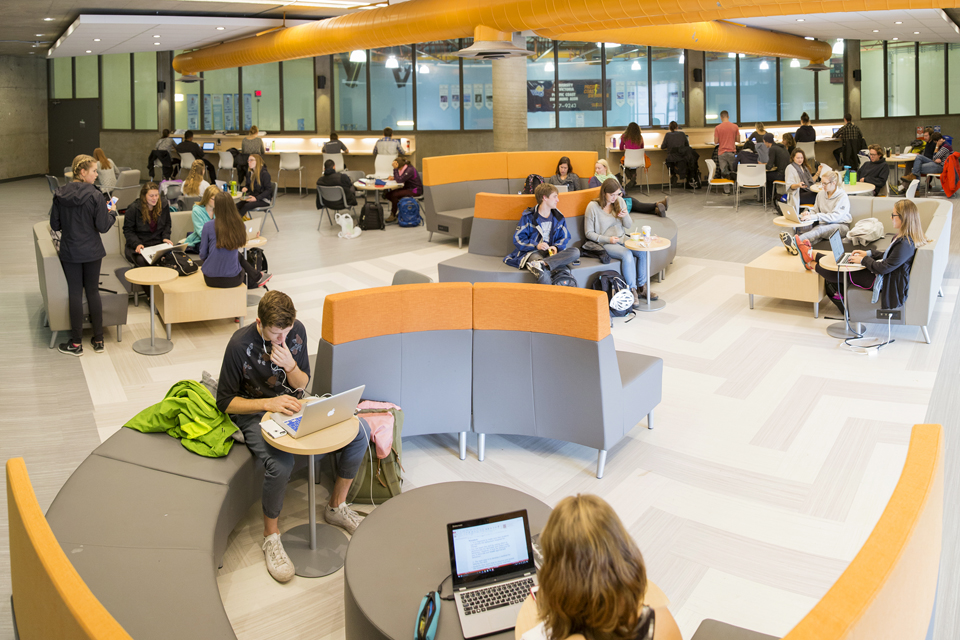 When the carpeted square in the central lobby of McKinnon was pulled up and replaced with new flooring to make way for sleek and comfortable modern seating, standing desks and new lighting, the whisking-away of decades of sweat and sneaker dirt also ushered in a new era for the forty-year old building.
Previously the home of athletics and recreation at UVic until the Centre for Athletics, Recreation and Special Abilities (CARSA) opened in 2015, the renovated McKinnon is now the teaching and research hub for the School of Exercise Science, Physical & Health Education (EPHE).
"Now, when you walk into the building," says EPHE director John Meldrum, "it becomes a lot clearer that it's not a just a place where people work out, but it's also a place where people study exercise, movement and recreation."
Three undergrad programs fall under the EPHE (pronounced "EE-fee") banner: kinesiology; recreation and health education, and physical education.
One of the best parts of having EPHE teaching and research labs under one roof, rather than being split between MacLaurin, D- and E-Hut, and McKinnon, says Meldrum, is that "it helps us tell the story of who we are a lot better—from teaching movement to kids, rehabilitation in older adults and excellence in sports—it showcases the diversity of what we do and the academic disciplines that address them."
The biggest changes Meldrum sees are for the overall student experience in the energetic and bright new spaces and for staff and faculty connections.
Having all staff and faculty offices as well as the Movement Skills Analysis, Rehabilitation Neuroscience, Behavioural Medicine, Motion and Mobility, and Neuroeconomics research labs in a single building presents opportunities for impromptu meetings and finding more ways to work together across areas.
The new social space at the centre of the building is a great place that's more conducive to studying and group interaction. Students can do group work and hang out between classes without having to go to other buildings. It's become an academic space as well, he says.
The main anatomy lab, though no bigger in square footage, is now a brighter, better-designed and more flexible space that's more conducive to learning. The program is able to deliver a better, higher-quality experience in the three teaching labs, especially important since intake for the kinesiology program has doubled in recent years from 30 to 60.
McKinnon is also able to accommodate more grad student office spaces, including an large shared office with meeting space in the middle. A number of flexible, multipurpose spaces are also available to faculty, students and the public to hold seminars, speakers series and workshops.
For more info about the changes in McKinnon see What's next for McKinnon? in the Ring (2015).
Photos
In this story
Keywords: health, exercise, exercise science
People: John Meldrum