A race to make ventilators
Graduate Studies, Co-op, Engineering
- Jenny Manzer
Iman Niknia's workday starts at 7:30 a.m. and sometimes stretches until 10 p.m. or 11 p.m. Niknia, who earned his PhD in Philosophy, Mechanical Engineering at UVic in 2017, is Project Manager for a team from Victoria-based StarFish Medical that, for the moment, are extending their hours to evenings and weekends. They know what they're doing is important, says Niknia, and they keep their eye on their prize—which is making thousands of ventilators for the Canadian market to help in the COVID-19 pandemic.
Normally, building, testing and selling a complex Class III medical device like a ventilator takes years. The team is doing it in a matter of months, planning to have ventilators completed by the end of May and then to ramp up production from there. "In the last few weeks, we have been making significant progress," says Niknia. The team has been working on design, securing components and making prototypes.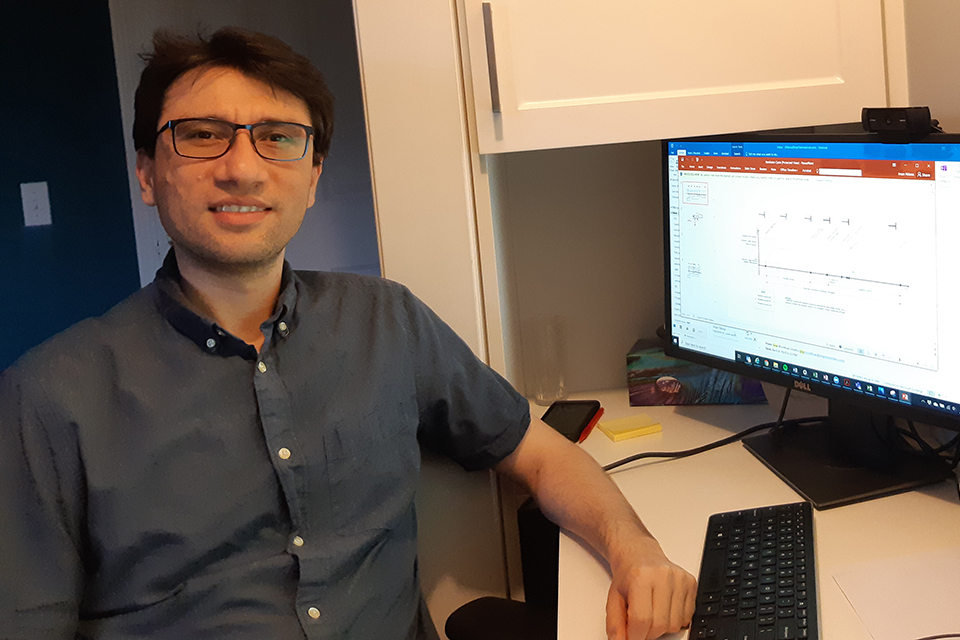 StarFish is revamping and modernizing the Winnipeg Ventilator, a piston-pump design originally created by Dr. Magdy Younes of the University of Winnipeg in the early 1990s. After the call came from the Next Generation Manufacturing Supercluster for Canadian companies to produce critical medical supplies, engineers from StarFish travelled to Winnipeg to meet with Dr. Younes and see if the design would be a viable technology platform to modernize and reverse engineer to make it suitable for mass production.
"We still have a piston pump, but instead of analogue circuits with a whole bunch of wires … the new Winnipeg ventilator will use a micro-controller with firmware on it," says Julian Grove, a Systems Engineer with StarFish and UVic alum (BEng '13).
The aim is to create a revamped version of the ventilator and replace analogue parts with firmware that can be easily replicated and mass manufactured in Canada. The original design required a lot of manual tuning of the electronics, which would have been state-of-the-art when it was originally designed. Firmware on a microcontroller will allow calibration for each unit, be more efficient and allow for use of more commonly available parts.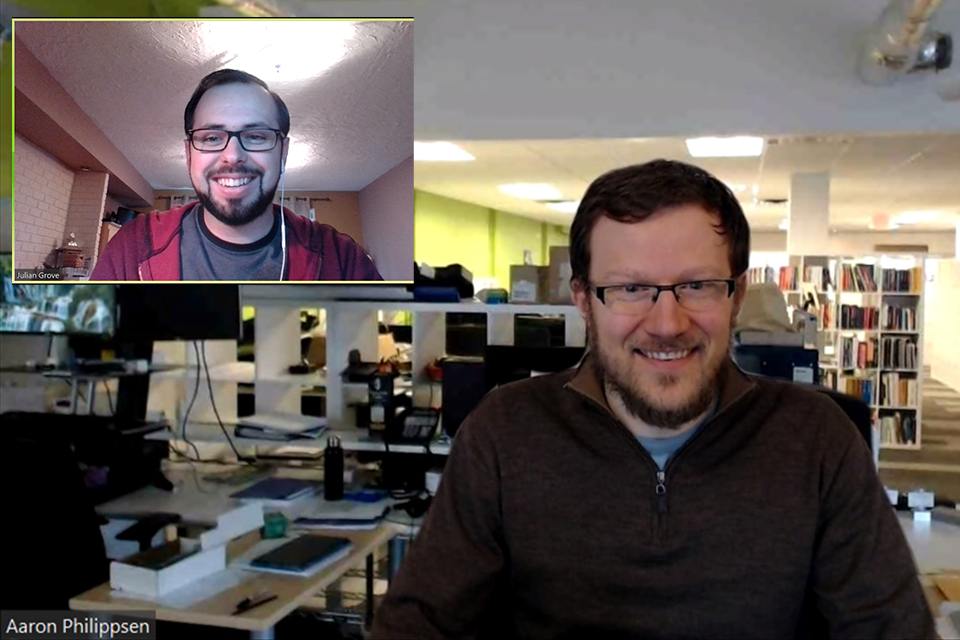 Grove supports project management by defining the different subsystems and making sure different disciplines—electrical engineering, firmware and mechanical—will come together and be on the same page. Grove's work includes identifying all the international standards for ventilators and performance to make sure patients receive what the respiratory therapist thinks they are receiving. The StarFish team is also in constant contact with key end users, such as respiratory therapists (RTs), to find out what they need and how the design can better serve them and reduce risks to patients.
"Since the ventilator is a Class III device (life supporting or sustaining), it's critical that we ensure the safety of the patient as well as the user, whether that be an RT, nurse, or clinician. Even though we're working with tight timelines there can't be any compromise when it comes to safety," says Andy Garland (BEng '16), a Mechanical Engineer at StarFish.
If a ventilator fails, that can present safety hazards to patients or operators, so design specifications need to reflect that—such as including a pressure-release valve that kicks in to make sure the patient's lungs aren't over-pressurized, for example. Then the StarFish engineering team must test that function and make sure it works. It's a lot to cover in a short time.
A key objective of remaking the piston-pump ventilator is to steer clear of the existing supply chain which is already under strain from companies around the world competing for the same components.
Grove is currently discerning what should be tested and how. Once they have a viable model, he will lead the team in testing it—currently navigating it all from his home that he shares with his wife and six-month-old baby. Grove started at StarFish as a co-op student in 2012—and has been there ever since.
Hannah Rusak-Gillrie, Human Factors Engineer and UVic alum (BEng '19), has worked at StarFish for two years and also started as a co-op student. Rusak-Gillrie ensures the device is designed to be safe and easy to use. "For this project specifically, I have been supporting the Industrial Design team in planning and performing usability testing on the ventilator-user -interfaces and developing the user documentation and labelling to support and guide the set-up and use of the device."
Rusak-Gillrie says the self-management skills she learned at UVic are serving her well now to meet the project's tight timeframes. "Because of the speed of development, we will be able to witness this product move from conceptualization through to its use on patients within a few months, which will be extremely rewarding and pretty rare to be a part of."
While studying at UVic, Iman Niknia never imagined working under such a scenario. He knew working in medical devices development would affect lives, which is partly why he entered the field. "It is really an honour to be working on the project, such a fast-paced project that can have a huge impact."
Garland says the UVic engineering program helped prepare him for a heavy workload and long hours. "The mechanical background, particularly fluid mechanics, is important when it comes to working on this project."
StarFish has roughly 170 employees working at offices in Victoria and Toronto. About 30 are working on the project, though many others are supporting it by covering other workloads. Many on the ventilator team are UVic graduates, including Martin Kellinghusen (BEng '18), Adam MacNeil (BEng '17), Aaron Philippsen (BEng '10, MSc '13), Gene Wey (BEng '06) and Bob Magyar (BEng '99), a former StarFish staffer who is on board as a contractor.
Some on the team are working 80 hours a week, so they have frequent conversations about staying healthy, but timing is everything with this project—and there's a lot at stake.  "Just thinking about that gives you energy," says Niknia.
StarFish is a full-service medical device design company based in Victoria with a history of hiring UVic students and alumni. The StarFish project came together via a call from the Next Generation Manufacturing Supercluster, as announced by the federal government. Their project is one of four underway that will collectively supply 30,000 ventilators.
Photos
In this story
Keywords: COVID, alumni, health, ECS expansion
People: Hannah Rusak-Gillrie, Martin Kellinghusen, Iman Niknia, Julian Grove, Aaron Philippsen, Andy Garland
Publication: The Ring