Summer intern makes high schooler brain injury program more inclusive for Indigenous students
When University of Victoria (UVic) undergraduate student Lauren Aimoe (Faulkner) received the IBRO-CBH Summer Research Internship Awards for Canadian Indigenous Undergraduate Students, she knew exactly what she wanted to focus her main project on.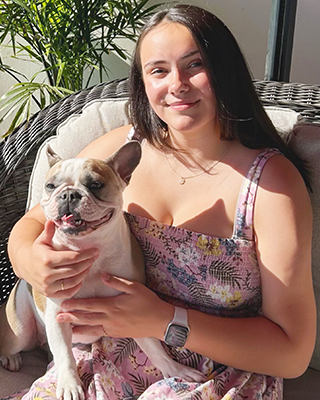 "There is such a lack of knowledge for Indigenous youth about concussion and other brain injury, even though we know they are at higher risk," says Lauren (pictured), who is from the Peter Ballantyne Cree Nation and Métis Nation BC. "We know there is something missing, and we need to fill that knowledge gap."
So, she has spend the first few months of her internship in the Christie Lab updating and Indigenizing the Student Head Injury Neuro Education (SHINE) program, a 45-minute course covering the basics of brain injury for high schoolers. "The program was not designed for Indigenous healing, which is fundamentally very different from Western medicine," she says. "I changed SHINE a lot."
One of the major changes Lauren made was to include information on how someone could use Indigenous ways of knowing and being to support rehabilitation and recovery from a brain injury. She suggests engaging in spiritual practices, speaking with elders, attending ceremony, participating in cultural crafts, and other similar activities. "These are really excellent and powerful tools that relate to both spiritual well-being and mental well-being, which connect together to and contribute to brain injury recovery," she says.
Lauren also added information on how Indigenous peoples are disproportionately affected by traumatic brain injury, and that injury rates can be nearly four times higher than other communities in Canada. She then ensured the information already in the presentation was as up to date as possible. This includes details about the return-to-activity protocol, how to engage in restful physical and cognitive activities for recovery, and what happens to someone when they sustain a brain injury via concussion or an anoxic brain injury via substance abuse.
Along with revising SHINE's educational content, Lauren also updated the presentation's territorial acknowledgement and increased Indigenous visual representation in the course material. "The simple act of having a graphic of an Indigenous person throughout the presentation is immensely helpful," she says.
Lauren has presented her initial updates to a focus group of Indigenous high school students, who gave a lot of positive feedback via a post-presentation survey. She is looking to organize additional focus groups with youth at other schools and community organizations, and she says she is excited to receiving constructive feedback so she can refine the presentation even more.
Once finalized, the updated presentation will be shown to all SHINE participants, not just Indigenous students. The best outcome the presentations could have is brain injury prevention, Lauren says, adding that "prevention is our first and basically only line of defence against concussion."
The idea to update SHINE began to form when Lauren started volunteering with the Victoria Brain Injury Society (VBIS), which facilitates the SHINE program in the Victoria area. Lauren plans to keep volunteering with the society after her internship and says she has several more ideas on how she can help increase accessibility of brain injury care for Indigenous people. "We really need to do something about this," she says. "I keep asking myself, 'How can I support people like me with brain injury and make this environment something they can access and receive the care they deserve?'"
One of these ideas is to make an educational pamphlet on brain injury available to youth through organizations like VBIS. Lauren is using her internship time to plan a pamphlet based on the updated SHINE program, and she says she would like to collaborate with an Indigenous artist to illustrate the project. She would ideally also like to have the pamphlet translated into several languages, including Cree, Michif, and lək̓ʷəŋiʔnəŋ. She is applying for grants to fund the project.
Lauren is also using her internship time to get some lab experience, doing tasks like blood collection, cell counting and in-vitro electrophysiology. "I really wanted to have both [clinical and basic science] experiences during this internship," she says, adding that she wanted to do lab work to prepare for her future goals of either pursing a master's degree or a MD/PhD.
Lauren is one of three students, including Erin Clouthier and K'sana Wood Lynes-Ford working in labs at the UVic Division of Medical Sciences this summer thanks to the IBRO-CBH Summer Research Internship Awards for Canadian Indigenous Undergraduate Students. Funded through a partnership between the International Brain Research Organization (IBRO) and the Djavad Mowafaghian Centre for Brain Health (CBH), the award aims to enhance opportunities for Indigenous undergraduate students to participate in neuroscience research. This is the first year the award, which began at UBC, has been offered at UVic.