Joint Canada-Israel Health Research Program funds research on the outcomes of microglial cellular senescence
Cellular senescence is a phenomenon in which cells stop dividing but do not die off when they should. Along with being resistant to cell death, senescent cells do not function properly. Whether the latter could lead to adverse outcomes is the focus of a new global research collaboration funded by the Joint Canada-Israel Research Program.
Dr. Marie-Eve Tremblay (pictured, left; Division of Medical Sciences, University of Victoria); former International Brain Research Organization postdoctoral fellow in the Tremblay lab, Dr. Benneth Ben-Azu (pictured, right; Head, Department of Pharmacology, Delta State University); and Dr. Dan Frenkel (Department of Neurobiology, Tel Aviv University) are co-investigators on the project. With funding centred on exploring the intersection between non-communicable chronic disease and infectious diseases, their research will investigate the outcomes of inducing microglial senescence on the cell's physiological and immune functions over the course of aging, upon viral infection, and in Alzheimer's disease.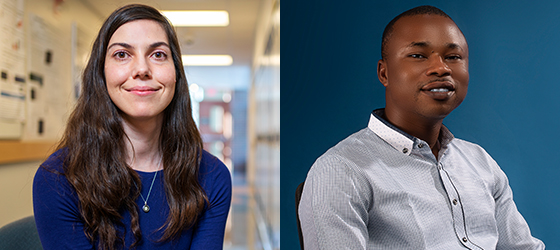 "Impaired and dysfunctional microglial states, which initiate symptoms and progression of neurodegenerative diseases such as Alzheimer's disease, can be triggered by aging and other environmental risk factors," says Dr. Tremblay. "The proposed collaborative research will provide relevant insights into how senescent microglia (suspected to correspond to the dark microglia, a state discovered by the Tremblay Lab) trigger the transition and progression into dementia presentation upon viral challenge and Alzheimer's disease over the course of aging."
The Joint Canada-Israel Health Research Program provides funding for researchers from Canada, Israel, and low- and middle-income countries to form multidisciplinary teams and work on cutting-edge biomedical and global health research. Canada's International Development Research Center, the Azrieli Foundation, the Canadian Institutes of Health Research, and the Israel Science Foundation support the program. Drs. Tremblay, Ben-Azu, and Frenkel received a $1.5M grant for their project, with each principal investigator receiving $500,000 over four years.
Drs. Tremblay, Frenkel and Ben-Azu noted that epidemiological data support a link between viral infections (e.g., herpes simplex virus) and increased risk of Alzheimer's and other dementias. However, the underlying reasons for this remain largely unknown. The co-investigators and their teams will explore the mechanisms of this connection using state-of-the-art behavioural tests, innovative imaging (notably, 3D electron microscopy), and molecular analyses. They will first study possible microglial senescent states and numbers across different age groups and in the presence of viral infection. They will then analyze possible sex-dependent contributions to senescent microglia numbers across aging, viral infections, and Alzheimer's disease.
Altogether, the team's findings may account for why medications used to treat Alzheimer's disease have failed, as these previous treatments did not reduce the microglial senescence burden. Their research findings may increase rationale for testing senescence-killing drugs as targeted treatments that could possibly stop, decrease, or even reverse Alzheimer's disease and other forms of dementia.
The three co-principal investigators will be supported by local, domestic, and international collaborators, including Dr. David Goodlett (University of Victoria), Dr. Guy Boivin (Université Laval), Dr. Ittai Ben-Porath (Tel Aviv University), and Dr. Maciej Maurycy Lalowski (University of Helsinki). Trainees in the Tremblay Lab that will be primarily involved in the project include postdoctoral fellow Dr. Ifeoluwa Awogbindin and CIHR CGS-M–funded MSc student Victor Lau.