DMSC welcomes first recipient of Alzheimer Society of B.C. Clinical Fellowship in Cognitive Health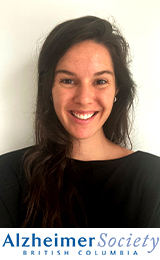 Dr. Émilie Langis is the first recipient of the Alzheimer Society of B.C. (The Society) Clinical Fellowship in Cognitive Health. She began her fellowship, which is administered by the University of Victoria (UVic) Division of Medical Sciences and supervised by Dr. Alex Henri-Bhargava, in early October.
The Society and UVic established this opportunity to attract talented early-career researchers to pursue innovative dementia research in B.C. The fellowship will include a combination of clinical training and Cognitive Health Initiative–related research or other projects.
"We are extremely excited about our new fellowship recipient, Dr. Émilie Langis, and the potential impact of Émilie's research in improving care for people living with dementia in B.C.," said Rekesh Corepal, Provincial Coordinator, Research at the Society. "We recognize the importance of research for generating knowledge and applying innovative solutions to advance the care and quality of life for people living with dementia and their families. With this fellowship, we hope to continue to support talented researchers within the province and add to the research landscape both provincially and nationally." 
Dr. Langis earned her psychiatry diploma in 2020 from Université de Montréal, after which she began a fellowship in Geriatric Psychiatry in Montréal. She graduated in 2021 and started working at a hospital in both outpatients and inpatients settings that fall.
"I've always been interested in the link between mental health and cognitive health, and how both interact with one another. I have good knowledge in mental health, and I want to deepen my knowledge in cognition in order to help my patients even more with these complex diseases," she says. "Also, looking at current and future demographics, I think it is important that more healthcare professionals develop expertise in this area."
Dr. Langis has a particular interest in the behavioural and psychological symptoms of dementia (BPSD). She completed her first fellowship with BPSD teams, and she intends to continue exploring that interest at UVic. "[My Alzheimer Society of B.C. Fellowship] will mainly focus on memory clinic and BPSD. I'll also work with some research teams, mainly on how to support caregivers of people living with dementia and early cognitive disorder," she says. "We've talked about the possibility of me working on inpatient units, specifically ones for BPSD, too. If the opportunity arises, I would also be pleased to work with long-term facility care."
Alongside starting her fellowship, Dr. Langis is excited for her move to BC. "The diversity and flexibility of practice, as well as the quality of life, that this province offers motivated my choice [to move my practice to BC]," she says. "I am also an outdoor enthusiast. Every time I'm in British Columbia, I am amazed at the mountains and the ocean."
The Alzheimer Society of B.C. Clinical Fellowship in Cognitive Health also receives support from UBC and Island Health via the Manning Cognitive Health Initiative.