Prenatal exposure to maternal viral infections can change embryo brain anatomy
When a pregnant person catches a virus, they are not the only one facing a threat to their health. Offspring exposed to maternal viral infections before birth have an increased risk of developing mental health disorders, such as schizophrenia and autism spectrum disorder.
Exactly how maternal infections cause these health outcomes is the subject of new research published in the journal of Proceedings of the National Academy of Sciences of the United States of America (PNAS). Fernando González Ibáñez, Katherine Picard, Dr. Maude Bordeleau, and Dr. Marie-Ève Tremblay (Tremblay Lab) made significant contributions to the article, which shows a parent's immune response following a viral infection can significantly change an embryo's brain anatomy.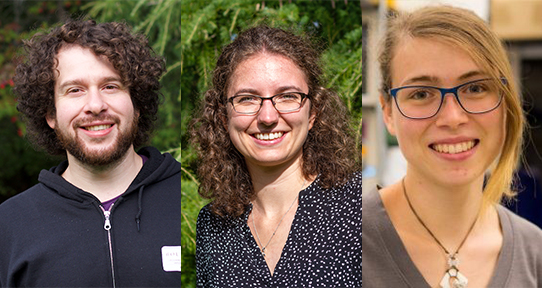 Initial MRI analysis by collaborators in the CoBrA Lab at McGill University showed alterations to many different brain regions following a maternal immune response. One of the most interesting changes occurred in the hippocampus, a part of the brain fundamental for learning and memory: the region could both shrink and swell. "Surprisingly, the hippocampus was affected in an opposite manner depending on whether the infection was early or late during development," explains Fernando. "Early infection caused the hippocampus to have a reduced volume, while a late infection caused an increase of volume."
Then the Tremblay Lab team stepped in to help understand what could cause the observed volume brain observed changes. Using their expertise in electron microscopy, the lab created a series of images that show how different cell changes occur within the region depending on the time of infection.
In the shrunken hippocampus (early infection) they found an increase in dying cells. Apoptotic cells, which are those that undergo programmed cell death, have a distinct dark and homogeneous nuclear pattern under an electron microscope. The team confirmed the apoptotic nature of the dying cells by finding one containing Caspase3, a marker for programmed cell death.
In the swollen hippocampus (late infection) they found an increase in certain classes of neurons and glia. Known as dark cells, these are associated with stress and inflammation in the brain. They were reported for the first time during embryonic development in this study.
"These results allow us to better understand how maternal viral infections may affect the brain differently depending on the time they occur, information that is very relevant in relationship with the present COVID-19 pandemic," says Fernando. "Work like this lays down the ground work for the development of more specific and efficient therapeutic approaches, such as treatments that take infection time into consideration."
Just before this study published, the Tremblay Lab received a brand-new, unique-to-Canada electron microscope. Funded by the Canada Foundation for Innovation (CFI) and the BC government, the microscope can produce 3D images, in addition to the usual 2D, at nanometer resolution. The lab is excited to collaborate with research teams interested in high-resolution analysis of biological tissue.