Tremblay and Brown receive combined $2.07 million boost from CIHR for brain health research
Dr. Marie-Ève Tremblay and Dr. Craig Brown (both Division of Medical Sciences) have received a combined $2.07 million for their research on two different aspects of brain health. The funds are awarded through the Canadian Institutes of Health Research (CIHR) Project Grant program, which builds and conducts health-related research and knowledge translation projects.
Dark microglia and the developing brain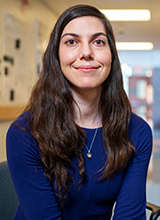 Microglia, the brain's resident immune cells, do more than protect us. A series of discoveries spanning the last decade has shown these cells also play an essential role in brain development, as well as important functions in learning and memory, and in behavioural adaptation to various environmental challenges like pollution, stress, inadequate nutrition, viral infection, etc. later in life. Dr. Tremblay's earlier work also helped discover "dark microglia," a microglial subtype that may be aid in proper neurodevelopment by remodelling brain blood vessels and synapses, the connections between neurons.
Her latest project will continue to investigate the role of dark microglia during normal development and following an immune response in the birth parent. (Maternal immune activation is associated with the onset of various neurodevelopmental and neuropsychiatric diseases in human patients.) Dr. Tremblay received $1.05 million over five years for the project, titled "Investigating dark microglia during normal postnatal development and following maternal immune activation," and her application ranked second in the grant competition.
Dr. Tremblay and co-applicants Dr. Luca Peruzzotti-Jametti (University of Cambridge), Dr. Maciej Lalowski (University of Helsinki), and Dr. Leigh Anne Swayne (Division of Medical Sciences) will specifically focus their research on the effects of inadequate maternal nutrition via a Western diet and maternal immune activation by viral infection. They will investigate long-term consequences, throughout development and into adulthood, as well as the effects of targeted interventions.
This research into dark microglia's involvement in vascular and synaptic remodelling during normal development and upon maternal immune activation will bridge metabolism and immunity for the future prevention and/or treatment of several neurodevelopmental and neuropsychiatric disorders, including schizophrenia.​
Diabetes and the brain's circulatory system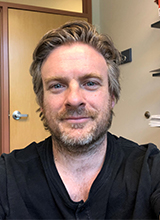 A growing number of Canadians have some form of diabetes, which costs the Canadian healthcare system $15.6 billion each a year. The brain appears to be particularly sensitive to diabetes-related disease: diabetics are at significantly greater risk for developing cognitive impairment and suffer more severe disability after stroke. Unfortunately, insulin therapy cannot completely prevent these problems, and current stroke therapies such as clot-busting drugs are not recommended for some diabetics.
Dr. Brown's project, "Preserving microcirculation and function in the diabetic brain," will investigate the possible underlying cause of these brain disturbances. He received $1.02 million for the project, which could possibly lead to new and effective treatment options for Canadians suffering from diabetes
A common explanation for the cognitive issues faced by diabetics is that diabetes disturbs brain circulation in the smallest blood vessels (i.e., microcirculation). Dr. Brown hypothesises that the disease can make these vessels more prone to clogging up (i.e., stalling). The jams then accumulate over time, which in tandem with capillary loss—a common outcome of stalling—can lead to progressive deterioration of vascular, neuronal, and cognitive function. He also suspects diabetes worsens capillary stalling after stroke, thereby limiting the return of blood flow in vulnerable but salvageable brain regions.
Along with showing how diabetes affects blow flow in the brain's smallest blood vessels, Dr. Brown's research will explore ways to improve brain microcirculation. He and his team will target a protein called IL-10, which moderates inflammation. By altering the way IL-10 function after stroke, Dr. Brown believes we can better protect brain tissue from stroke damage and improve recovery in individuals with diabetes.
Drug screening with 3D-printed "mini-brains" 

Cross-appointed Division of Medical Sciences research faculty Dr. Stephanie Willerth (Mechanical Engineering, University of Victoria) received $489,600 over four years for her project to 3D print miniature human brains to help identify effective drugs for the treatment of Alzheimer's. You can read more about her project here.