Tremblay collaborates on Alzheimer's research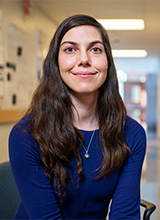 Dr. Marie-Ève Tremblay (Division of Medical Sciences) has entered a new research collaboration to evaluate the effectiveness of certain Alzheimer's disease treatments.
Her collaboration is with MED-LIFE DISCOVERIES (MLD), is a Canadian company developing therapies for central nervous system and gastrointestinal diseases. The research will focus specifically on MLD's plasmalogen therapies. Plasmologens are a type of lipid commonly found in cell membranes in the body's nervous, immune, and cardiovascular systems.
"Plasmalogens are increasingly recognized as important mediators of healthy cognitive aging and represent a promising target for the highly prevalent sporadic or late-onset form of Alzheimer's disease. Considering the available literature in the field, important outcomes on preventing Alzheimer's disease hallmarks at molecular, cellular, and behavioral levels, are expected from this work. With my research team, we feel most privileged to contribute to this important research" says Dr. Tremblay.
You can learn more about the research collaboration on MLD's website.