Dr. Marie-Ève Tremblay, Canada Research Chair (Tier II) in Neurobiology of Aging and Cognition, joins DMSC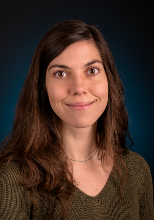 Dr. Marie-Ève Tremblay, Canada Research Chair (Tier II) in Neurobiology of Aging and Cognition, joined the Division of Medical Sciences (DMSC) as Associate Professor on April 1, 2020.
Tremblay's research focuses on aging and cognition, and her research has led to greater understanding of how brain immune cells called microglia play an essential role in the maintenance of brain health throughout life. Tremblay and her team use state-of-the-art technologies to identify unique microglial functions that contribute to learning and memory, stress resilience, and overall adaptation to our world in constant evolution. 
More specifically, Tremblay uses brain models to explore the significance of microglial remodelling of neuronal circuits and elimination of synapses in the pathogenesis of brain disorders. She developed a state-of-the-art expertise in non-invasive imaging of the brain, combining chronic longitudinal two-photon in vivo imaging and correlative immunocytochemical electron microscopy with 3D reconstruction to study the physiological roles of immune cells across the lifespan. This knowledge will paves the way to the future development of innovative therapies that will promote healthy cognitive aging. 
In her new role, Tremblay plans to explore therapeutic interventions promoting resilience of the brain immune cells to stress that will, in turn, promote healthy cognitive aging and theoretically prevent related brain conditions through the maintenance of its complex circuitry and plasticity. Her research will have translational and biomarker development aspects that will serve well in creating potential collaborations with many researchers within DMSC, as well as with researchers from other departments and institutions affiliated with the University of Victoria.
The Canada Research Chairs program helps universities to attract and retain the best talent from around the world, assisting universities like the University of Victoria to achieve research excellence. Chairholders like Tremblay advance the frontiers of knowledge in their fields, not only through their own work, but also by teaching and supervising students and coordinating the work of other researchers.
Tremblay came to DMSC from the Université Laval in Quebec, where she was an Associate Professor in the Molecular Medicine Department. While at the Université Laval, Dr. Tremblay received a CIHR Foundation Scheme grant and a Canada Research Chair (Tier II) in Neuroimmune Plasticity in Health and Therapy, among other impressive grants and awards. She has developed national and international prominence for her work, and has collaborated with many scientists. She also supports diversity and inclusivity, whether she is recruiting trainees or organizing events that include speaker panels.
Her research is publicly funded by NEURON-ERANET Synaptic Dysfunction, Natural Sciences and Engineering Research Council of Canada, Canadian Institutes of Health Research, Swiss National Science Foundation, Canada Foundation for Innovation, and Public Health National Institute of Quebec.
When circumstances allow, Dr. Tremblay will be located in Medical Sciences Building, Room 322. Specific office hours and contact information will be provided when available. 
To learn more about Tremblay and her research at DMSC, please visit her online profile.