Creating inclusive communities during the COVID-19 outbreak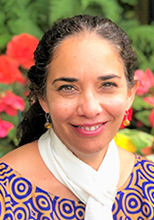 Developmental pediatrician Verónica Schiariti is receiving plenty of international interest for a series of resources she's created addressing the human rights of children with disabilities during the COVID-19 outbreak.
"It is crucial to talk about human rights during the ongoing COVID-19 pandemic, especially of children with disabilities," says Schiariti, who is an Adjunct Associate Professor in the UVic Division of Medical Sciences. "During health emergencies children with disabilities face additional challenges, such as neglect, misinformation and discrimination. Hence, it is vital to raise awareness about rights to equally access services and ensure that all people are treated with dignity and respect."
Her resources include an invited editorial on the subject published in the journal of Developmental Medicine and Child Neurology. In the editorial, Schiariti says it is crucial that public health strategies are designed and implemented with human rights, especially of those children living with a disability, in mind.
Originally published in English, the editorial has been translated into six languages. Schiariti also created YouTube videos in both English and Spanish with Portuguese subtitles describing the content of the invited editorial to make the information more accessible. In mid-April, she led a webinar on the topic for 1,400 participants from 14 countries through the Latin American Academy of Child Development and Disability (ALDID) and the University of Santa Paula in Costa Rica. She also hosted an e-course for professionals working in the childhood disability field. 
Schiariti's other resources include a set of educational videos, again in English and Spanish, describing key points in WHO's disability considerations during COVID-19, including the section on children and youth with disabilities and their families.
She also created a YouTube video explaining COVID-19 from a child's perspective. Available in both English and Spanish, the child-friendly animation uses accessible language to describe what the virus is and how to avoid getting sick. More importantly, the video recommends activities like playing, reading and learning to keep busy during lockdown. "As stated in the UN Convention on the Rights of the Child, children should have information about how to stay safe and healthy," Schiariti says, adding the video is appropriate for both children with and without disabilities.
Schiariti says her resources are not just for policymakers, disability service providers and people living with disabilities. She encourages everyone to read or watch the materials to inform themselves on how they could contribute to creating truly inclusive communities through the outbreak. "The key to achieve an inclusive emergency response during the COVID-19 pandemic is to have inclusive communities," she says.
You can find links to Schiariti's resources embedded in the story above or in the tables below:
Invited Editorial on Human Rights of Children with Disabilities & COVID-19
"The human rights of children with disabilities during health emergencies: the challenge of COVID‐19" published in Developmental Medicine and Child Neurology 
Educational video explaining what COVID-19 is from a child's perspective (for children with and without disabilities)
Educational video describing key points in WHO's disability considerations during COVID-19, including the section on children and youth with disabilities and their families