Research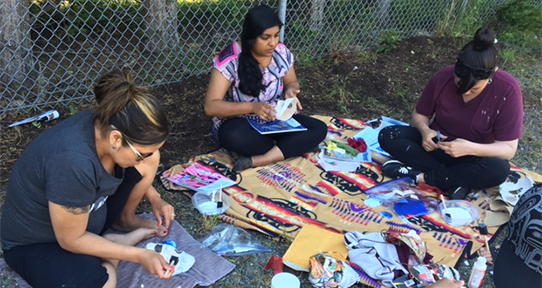 Through a strong and committed faculty, a dynamic master's program and doctoral program, the School of Child and Youth Care has made significant contributions to the health and well-being of communities within British Columbia, Canada and internationally.
Our faculty and students contribute to and collaborate on the work of many research centres, individual research projects and engage in other collaborations.
For more detail, please review the work of our individual faculty through their web pages and learn about our Alumni conference.
Read more in the research archives.
Featured
Sisters Rising: A community-based research project for Indigenous girls and communities speaking back against sexualized violence
Sisters Rising is an arts-based research project that has evolved in response to the shocking statistics surrounding sexualized violence impacting Indigenous women and girls in Canada. Research lead Dr. Sandrina de Finney notes that she is working with an amazing team of student researchers, including both graduate and undergraduate students from the School of Child and Youth Care.
The reserach team facilitates community-based workshops across BC to identify and explore cultural practices that support girls', young women and youth of all genders, including 2spirit and trans youth, in contesting the colonial roots of sexualized violence and linking body sovereignty with land sovereignty. Workshops focus on land-based art to support resurgence, dignity and honour instead of pathologizing and criminalizing those who experience sexualized violence. A project website showcases research stories, messages, artwork and creative ideas.The research team video (above) entitled Sisters Rising: Shape Shifting Sexualized Violence provides context for the project.
See more videos from the Child and Youth Care playlist on YouTube.