Publications archive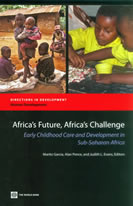 "Africa's Future, Africa's Challenge: Early Childhood Care and Development in Sub-Saharan Africa." Published by the World Bank (and a first of its kind on Africa!), this book was recently selected as a 'best notable government document for 2008' by the Library Journal. Co-edited by Alan Pence, Marito Garcia and Judith Evans, this book presents a balanced selection of chapters from members of government organizations to those of non governmental and local organizations ...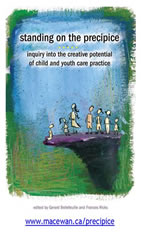 "Standing on the Precipice" Edited by Gerard Bellefeuille, PhD CYC and Frances Ricks, CYC Emeritus Professor. This edited volume challenges students, practitioners, and educators to look beyond the traditional boundaries of Child and Youth Care practice. This collection provides extradordinary and innovative thinking about doing the relational work of Child and Youth Care in a world which is ever-more technologically and socially complex.

SCYC Adjunct Professor, Les Foster, together with Peter Kelly, have recently published "
The British Columbia Atlas of Wellness
".
For a unique perspective on this project, you may want to read: "We Islanders Must Be Doing Something Right." by Times Colonist writer, Vivian Smith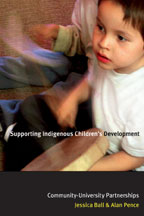 Supporting Indigenous Children's Development: Community-University Partnership by Jessica Ball & Alan Pence.
This book describes nearly 20 years of partnerships that the School of Child and Youth Care at UVic engaged in with 10 groups of First Nations in B.C. and Saskatchewan. The program described in the book, which came to be known as the First Nations Partnerships Program, was recognized by UNESCO as one of 20 'best practices' in the world that incorporate Indigenous Knowledges in education. The program's innovation and long-term exploration of a 'Generative Curriculum Model' broke new ground for post-secondary institutions aiming to contribute culturally relevant education and training for human services. Partner communities uniformly experienced higher rates of student retention, completion and subsequent career development within graduates' home communities compared to any previous post-secondary education for community members. The book describes lessons learned not only for post-secondary curricula, teaching and learning but also for principles of community-university partnerships and community-based research.
View the book online
We would like to congratulate a number of our MA students and MA graduates for the recent publications of their writing. MA students Robert Bates, J. Nicole Little and Sonja Radmilovic have had single author articles published in Child and Youth Care Forum Vol. 34 No. 2, April 2005. As well the International Journal of Educational Policy, Research & Practice Vol. 5 No. 3, Fall 2004 has published a series of articles that contain contributions from a number of students who graduated through the ECDVU program, a distance MA program of the School of Child & Youth Care. They include Margaret Amponsah, Francis Chalamanda, Abeba Habtom, George Kameka, Hilda Nankunda, Felix K. Aorsah, Wunesh W. Bairu. Celestina A. Ibetoh, Monica R. Muheirwe. Samuel Ngaruiya, Edith M. Sebatane, Mgbechikwere Ezirim, Anne Gamuororwa, Phaello Ntsonyane, Mary Phiri, Jenieri Sagnia, Leoncia Salakana, Olive Akomas, Lydia Nyesigomwe, Susan Sabaa, Asha Mohammed Ahmed, Charlotte Day, Stella Etse, Rosemary Hua, Ben Missani, and Chaliza Matola. Congratulations to all concerned.

"Working Relationally with Girls: Complex Lives/Complex Identities" edited by Marie L. Hoskins, PhD and Sibylle Artz, PhD
"A highly energetic and hopeful collection of essays by many of the most thoughtful minds working in gender development today. The chapters are well crafted and inspiring; this book has the potential to bring educators, practitioners, and scholars from traditionally disparate disciplines together in true interdisciplinary discourse. The contributors do an excellent job of delving deeply into the intricacies and nuances of girls' development, and in so doing, make major strides away from a reductionistic developmental account to one that truly captures the richness of girls' lives. Especially noteworthy is that the work included in this book is at the forefront of current debates regarding what it means to be female and of color in our society.&
-Jessica Wollam Giles, PhD, Assistant Professor of Psychology and Human Development, Vanderbilt University Published by The Haworth Press, Inc.,
Congratulations to MA graduate John Rayment on the recent publication of his article, Child and Youth Care Practice as Psychotherapy, published in Relational Child & Youth Care Practice, Volume 18, Issue 2, Fall 2005.
Study (by Onowa Mcivor, SCYC Alumna) evaluates new model for reviving endangered languages. Article found on page four.
We are pleased to announce a report by Dr. Jessica Ball: "Early Childhood Care and Development Programs as Hook and Hub: Promising Practices in First Nations Communities".