Practicum in the MA program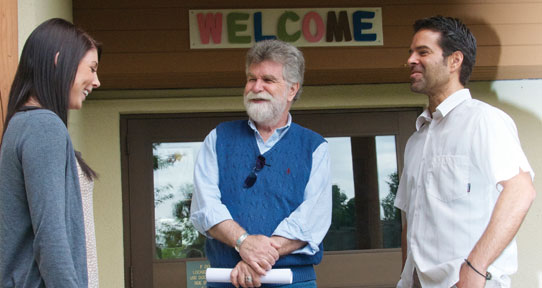 CYC 553 practicum
The MA program contains one mandatory practicum (CYC 553). If practice based learning is of particular interest, it is also possible to take CYC 553 as a 3-unit course (330 hours). The additional 1.5 units will be counted as equivalent to one of the required elective courses.
Further to this, you may also choose to take a second practicum with additional advanced learning goals (CYC 563 Specialized Practicum, 165 hours) as an elective.
The optimal time to take the required practicum is in the fourth term of the program but arrangements can be made to begin as early as the third term.
Normally, practicum takes place after completion of the core courses and any non-practicum electives.
When you are ready to begin, please read the following downloadable documents:
If you elect to take the advanced practicum course (CYC 563), please read these downloadable documents:
Number of practicum hours
The total number of practicum hours for each 1.5 units of practicum is 165 hours. Of these 165 hours, it is expected that 15 hours would be dedicated to meetings with the field supervisor to set goals, evaluate progress, and discuss issues.
If you want to complete your practicum in one term, it would require an average of 10 hours of practicum per week (plus 1 hour of supervision) over 15 weeks. Spread over 2 terms, it would require an average of 5 hours per week (plus 0.5 hours of supervision) over 30 weeks.
Securing practicum placements
The practicum coordinator will work with you to secure a placement in a wide range of child and youth care settings and programs. You'll be responsible for all related fieldwork costs, including travel, criminal record checks (when required), telephone, accommodation and other costs.
Normally, you'll be expected to undertake your practicum in a different setting from your agency of employment. In exceptional circumstances, you may be permitted to do a practicum in your place of employment if it:
is in a separate program from your current or past work experience and involves different tasks and skill sets AND
involves a site supervisor who is not a person who oversees, directly or indirectly, your current employment work in the agency
A completed practicum placement description form, available from the practicum coordinator, must be handed in before you can begin your practica.
Criminal Record Checks
A current Criminal Record Check (CRC) must be on file with the School of Child and Youth Care before you can begin any practicum.  BC CRCs are valid for five years from the point of issue so if you have provided a CRC to the graduate secretary within the past four years, you should not need to re-apply. For more detail on the CRC process, see the Criminal Record Checks tab below.
Learning plans
Once a placement has been agreed to and arranged, it is your responsibility, in conjunction with the site supervisor and the faculty supervisor, to work out a learning plan that will cover goals, expectations, a work schedule, and on-site supervision. Your learning goal statement should follow the S.M.A.R.T. Goals model.
CYC 553 - Practicum in Child and Youth Care (1.5)
Course description
This course is designed to provide students with opportunities to integrate theory and practice while developing applied skills within a supervised context.
Students are expected to function within the practicum settings in a professional and ethical manner that focuses on the well-being of children, youth and their families.
Course rationale
Practicum is an opportunity for students to develop new knowledge and skills in a safe and supervised setting that facilitates exploration, consultation, reflection, and critical analysis.
The practicum requires a minimum of 150 hours in activities directly related to the student's learning goals for the placement. An additional 15 hours of direct supervision by the field supervisor are required.
Course objectives
Upon successful completion of this course students will:
have demonstrated the integration of theory and practice within their own professional style.
have demonstrated the ability to apply program planning, implementation and evaluation skills.
have demonstrated appropriate professional and ethical behaviour within an applied setting.
have met the practice standards of the agency in which the practicum is located.
have demonstrated an understanding of the operation and context of the practicum site and the ecology in which it is located.
Practicums can take place in any country that is considered safe, and where there is access to technology (namely email and web access).
Learn more about international practicum placements.
Practicum within BC
The University of Victoria is required to adhere to the BC Criminal Records Review Act.
The Act states: "An educational institution must ensure that every registered student who will work with children or work with vulnerable adults undergoes a criminal record check."
All students who reside in BC and/or plan to complete a practicum placement in BC will be required to undergo a Criminal Record Check through the Ministry of Justice. This Criminal Record Check is required even if you have had a recent check completed for some other purpose. Failure to complete this process will prohibit students from beginning their placement. Students are encouraged to begin this process early.
Students can request a Criminal Record Check by using the online link and access code below:
Online link: https://justice.gov.bc.ca/eCRC/
Access Code: 2BWK5EYEAR
Please Note: Students, who have not developed a credit history or have not lived in Canada for the last two years, will be sent another application form. This form needs to be printed, signed, and brought or sent directly to the graduate secretary along with a copy of your photo ID.
Practicum Outside of BC
If you do not reside in BC and do not intend to complete a practicum in this province, you will not be required to complete the above process. You will, however, have to meet any individual agency or provincial requirements regarding criminal record checks. Students are encouraged to begin this process early.