Veronika Larsen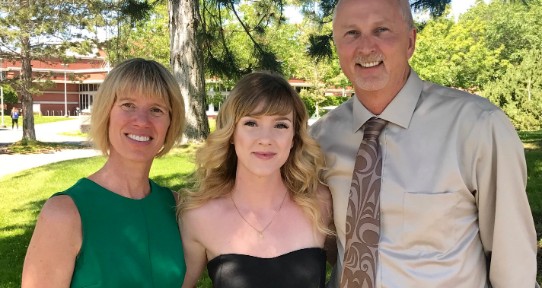 There are events and moments in life that stay with you.
"I was drying my hair in my parents' room when my mom walked in and handed me an envelope," explains Veronika Larsen. "I remember feeling so nervous as we sat down to open it together."
Inside the envelope was an acceptance letter to the University of Victoria, along with a notice that Veronika received a Humanities Entrance Scholarship. "I don't think I have ever been so grateful," says Veronika.
Veronika grew up in Kamloops, BC and hoped of attending the University of Victoria since she was 15-years-old. "My senior year of high school, I chose to quit playing competitive sports to focus on keeping my grades up in hopes of qualifying for scholarships," she explained. "So, when I received news that my hard work paid off, it was an unbelievable feeling."
Combining two of her passions, Veronika chose to study a combination of English and psychology and was selected to complete undergraduate research on the evolution of insanity in the Victorian era.
"Donor support allowed me to focus my studies and volunteer opportunities instead of struggling to maintain multiple part-time jobs," Veronika explains.
One of the research opportunities included volunteering as a research assistant in Dr. Adam Krawitz's lab in the Department of Psychology, aiding in research surrounding psychopathic traits in non-psychopathic people. "The experience working in a research lab really helped me focus on the type of career I want to work towards," explains Veronika. "I loved seeing the positive impact research can have on understanding human behavior and mental processes." 
 After defending her honours thesis in April 2019, Veronika graduated from UVic and will start a master's program at the University of British Columbia this fall.
"I can honestly say I would not be a where I am today without the support from donors," says Veronika. "Thank you from the bottom of my heart."
With gratitude,
Veronika Larsen, UVic English & Psychology Student
Faculty of Humanities