Ash Luft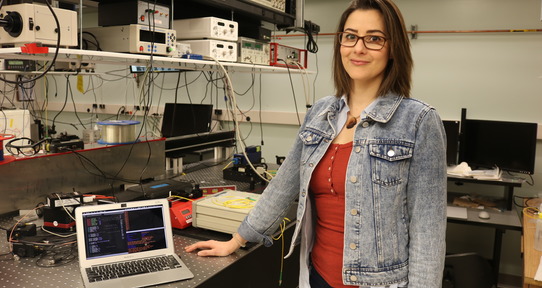 A love of problem-solving
"I've always been fascinated with how things work," Ash Luft says, "Not just in the sense of electronics but how technology can be used to solve problems in our bodies."
It was her love of solving problems that led her to the University of Victoria to study Computer Science. After completing a bachelor's degree in 2012, Ash started a master's in Electrical Engineering.
"It was my late grandfather who was blind that inspired my project," she says. "I wanted to create a device that would give him or others who have disabilities, more autonomy."
After talking with researchers at UVic's CanAssist, Luft decided to improve a headband device that could be used by someone with limited mobility to use a computer or electronic device like an iPod. Using a prototype started at CanAssist that allowed the user to adjust the volume of their device up or down, Luft increased the headband's function to include two more actions.
"It's like giving the user a joystick instead of a light switch," says Luft.
Seeing her hard work come to fruition has not come without sacrifice. Ash had to cut her work hours and take a loss of income to pursue her master's program. Which is why learning she was a recipient of the Dr. James B. Haddow Scholarship was all the sweeter.
Dr. James B Haddow Scholarship
"I can't tell you how relieved I was when I got the news," Luft says. "Not only did it relieve the financial pressure that I feel but it is reassuring that people see the impact of my work."
Jean Haddow established the scholarship in honour of her husband, late Professor Emeritus Jim Haddow, to support women who were pursuing degrees in engineering.
"Jim felt some of his best students were women," Jean Haddow, James' widow explains. "It was his goal to encourage more women to enter the field."
Jean says that Jim was a lifelong learner himself and wanted to make sure students were well supported. As a professor, that often meant inviting them to dinner at their house. "When Jim was finishing his PhD we had two young kids and needed scholarships just to makes ends meet sometimes," Jean explains.
Current Faculty Dean Peter Wild was a grad student when Haddow was teaching at UVic. "I can remember being invited to the Haddow's home many times," Wild says. "He truly loved teaching and working with students and would go out of his way to help someone struggling to understand a concept." 
Continuing the Legacy
For Luft, learning about the legacy James Haddow created in UVic's Engineering program is reassurance she's in the right place.
"This scholarship has made a huge impact on my life," Luft says. "It has lessened the financial strain of tuition and given me the confidence to research ways technology can be used to improve people's lives, which will hopefully impact many more people in the future."
Luft hopes she too can return the generosity she received from the Haddows by supporting other engineering students in the future.
"I cannot thank the Haddows enough," Luft says. "I hope to continue their legacy of supporting students by giving back myself someday."