Holly Cecil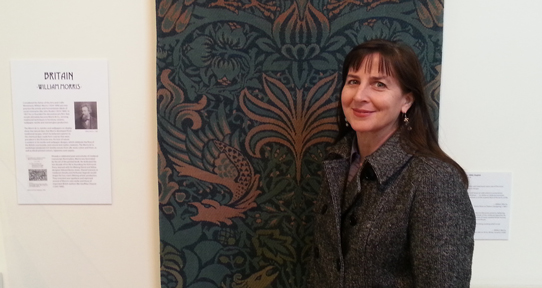 Education for all, beauty for all
"I do not want art for a few, any more than education for a few or freedom for a few." William Morris, 1877
There are some evenings when Holly Cecil has to fight her spouse and teenage daughter for homework space on the kitchen table. But the financial burden of them all being in school at the same time has been eased through Holly's scholarships. "Thankfully I've maintained a high grade point average so awards cover most of my tuition," says Holly. "That support has made all the difference to me pursuing my life-long dream."
If Holly had other trepidations about starting university for the first time in her forties, they were quickly offset by her experience. "I expected there to be some prejudice about mature students," she says. "But I was so impressed with how welcoming everyone was. The professors were continually asking what opportunities I wanted to pursue."
The Maltwood Collection
Holly was excited to learn that UVic's Art Collection held pieces of art by her favourite artist, William Morris, and started working with the collection early in her degree. "There's a big difference between studying a photograph and actually holding a piece of art in your hands," she says, "feeling the weight of it, or turning it upside down to see the inscriptions."
Holly focused on the Arts and Crafts movement, spending two summers conducting field research in England. She's created 14 educational videos that are freely available on two websites (www.arts-crafts.heronweb.ca and www.morris.heronweb.ca) for teachers and researchers across the world. This fall, the Legacy Gallery (a university owned space in downtown Victoria) invited Holly to guest curate an exhibit, a significant achievement for an undergraduate.
Making art accessible
Holly writes in the exhibit's curatorial remarks: "The University of Victoria's permanent collection of Arts and Crafts objects is among the largest in Canada, thanks to ongoing selective acquisitions and benefactors such as John and Katherine Maltwood. Due to their generosity, these objects continue to be enjoyed as 'beauty for all'."
Holly's ambition, like Morris, is to make the study of art accessible to all. With the help of generous art benefactors, student scholarship donors and supportive faculty, she's already making that a reality.