Carmen Ho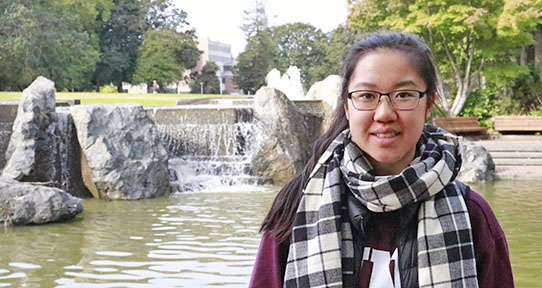 Celebrating two cultures
As a second-generation Chinese-Canadian, Carmen Ho says growing up she felt divided between two worlds, "I was speaking English at school, but at home, I was speaking Cantonese." Carmen says "It left me feeling embarrassed at times." Even school lunches brought Carmen new experiences to navigate, "I tried mashed potatoes for the first time and turned to tell my friends about this "new" food and realized no one seemed excited," Carmen says. 
Now in her first-year at UVic, Carmen expects to experience many new challenges, "I'm most excited to meet new people and learn to manage adult responsibilities like time management." But gone is any embarrassment when something is new and, in its place, a deep appreciation of how her two cultures have shaped her.
Carmen's parents immigrated to Canada from China shortly before she was born, raising Carmen and her younger brother in Victoria. "We live a simple life but always surrounded by family," Carmen explains. She credits her tight-knit family for teaching her the importance of hard work; Carmen is the first person in her immediate family to attend University.
Not wanting tuition to put a financial burden on her family, Carmen was delighted to find out she'd been awarded the Victoria Foundation's Chinese-Canadian Community Scholarship, "Without out this scholarship; I would have had to work a lot more." Carmen is pursuing a degree in engineering at UVic and already has a full class load of science labs. "I'm so thankful to have more free time to concentrate on school," she says.  But it's not just the money that makes this award special.
"It's wonderful that the Victoria foundation celebrates students like me," Carmen says. "It is important to be proud of who we are, both Canadian and Chinese.