Spotlight on student caller - Addie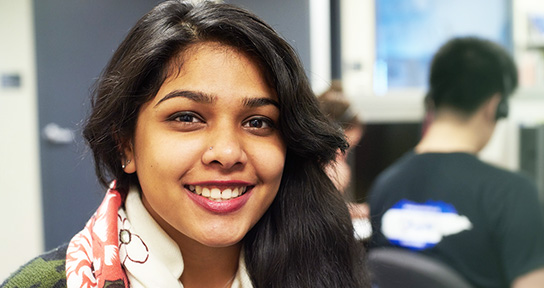 This is the first of a series of spotlights on members of our student calling team. Student callers connect with alumni and donors to update their records and request support for UVic programs and initiatives. 
What do you like best about being a caller?
"The best part of being a caller is the sheer number of people I have the opportunity to converse with. We speak with alumni right from the 1960s until 2016, and everyone has their own story to tell. You never know when you begin phone call what you might gain from it. Most alumni are very eager to share their advice with a caller! 
I'm also a very competitive person so the friendly rivalry and competitive atmosphere among the callers really fueled my motivation to raise as much money for scholarships and community funds as I possibly could!"
What fund or cause are you most excited to talk to alumni and donors about?
"My absolute favorite fund to talk about is the Centre for Outreach in Education, or the CORE Fund, because it aims to accomplish such a wide variety of things and benefits so many people. Mainly that it provides tutoring, counselling and psychological services to children and youth with special learning needs in the Greater Victoria area, including local schools and indigenous areas. Further it gives Education students the chance to gain some valuable experience with tutoring and teaching, and the tutor stipend definitely helps them out as well. It benefits the community as well as UVic students which is basically a win-win situation!"
Adhira Vasant is an international student from Bombay, India, in her fourth year of Computer Science with a minor in Music. She's worked as a caller since her first semester and is now a team supervisor. She's also a Community Leader and Student Ambassador on campus.