George and Christiane Smyth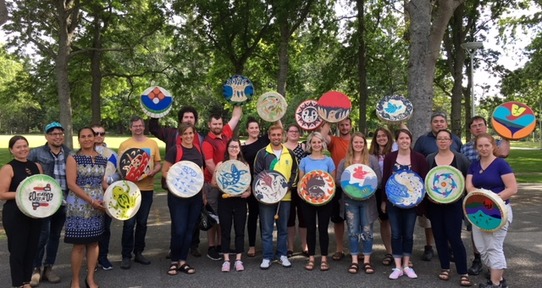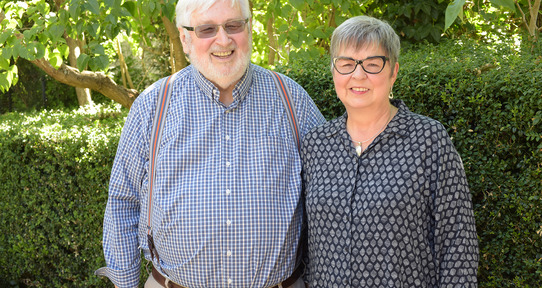 Experiential Learning
On the final day of UVic's Indigenous Education Department (IED) Summer Institute, students are admiring each other's handiwork. Over the past few weeks, Indigenous artist-in-residence Chris Paul has taken them through the process of making a traditional Coast Salish drum. They prepared the hide, threaded it over the frame and painted on their unique designs. Finally, Chris tells them, they must give their first drum away, as is tradition, and through that process, articulate the story of the drum they've created and their relationship to it. Chris has woven similar layers of cultural understanding throughout his classes, giving these trainee teachers an experiential learning opportunity they can bring forward into their classrooms.
George and Christiane Smyth have been invited to witness the closing ceremony. For these two donors, the experience is the pinnacle of their journey into philanthropy, or in George's words, it's "the ultimate ROI" or return on investment. "Being part of the events today, we see all these bright young people sharing different ideas. They all want to open themselves to learning about Indigenous culture and ways of teaching," George says.
Investing in classrooms
Helping teachers in public schools learn and share Indigenous practices has become the primary objective of George and Christiane's far-reaching philanthropy. For the past three years, the Smyth's have funded the artist-in-residence in the Indigenous Summer Institute.
The partnership with the Indigenous Education program fuses the Smyth's passion for Coast Salish Art with BC curriculum changes driven by recommendations of the Truth and Reconciliation Commission (TRC). New teachers must learn how to include more Indigenous content into their classes, and through this Summer Institute, Indigenous knowledge keepers share valuable experiential learning in Indigenous knowledge and pedagogy for teacher trainees. Through the Smyth donation of physical art and support of artists-in-residence Chris Paul, this knowledge is shared through exposure to Coast Salish art form. "We didn't just want the gifts to be great pictures on the wall of a school," George explains.  
Creating a "Salish Weave Circle"
What is now their life work had a modest origin: they merely wanted to decorate the walls of their new condo in Victoria after retiring here from Ottawa. Over the last 15 years, this re-emerging, dynamic art form became their passion and hobby. They have now amassed what might be the most extensive private collection of prints, sculpture, paintings, masks and many other forms of Salish art. They've also got to know many of the artists personally, and shifted their focus to helping actively promote it, or as they describe it, becoming a "Salish Weave Circle."
"It all ties together," Christiane says, "These students are going to go out and teach hundreds of children. It's our way of promoting this vibrant art form and our contribution to the efforts of the TRC."