Lisa Helps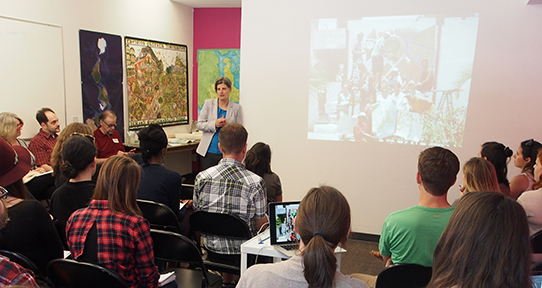 A history of helping out
Petitions and proposals ranging in scope and size constantly cross Lisa Helps' desk in her role as mayor of the City of Victoria. No wonder she has a huge appreciation for her humanities degree from the University of Victoria, which trained her to read large volumes of material, understand complexity and apply critical thinking skills.
"My job as mayor is to look broadly at the range of complex issues that are evident in 21st century cities, and my history degree prepared me very well for that," she says.
Recently, a relatively simple request came from Lynne Marks, a former professor of Lisa's and the former Chair of the department of history at UVic.
"Lynne let me know that the department was putting together a scholarship in honour of professor emeriti, and asked if I would contribute," she says. "I didn't even hesitate. I just said yes."
Inspiring Historians Legacy Scholarship
Eric Sager, who taught at UVic for over 30 years, was one of the retiring professors being honoured by the Inspiring Historians Legacy Scholarship. Lisa remembers Eric as funny, kind, bright and "really supportive of students." Even so, she says it wouldn't have mattered who in the department was being honoured. For her, the gesture of giving is also a gesture of paying back what she received as a UVic history student.
Lisa was the proud recipient of a clutch of awards, fellowships and scholarships throughout her undergraduate and graduate studies, but she also worked part-time to fund her education.
"After my undergrad, I told myself I wasn't going to start a Master's program if I had to take out a loan," she recalls. Thankfully, her high grades and community involvement ensured she had financial support, including several scholarships funded by donors to the university.  
"The scholarships that are named after people sort of felt special," she says, remembering the letters of thanks she wrote to those donors at the time.
The Inspiring Historians Legacy Scholarship has garnered support from a long list of current faculty and former students. Together, they raised $25,000, enough to endow the fund. An anonymous donor will match that total to double the fund, and the scholarship.
Lessons in community engagement
Aside from contributing to the scholarship, Lisa remains engaged in the UVic community through the City's innovative educational partnership, City Studio. This program, run from a designated downtown classroom, brings together city staff, university students and community members to co-create, design and launch projects on the ground. In the first course, Geography 491, or "#biketoria", which ran in spring 2016, students learned about active transportation planning from City staff and UVic faculty, while contributing directly to that planning through small group projects. 
Since her days as a student when she was managing editor of the Martlet newspaper, to her contributions to Victoria at Fernwood NRG, the Community Micro Lending Society, and now as mayor, Lisa is always devotedly engaged in the communities where she studies, lives and works. We're grateful she still considers UVic to be one of her core communities.