Growing Finnerty Gardens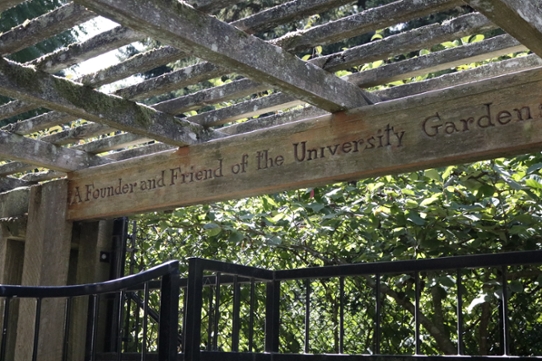 Stroll through Finnerty Gardens at the University of Victoria nowadays and there's peace and tranquility in all directions. But the gardens' roots go back to a more challenging time, when UVic was still a young university and its strong relationship with the Greater Victoria community had yet to be forged.
Four of the garden's original founders gathered in November 2018 at former UVic president Howard Petch's home to share the story of the garden's origins four decades ago. They were anxious to get things on the record before any more of the original champions of the gardens died of old age. (It was a prescient concern; Petch, 93, died less than three weeks after the interview.)
Petch recalled the creation of UVic's fabled gardens as one of his first acts of community engagement. He was appointed UVic's president in 1974, a time when the university – founded 11 years earlier - had still not found its stride, nor its fit in the wider community. "The university had gone through 10 years of turmoil at that point, and there were questions whether it was even going to survive," said Petch.
An avid gardener himself, the new president quickly noticed that UVic lacked the colourful gardens that he associated with universities.
"I'm the product of five universities, whether through study or working at them. In all of them, there were beautiful gardens attached," said Petch. "I had come to associate that as an important aspect of the university campus."
Eight months into his tenure, Petch was approached by local gardener Liz Wilson, whose husband Richard was a former Victoria mayor, chair of the UVic Board of Governors and university chancellor from 1967 to 1969. She was part of a network of knowledgeable gardeners trying to interest UVic in creating a rhododendron garden. They had been rebuffed so firmly that they were wary of raising the issue again.
Some were getting on in age and worrying about the fate of their own treasured rhododendrons, recalled Petch. They wanted to be able to donate them to UVic.
Petch recalled approaching, with much trepidation, his then-dean of administration, Trevor Matthews. He'd concluded the resistance to having gardens on campus must be coming from Matthews, who had responsibility for grounds-keeping.
"Instead, Trevor said, 'Howard! That's an idea that will solve both our problems!' " laughed Petch.
Matthews had just been pondering the challenge of what to do with 300 rhododendrons from Cowichan Lake, some of them 50 years old, which had been bequeathed to UVic by Jeanne Buchanan Simpson and her husband George. The Simpson property featured the largest rhododendron collection in BC at that time.
 "I wasn't against more colour on campus – a garden had just never been on any priority list," explained Matthews. He and Petch began making plans.
"I had been looking for ways to draw the community and the university closer," said Petch. "That's what ultimately makes these gardens special – they were a joint university-community project."
A high-profile group of local gardeners who specialized in rhododendrons soon assembled around Petch and Matthews. They included the Wilsons; Ed and Ethel Lohbrunner; Herman Vaartnou; Norm Todd; Al and Shirley Smith; Dr. Stuart Holland; Albert DeMezey. "The personal contributions of the many unsung people who got involved were particularly special," added Petch.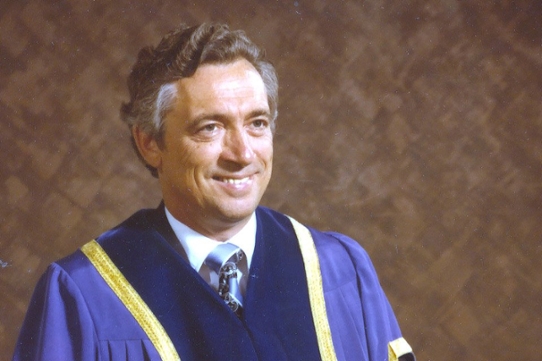 An advisory group was launched in 1977. The following year, the fledgling Friends of the University Gardens held its first fundraiser, a one-day plant sale on the first Sunday of May that would go on to become a not-to-miss local event renowned for raising $45,000 in a single day.
Chris Ball was a young horticulturist in those early years. Joining Petch, his wife Linda, and Matthews for the November interview about the early days of the gardens, Ball recalled many requests to swing by this or that garden to "dig up somebody's plants and take it to UVic." Word got out about what was happening at UVic, and more and more local gardeners began donating plants and trees to the cause.
The first gardens were located in a different spot on campus than the current gardens. But soil conditions were never quite right for UVic's abundant rhododendron collection. The gardens were relocated to the current site in 1988, with volunteer rhodo experts stepping up for the monumental task of transplanting hundreds of trees.
"The whole experience was an enterprise that exemplifies what people getting together can achieve," said Petch of those initial years. "Here's an example of something that a lot of people achieved that was far beyond the vision anyone held for it in the beginning."
All these decades later, Petch notes that Finnerty Gardens – named for two Irish brothers who had a market garden and orchard on the same land in the late 1800s - continues to exemplify the connection between UVic and the community.
The gardens are now home to more than 4,000 trees and shrubs, including 1,500 rhododendrons and azaleas. The peaceful walking paths draw people from around the region year-round to enjoy the quiet beauty.
The gardens remain a favourite spot for those who were there in its earliest days. Asked about trees they love best at the gardens, Linda Petch picks the Miss Josephine Firth rhododendron. For Chris Ball, it's the Triflorum rhododendron. Howard Petch favours the Davidia – the handkerchief tree – donated by former BC lieutenant governor David Lam.
For Trevor Matthews, it's all those Simpson rhodos – the trees that started it all.
The volunteer Friends of Finnerty Gardens and the Finnerty Gardens Expert Advisory Committee continue to support the gardens at UVic and partner with the university to care for this community jewel.