Jesse Short-Gershman Memorial Scholarship
Jesse Short-Gershman (July 22, 1992 - October 29, 2014)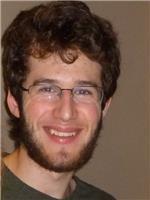 A beautiful mind...misunderstood by many...a struggle within himself. Jesse's journey to find some peace came to a tragic end on October 29, 2014. Our family memories are abundant and we have all been enriched by knowing and loving Jesse. His absence leaves a tremendous void in our lives, beyond reason.
Jesse was a warm hearted person with a fierce drive to succeed. At age 3, as a pre-schooler, he was 'labeled' as gifted. He was a child prodigy in math and piano and attended Cordova Bay Elementary, Royal Oak Middle, and Claremont High School, graduating at age 15 with the Governor General's Bronze Medal. Over the years he received numerous academic awards and excelled at golf, taking home a number of trophies, and far too many golf bags! At age 16 he attended UVic and in 2011, at age 19, he graduated with the Governor General's Silver Medal (for the highest undergraduate GPA), with an honors degree in math and computer science. He received a full scholarship for a UVic computer Science Masters degree and managed to obtain an internship at Google in Silicon Valley in 2012.
Jesse set lofty goals, had dogged determination, and chose to leave his Masters program as he succeeded in securing fulltime employment at Google at age 20. He worked as a computer programmer with a focus and passion for coding, collaborating with a skilled team of like-minded "Googlers". He balanced his academic pursuits with a zest for cycling, hiking, golfing, water polo, piano, swimming, camping and snorkeling ... he was a true 'nature boy'. Jesse also played a mean game of chess and he and his Mom were famous for their epic scrabble games. Most people found it daunting to play this game with him, with his many 7 letter word 'bingos'. Starting at a young age, and continuing throughout his life. Jesse had an ongoing passion for astronomy and geography. With him around we rarely had to go and "google it" to find out the name of a star formation or to name the capital city of some obscure country!
Known for his gentle eyes and kind nature, Jesse's only enemy on this earth was his challenge with his complex syndrome of obsessive compulsive disorder and recent acute situational depression over his job loss. After unsuccessful treatment received months before he passed, Jesse channeled his strength and courage towards a definitive end to his suffering.
Jesse is missed and loved beyond description by his devoted 'Mama', Erin Short, his loving Dad, Stu Gershman. They are both comforted to know that Jesse's memory will live on through the future of you, another UVic student. Jesse spent many years tutoring his peers in high school and at UVic and he would be proud to know that this fund is helping others achieve their dreams.