Eleanor Gray Memorial Scholarship in Music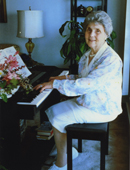 Eleanor Elizabeth Gray was born in Stratford, Ontario on April 4, 1900. She married Dr. T.W.A. Gray in 1926 and had five children. Eleanor was very musically talented, began her piano lessons at age six, and obtained her ATCM diploma in piano in 1918 from the Toronto Conservatory of Music. She obtained many awards for her musical excellence. Eleanor was a graduate of the University of Toronto in Home Economics and the College of Education. She was also the pianist for the University Glee Club.
Eleanor moved to Victoria and lived there for 55 years – from 1933 to 1988, when she moved to Sechelt and then to White Rock.
When Eleanor was twelve years old, she enjoyed whistling. As her father thought it wasn't ladylike to whistle, he encouraged her to start singing lessons. She continued this love of singing throughout her life. While in Victoria, Eleanor sang in madrigal and church choirs, and in 1936 was a founding member of the Victoria alumni branch of the Toronto (now Royal) Conservatory of Music. She studied for, and was to receive her ATCM in voice in 1954, but due to a nodule that developed on her vocal cord, was not able to complete the final singing portion of the exam. It took almost a year for the nodule to disappear.
She continued her joy of playing the piano and singing up until a few months before her death on April 24, 2001, in her 101st year. Up to the age of 100, Eleanor was a member of the Whitecliff Retirement Residence choir in White Rock, and also played the piano for the Sunday afternoon church services. At the age of 90, she bought a piano keyboard.
Eleanor was a truly unique woman. Her infectious enthusiasm, energy, optimism, sunny and charming disposition, and sense of humour made her a pleasure to know. Eleanor truly loved life, and lived life to the fullest.
Eleanor Gray's children have established this scholarship in music (piano or voice) in her memory.
Photo: Eleanor Gray (1900-2000) taken at Sechelt, BC at 91 years of age.