Muriel Ford Memorial Bursary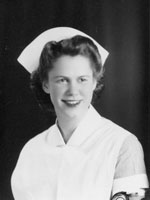 Muriel Pearl Hall arrived on 16 January 1923, the second of three children born to Pearl Edna Bolton and Ernest Raymond Hall.  Her father 'Ray' graduated from the Ontario Agricultural School in Guelph, ON, in 1915 and was the Assistant Director of the Saanich Experimental Station near Sidney, BC.

Muriel entered the three-year diploma nursing program offered by the Royal Jubilee Hospital in Victoria, BC, lived in residence at that facility, and successfully completed the first two years of the program.

Muriel married Charles George Ford at St. Paul's Church in Sidney, BC, on 04 May 1946 and they moved to Saskatoon, SK, where 'Chuck' began a three-year agricultural degree at the University of Saskatchewan, Saskatoon, SK.

The young couple were far from their homes, lacking the emotional support of family and friends, and in October 1947 their limited finances were stretched when a son was born.

Muriel Pearl Hall never completed her nursing program, however, she has a daughter-in-law (a UVic grad), a grand-daughter (a Brandon University grad), and a second grand-daughter (a UVic grad) who have gone on to become Registered Nurses.

The Muriel Ford Memorial Bursary was established in 1996 by the four children of Muriel Pearl Hall and Charles George Ford to financially support those persons who are determined to complete the nursing program at the University of Victoria while raising a family.
If you would like to support the Muriel Ford Memorial Bursary click the button below.
Donate to the Muriel Ford Memorial Bursary