John Michael Brownutt Scholarship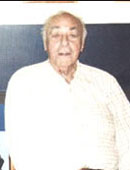 JOHN MICHAEL BROWNUTT SCHOLARSHIP
John Michael Brownutt (February 18, 1928 – October 6, 2010) was born in Devon, England.  He liked to be called Mike by his friends.  Mike came to Canada in the mid- 1960's and settled in Victoria.   He worked for many years as a truck driver for Heaney's Moving & Storage and lived a very simple life.  His friends describe him as a very intelligent person who loved reading, listening to his extensive jazz collection and keeping up to date on all the current movies.    An only child, he never married and had no children. 
In the words of his friend and executor:  "During many of our conversations Mike always said if anything happened to him, his wish was that the money from his estate should go to the Aboriginal people of BC to further their education.  I am honoured that I was able to carry out his wish."
The University of Victoria is the recipient of a generous gift from the Estate of the late John Michael Brownutt.  In accordance with Mike's wishes, the University has established a scholarship fund in his memory which will help Indigenous students pursue their post-secondary education.  This lasting legacy will truly make a difference to our Aboriginal community.